I love giving traditional family recipes new life by adding special condiments, especially when they incorporate beautiful, nutritious ingredients from my Sea Pantry. For this recipe, I updated my dad's classic beef stew recipe with a briny Seaweed Preserved Lemon Gremolata that cuts through and brightens an otherwise rich dish.
My father wasn't much of a cook, but on the rare occasion that my mother was traveling, he would pull out a handful of recipes from his college playbook — this beef stew was one of them. Perhaps it's the way the beef was seasoned with yellow mustard ONLY, or how the dish was something shared with just my brother, my dad and I, but this warm bowl of stew will always have a special place in my heart.
I want to mention that I rarely eat meat, and in my house, we look at this as a special occasion dish. The version I made had sustainably-raised Snake River Farms cubed chuck, but supporting a local rancher would also be amazing.
Gremolata is hands down my favorite condiment. This one is bursting with flavor from fresh parsley, preserved lemon, and garlic. I upgraded it even further with the umami and firm texture of seaweed. Honestly, it's a perfect accompaniment to pretty much any fish!
For this recipe, I used Springtide Seaweed's Counter Kelp, which I love! Kelp farmer Sarah Redmond is on a mission to make kelp a staple in every kitchen (you can check out my interview with her here). She operates a certified organic, sustainable seaweed farm in Maine that specializes in kelp, but also develops other culinary products from dulse and nori seaweed varieties – perfect for stocking your Sea Pantry with.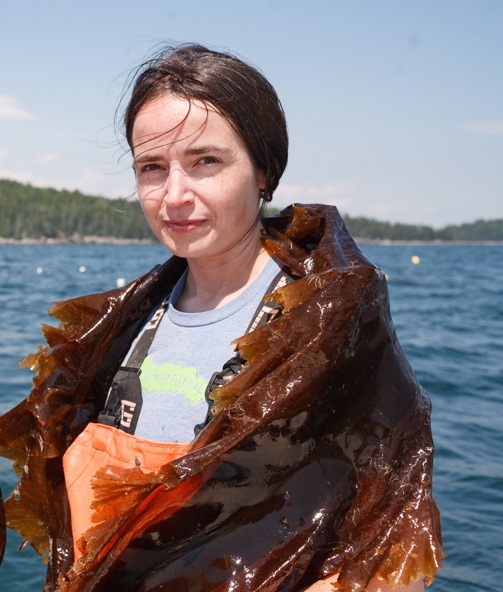 Seaweed brings big umami flavor to the dish, plus tons of nutrients!  It's high in iodine, potassium, essential amino acids, omega oils, antioxidants, and anti-inflammatories. What's more, it's a huge piece of the puzzle when it comes to addressing climate change and supporting the development of healthy, restorative food systems. Seaweed is a highly renewable resource that contributes to healthy marine ecosystems by producing oxygen, reducing ocean acidification, sequestering carbon, and providing habitat for small shellfish and other animals.
I love mixing it into condiments and also slip it into pasta sauces, stocks, soups, or add it as a topping on pizzas and salads. I'll be incorporating more seaweed into as many dishes as possible this year; family recipes like this beef stew are a great place to start!
Zinfandel Beef Stew
Makes 6 Servings
1/4 cup all-purpose flour
1/4 teaspoon freshly-ground pepper
1/4 teaspoon smoked paprika
1/4 teaspoon paprika
3 pounds beef stewing meat, trimmed and cut into inch cubes
5 teaspoons vegetable oil
2 tablespoons red wine vinegar
2 bay leaves
2 teaspoons fresh garlic, finely chopped
1 medium onion, peeled and chopped
5 medium carrots, peeled and cut into 1/4-inch rounds
2 cups red wine, such as Zinfandel or Cabernet Sauvignon
1 28-ounce can diced organic tomatoes
2 large baking potatoes, peeled and cut into 3/4-inch cubes
3 cups beef broth low-sodium canned
2 teaspoons salt
1 teaspoon freshly ground black pepper
Combine the flour, pepper, and paprikas in a bowl. Add the beef and toss to coat well.
Heat 3 teaspoons of the oil in a large pot or cast iron base of your slow cooker. Add the beef a few pieces at a time; do not overcrowd. Cook, turning the pieces until beef is browned on all sides, about 5 minutes per batch. Add more oil as needed between batches.
Add more oil and saute the bay leaves, onion, and carrots for five minutes until they glisten and begin to soften. Add the red wine to the pan and reduce by half.
Add the tomatoes, potatoes, and beef broth.
Move to the base of the slow cooker, cover, and cook for 4 hours over low heat. Alternately, reduce the heat of the pot to low, place the lid on, and cook for 4 hours.
Cook until the meat is tender. Place the meat and cooked vegetables in a bowl and cover.
Reduce the broth by half over high heat. Return the meat and vegetables back to the pan, season with salt and pepper, and heat through. Serve with the Seaweed Preserved Lemon Gremolata.
Seaweed Preserved Lemon Gremolata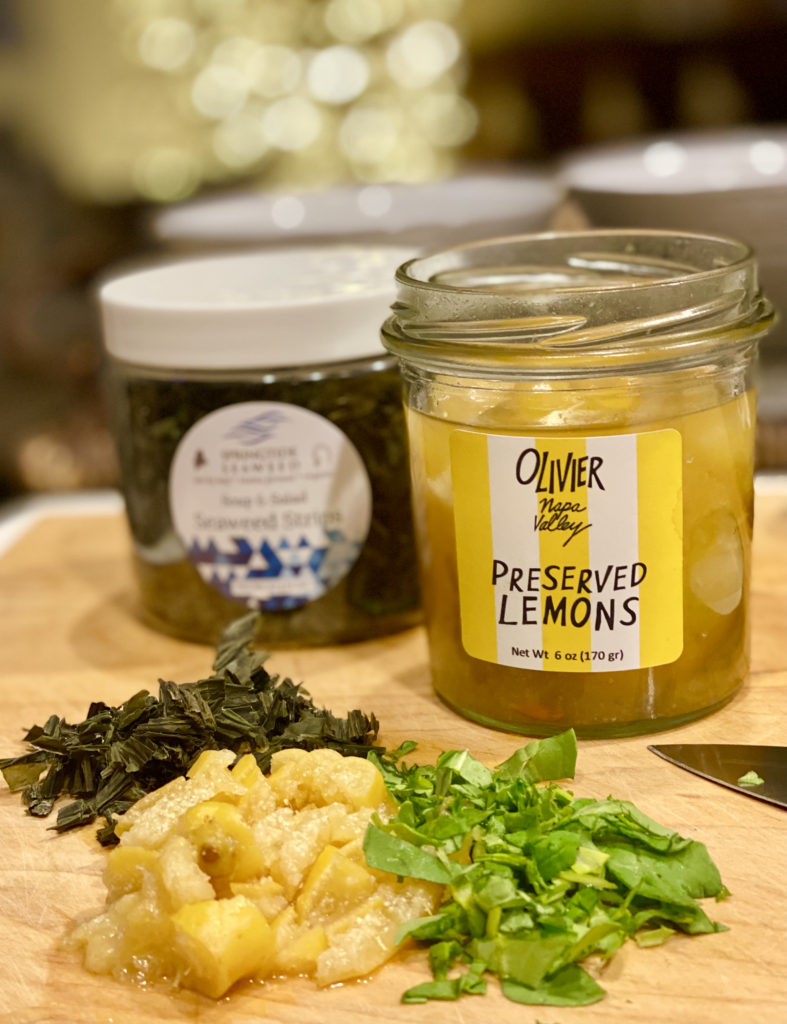 Makes 1/4 Cup
1 bunch Italian flat-leaf parsley
1/4 cup Counter Kelp from Springtide Seaweed or other dried seaweed flakes
1 clove garlic, peeled
1 tablespoon preserved lemons, chopped
Kosher salt, to taste
Freshly-ground black pepper, to taste
Wash and thoroughly dry the parsley. Remove the leaves and finely mince until you have about 2 tablespoons.
Finely mince the garlic.
Finely chop the kelp and the preserved lemon.
Combine all the ingredients in a bowl and season to taste with Kosher salt and black pepper.
Enjoy!
Looking for more ways to incorporate seaweed into your cooking? Start with this Roasted Vegetable & Seaweed Taco recipe, or check out this guide!