Meal prepping during the warm months? A deliciously refreshing seafood jar salad is one of my go-to's!
I love this lunch/dinner hack because you can keep it in the fridge for several days.
Plus, you can use any dressing you like (a remoulade is one of my top picks) and add any of your favorite blue foods—such as poached shrimp and salmon (sustainably sourced, of course)!
So the KEY is to place the dressing at the bottom of the jar OR in a container with a lid that you can slip into the top of the jar. Plus, make sure everything is good and dry before adding them to your jar to keep your ingredients crisp and yummy.
Enjoy and get creative!
Serves 4
For the Remoulade Dressing:
1 cup mayonnaise
2 tablespoons Dijon mustard
1 tablespoon lemon juice, freshly squeezed
1 tablespoon flat-leaf parsley, finely chopped
1 tablespoon Louisiana-style hot sauce
1 tablespoon ketchup
2 teaspoons whole-grain mustard
1 tablespoon pickled relish
salt, to taste
freshly ground pepper, to taste
For the Salad:
8 ounces salmon, poached
8 ounces shrimp, poached
8 cups lettuce, kale, and/or spinach, chopped
1 cup purple cabbage, shredded
1 cup carrots, shredded
1 cucumber, peeled, seeded, and cut into sticks
2 green onions, chopped
1 lemon, cut into wedges
In a small bowl, combine all of the dressing ingredients. Refrigerate until ready to use.
In 4 one-quart jars, place 2 cups of salad greens. Next, add the cabbage and then the carrots. Place the shrimp and salmon on the top. Sprinkle with the green onions. Place the dressing in small one-ounce containers. Add to the jar, tighten on the lid, and refrigerate until ready to serve!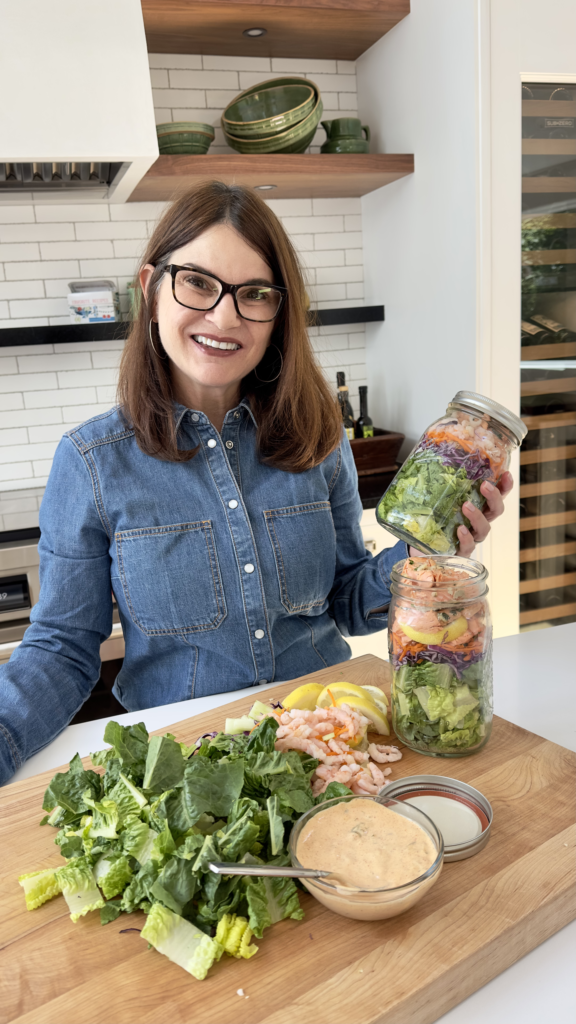 Got any leftover poached shrimp? Whip up Kelp Guacamole with Poached Shrimp and Seaweed Chips or bake this Poached Shrimp Pizza with Seaweed Basil Pesto!