This Hawaiian-Style Garlic Butter Shrimp with Pineapple is a wonderful way to treat your tastebuds and pay homage to the incredible flavors of Hawaii.
Like so many of you, I am absolutely heartbroken over the fires in Maui, and I wanted to create a recipe that celebrates the amazing people and rich culture of the Hawaiian Islands.
While you're enjoying this delicious meal, please consider donating to World Central Kitchen, which is a hard-working organization providing the people of Maui with meals and sustenance during this very devastating time.
I would be delighted if you joined me in spending time in your kitchen and energetically connecting to the people of Hawaii, even if you're on the other side of the country or world.
So let's dive into the dish—the shrimp is seasoned with a multitude of flavors like smoked paprika, thyme, and even some dried seaweed (one of my favorite blue foods), which gives it an incredible umami taste. Of course, the garlic butter makes this dish truly crave-worthy.
When purchasing shrimp, it is super important to look for the Best Aquaculture Practices certification and purchase from a two-star or better-rated farm. If you prefer to buy wild, my personal favorite is Del Pacifico Shrimp, a Fair Trade Certified company in Mexico that specializes in artisanal fishing.
And this dish would not be complete without pineapple, a staple in Hawaiian cuisine for two hundred years. By grilling the fruit, you'll get that deliciously sweet and smoky flavor that goes so well with the garlicky shrimp.
Enjoy, and let's give our love and support to the people of Hawaii. ♥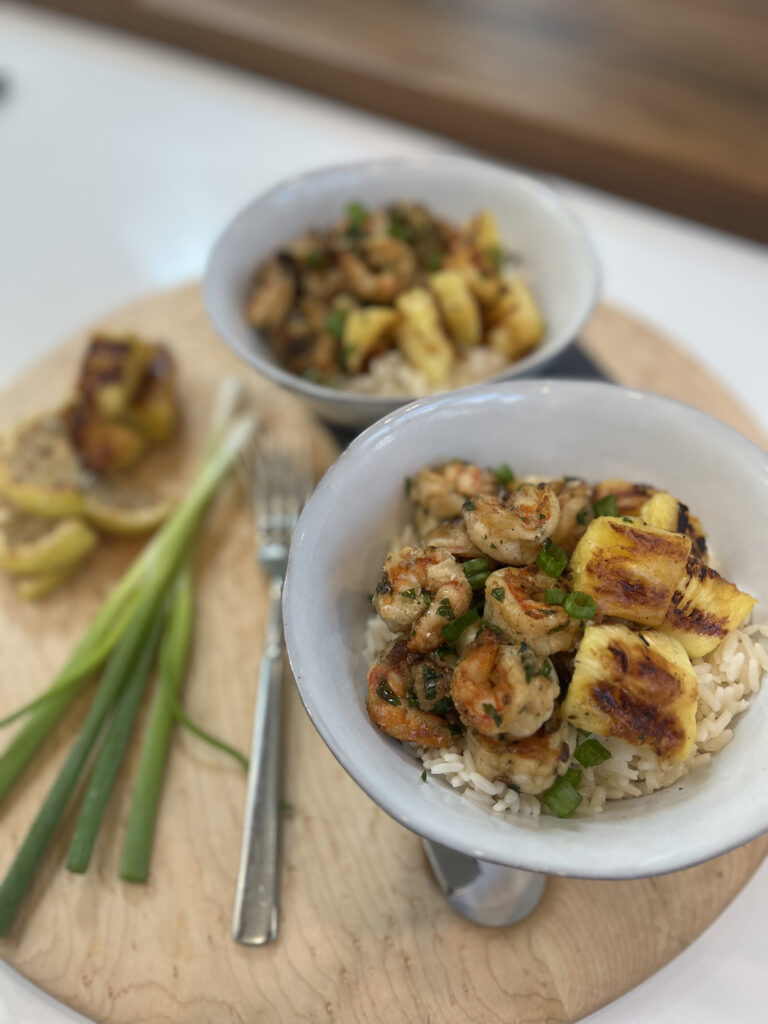 Serves 4
Ingredients:
1.5 pounds shell-off and deveined raw shrimp, 41/50 medium size and uncooked
3 teaspoons smoked paprika
1 teaspoon onion powder
1 teaspoon garlic powder
½ teaspoon dried seaweed
½ teaspoon thyme
¼ teaspoon cayenne pepper
½ teaspoon salt
¼ teaspoon black pepper
¼ tsp garlic, minced
5 tablespoons butter
¼ cup Italian parsley, chopped
¾ cup cubed fresh pineapple
Lemon wedges
Chopped green onion
Cooked rice (however much you'd like to enjoy it with!)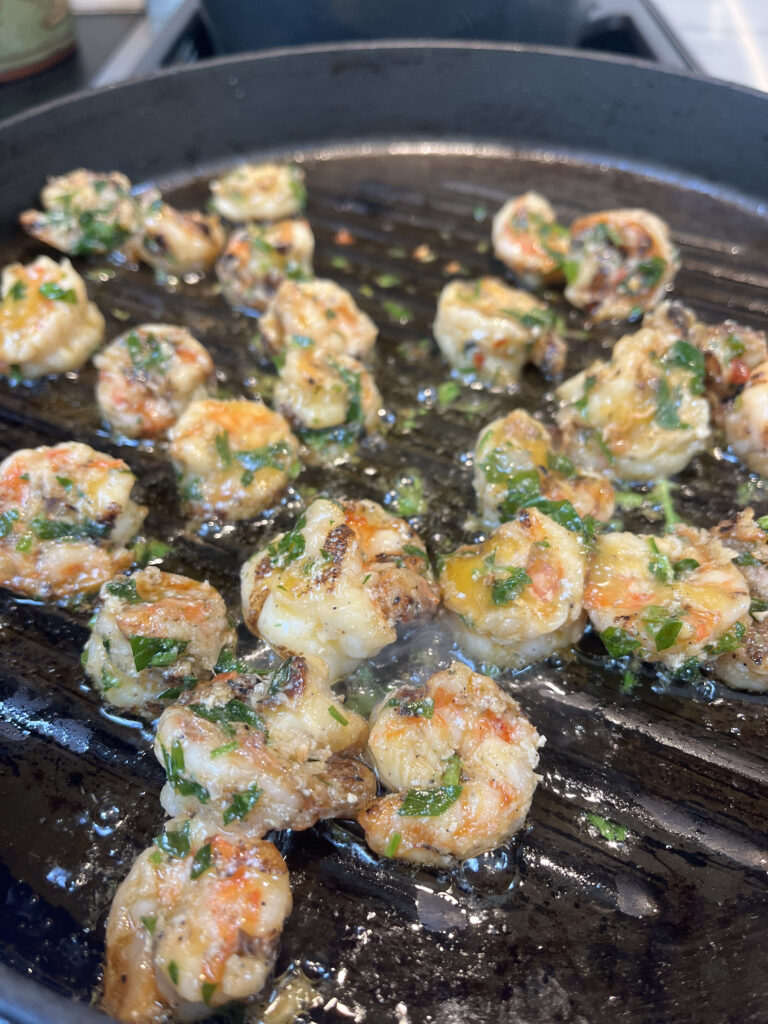 Directions:
1. With a paper towel, dry off the shrimp. Combine the shrimp, paprika, onion powder, garlic powder, seaweed, thyme, cayenne, salt, and pepper in a large bowl.
2. In a grill pan, over medium heat, saute the garlic. Add the shrimp and cook until cooked through.
3. Remove and add to a bowl. Toss with the chopped parsley.
4. Wipe the pan clean, add the pineapple cubes, and cook until grill marks are formed on two sides. Serve with rice.
5. To serve, place rice in a bowl and add the shrimp and the pineapple. Garnish with lemon wedges and green onion.
Hungry for dessert? Try my Sea Kelp Madeleines with Vanilla Bean Ice Cream!