If you're a fan of madeleines, you need to try SEA KELP MADELEINES.
These have all the fluffy yumminess of regular chocolate madeleines, but with the added benefits of kelp, which are a true multivitamin from the ocean.
One of the New Year's resolutions I set back in January was to dive into the curious world of seaweed, learn about restorative kelp farming (which sequesters carbon, cleans our water, and combats ocean acidification), and cook & bake with kelp. 
I would say I've checked that one off the list, but will continue doing so – the more I learn about seaweed & kelp, the more I'm hooked!
I highly recommend layering these into a parfait, but eating the madeleines on their own with coffee or tea is also delicious anytime of the day – especially in fall & winter.
¾ cup all-purpose flour
½ cup unsweetened cocoa
¼ cup salt
1 tablespoon dried and ground kelp/seaweed
4 large eggs, room temperature
1 cup sugar
12 tablespoons unsalted butter, melted and cooled
Butter for buttering the madeleine tins
Whole mint leaf, whipped cream, vanilla bean ice cream, and chocolate sauce to serve
Sift together the flour, cocoa, and the salt. Add the kelp, the eggs, and the sugar in a large bowl or the bowl of an electric mixer and whisk until thick and lemon-colored.
Fold in the flour, then melted butter. Butter the madeleine pans, then spoon in the batter, filling each about three-fourths full. Refrigerate the filled madeleine pans and the remaining batter for one hour.
Heat the oven to 425°F (220°C). Bake the madeleines just until they are firm and puffed, about 7 minutes. Turn them immediately from the molds, wipe out the molds, let cool, and continue baking the madeleines until all of the batter is used. The madeleines are best when eaten slightly warm or at room temperature the same day they are made.
Serve with vanilla bean cream, whipped cream, and chocolate sauce, with a mint leaf on top!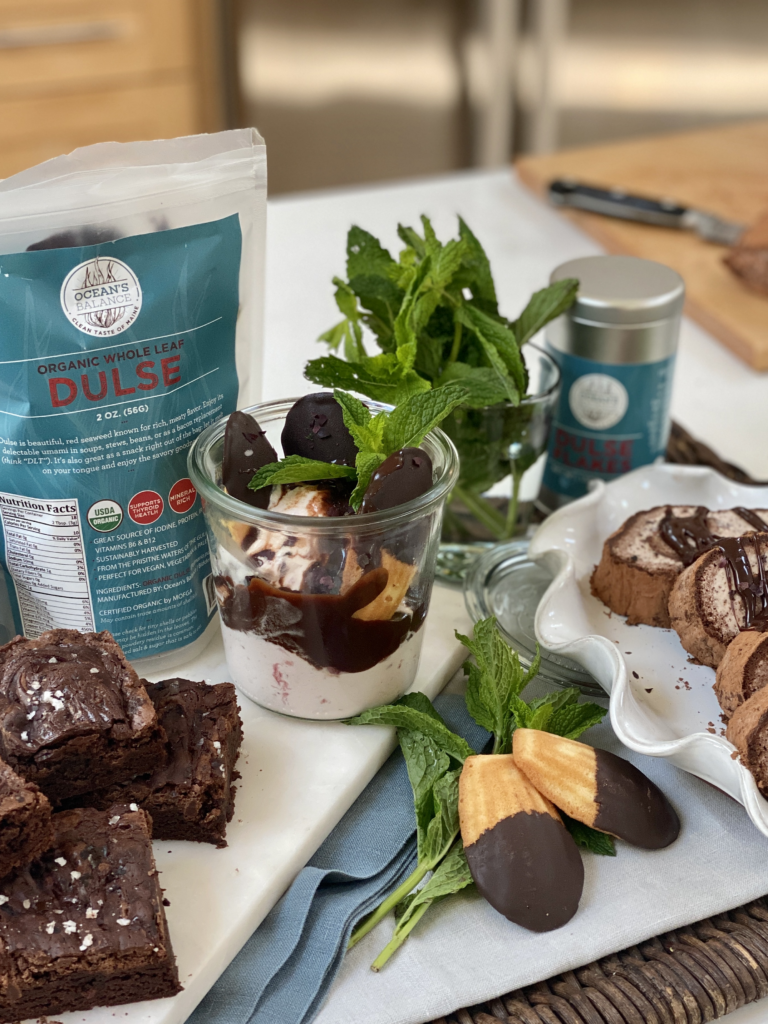 Have a sweet tooth for seaweed desserts? Check out my Chocolate Chip Mousse Kelp Brownies or Chocolate Ice Cream Roll Kelp Cake!