My mom used to make me Nestle chocolate mousse brownies when I was young, and this recipe is inspired by those. The addition of the sustainable seaweed adds richness to the brownies in a way that the cocoa cannot! In this recipe, I use dulse, a crimson-colored seaweed that tastes a bit fruity and salty – SO yummy!
Makes about 24 bars
Batter:
½ cup unsalted butter, room temperature
2 cups semisweet chocolate chips (12 ounces)
1 ⅔ cups sugar
1 ⅓ cups all purpose flour
1/4 cup dulse seaweed, crushed (I like Ocean's Balance!)
1 teaspoon vanilla
1/2 teaspoon baking powder
1/2 teaspoon salt
3 large eggs, at room temperature
Topping:
¾ cup heavy cream
1 cup semisweet chocolate chips (6 ounces)
3 large eggs, room temperature
⅓ cup sugar
¼ teaspoon salt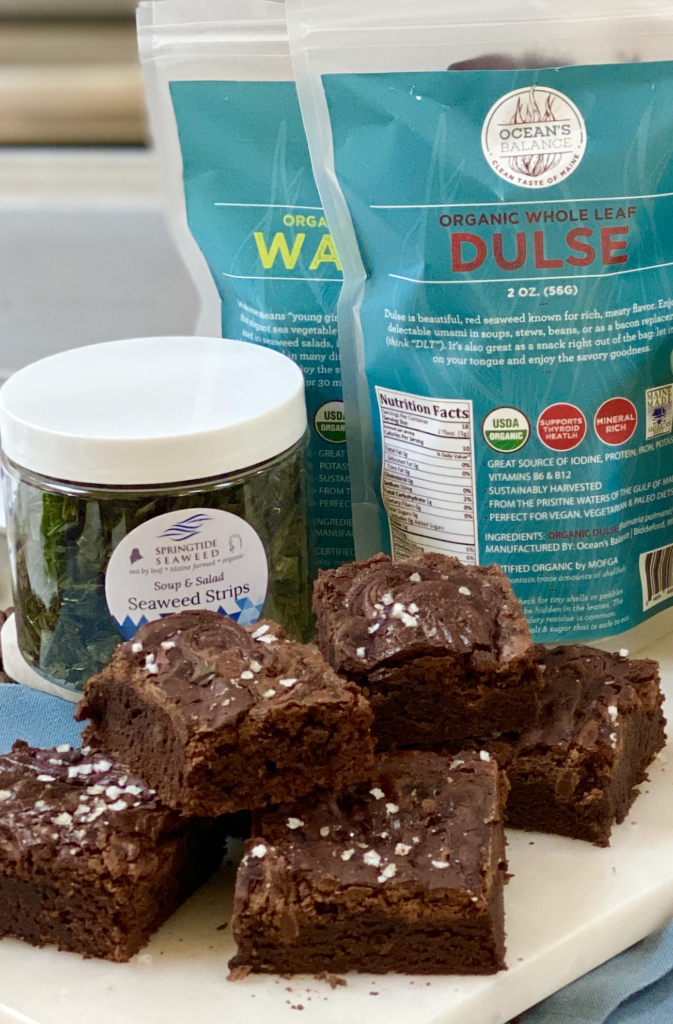 1. Preheat oven to 350 degrees F. Grease a 9×13-inch glass baking dish. In a medium saucepan over medium-low heat, melt the butter and the chocolate chips. Pour the mixture into a large bowl. Add the 1 ⅔ cups sugar, the flour, seaweed, vanilla, baking powder, ½ teaspoon salt, and the 3 large eggs, beating just until well-mixed. Spread the mixture in the pan.
2. In a small saucepan, heat the whipping cream over medium heat until it starts to simmer, but don't let it boil. Add the chocolate chips and stir until the chocolate is melted. Cool this mixture slightly.
3. In the bowl of an electric mixer, combine the 3 remaining eggs, ⅓ cup sugar, and ¼ teaspoon salt. Mix at medium speed until foamy. Add the chocolate mixture and stir until combined. Pour this over the batter in the pan.
4. Bake for 45 minutes (until a toothpick inserted in the middle comes out surrounded with gooey crumbs). Cool on a wire cooling rack and then cut into 2-inch squares.
Now that you've tried making kelp brownies, how does a Chocolate Ice Cream Roll Kelp Cake sound?