Here's a pizza with yummy ingredients from the Sea Pantry!
I love topping my pizzas with beautifully poached shrimp, seaweed pesto, and handfuls of superfood greens (like pea shoots, arugula, or spinach) for a crave-worthy AND wholesome dinner.
These ingredients top a well-made crust to form a great pizza that combines the best of all seasons. I use incredible Blue Evolution seaweed for the pesto and Fair Trade Certified Del Pacifico Shrimp, both of which support healthy oceans and communities.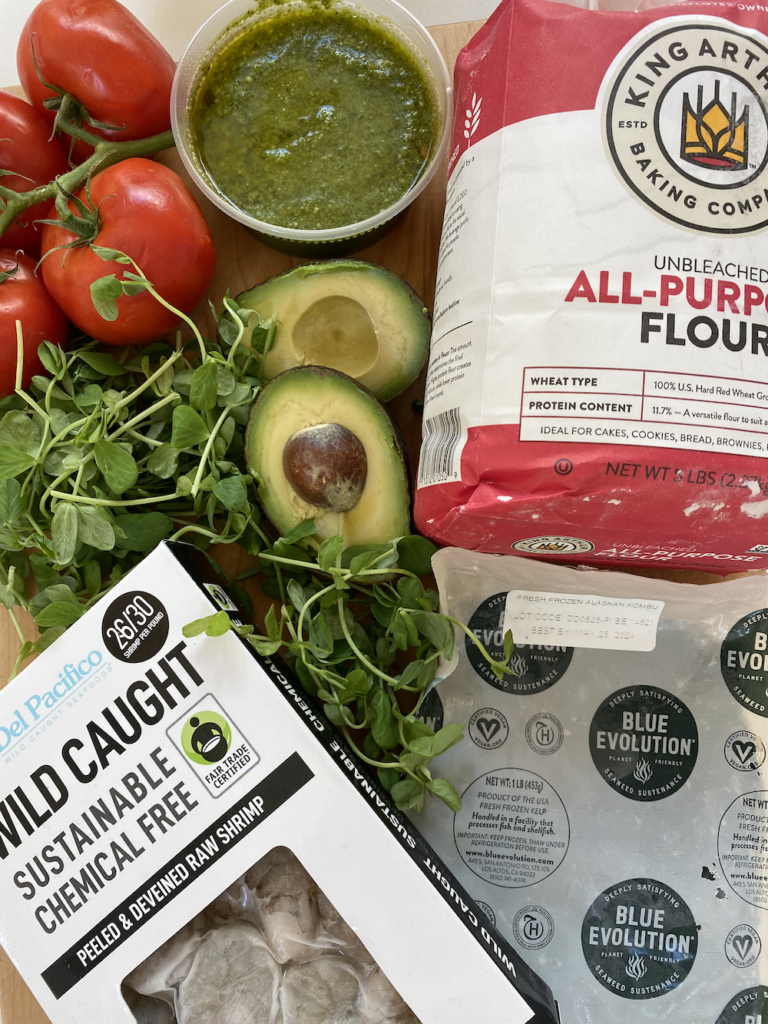 When you choose Fair Trade Certified seafood, like Del Pacifio Shrimp, you directly support farmers and fishers that are uplifting their employees, communities, and the health of our planet by creating safe working conditions, environmental protection, ⁠⁠sustainable livelihoods⁠⁠, and development funds for the cities/neighborhoods that they're in⁠⁠.
And I could talk about the benefits of seaweed all day, but a couple of key points to remember are that they help sequester carbon and fight ocean acidification. Plus, they're an excellent source of nutrients so it's a win-win to add them to your pesto (or even sprinkle directly atop your pizza)!
Using packaged pizza dough or rounds will ultimately make this a super easy "after work" dinner. Pizzas are actually great for the middle of the week if you have these pre-made doughs on hand (another pantry staple in my kitchen)! 
Otherwise, you can treat yourself to homemade dough while sipping Dough Wine's Sauvignon Blanc, which pairs perfectly with a Shrimp Pizza!
Makes 2 12-inch pizzas
1 cup seaweed, thawed, cleaned and chopped
2 cups mozzarella
1 teaspoon crushed red pepper
1 tablespoon olive oil
1 pound Del Pacifico Shrimp, peeled, tails removed and poached
2 cups fresh pea shoots, arugula, or spinach, cleaned and dried
¼ cup vine-ripened tomatoes, seeded and diced
1 avocado, peeled, seeded, and diced
¾ teaspoon sea salt
¾ teaspoon freshly-ground black pepper
Pizza dough (recipe below) or premade dough or crusts
Blue Evolution Seaweed Basil Pesto (See the recipe for mine here!)
Preheat the oven to 430 degrees F.
Note: This pizza can be made with any type of peppery green. Try using a combination of arugula and spinach for a different version of this salad pizza.
Divide the dough in two. Roll out the pizza dough on a floured board and transfer to a cookie sheet or stone. Top each crust with 1 cup of the mozzarella cheese. Spoon the seaweed evenly over the crust. Sprinkle with the red pepper and drizzle with olive oil. Bake until the cheese melts, about 15 minutes. Allow the pizza to stand for five minutes.
To serve, top with the shrimp, pea shoots, tomatoes, and avocado. Finish with spoonfuls of Pesto and serve.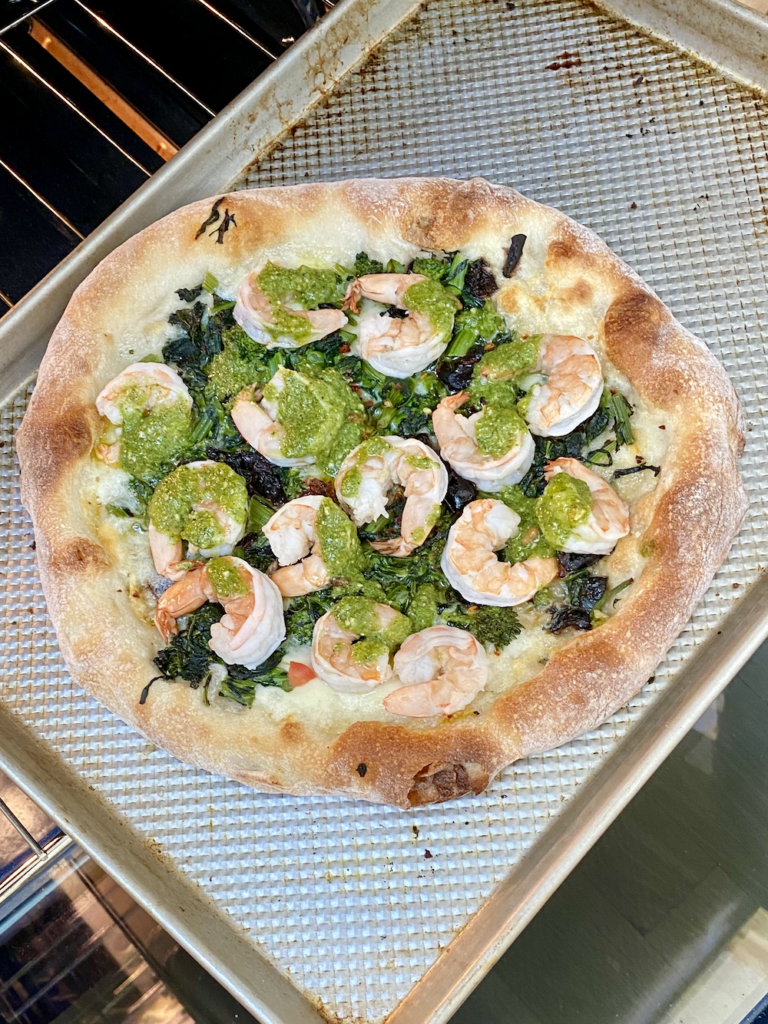 BASIC PIZZA DOUGH
Everyone knows the perfect pizza begins with the perfect crust. Ultimately, the pizza is a balance of a well-made crust and some tasty toppings. The crust can be thin and crisp, or thick and chewy, depending on how the dough is handled. This dough will make enough for two large pizzas or four small ones.
2½ teaspoons dry yeast
1 cup warm water
3 tablespoons extra virgin olive oil
3 cups all purpose flour (or more depending on the weather)
1 tablespoon salt
1 tablespoon sugar
1½ tablespoons olive oil
Sprinkle yeast over the warm water and olive oil in a small bowl. Stir until foamy.
TIP
For pizza dough, the type of flour that you use can make or break it. I like to use an unbleached, stone-ground bread flour for the best flavor.
In a large bowl, stir together the flour, sugar, and salt. Stir in the yeast mixture, beating until a stiff dough forms. Add more flour if the dough is too sticky to handle. The secret to a great dough is the moisture content. A chewy crust comes from a wet dough or one that slightly sticks to your hands.
Turn the finished dough onto a lightly floured surface and knead until smooth, shiny, and elastic, adding flour if it is still too sticky.
Lightly oil a large bowl and place the kneaded dough into it. Brush the surface with oil. Cover and let it rise until it doubles in bulk—up to one hour. Punch down and form into two rounds.
Serving Suggestion:
If you want a quick flatbread, simply roll the dough out into individual rounds, brush with olive oil, and grill the bread on a hot grill or grill pan.
Got leftover shrimp and seaweed pesto? Make this Shrimp & Pesto Pasta!