Shrimp & Pesto Pasta is one of those go-to comfort dishes that never disappoints.
This make-ahead dish for the holidays (or any day really) is easily put together with a homemade or store-bought pesto. I like to add seaweed to mine for a rich flavor and added nutrients (and if you'd like to try this dish with kelp pasta, go for Blue Evolution's noodles). 
Now, let's talk about the star of this dish – SHRIMP!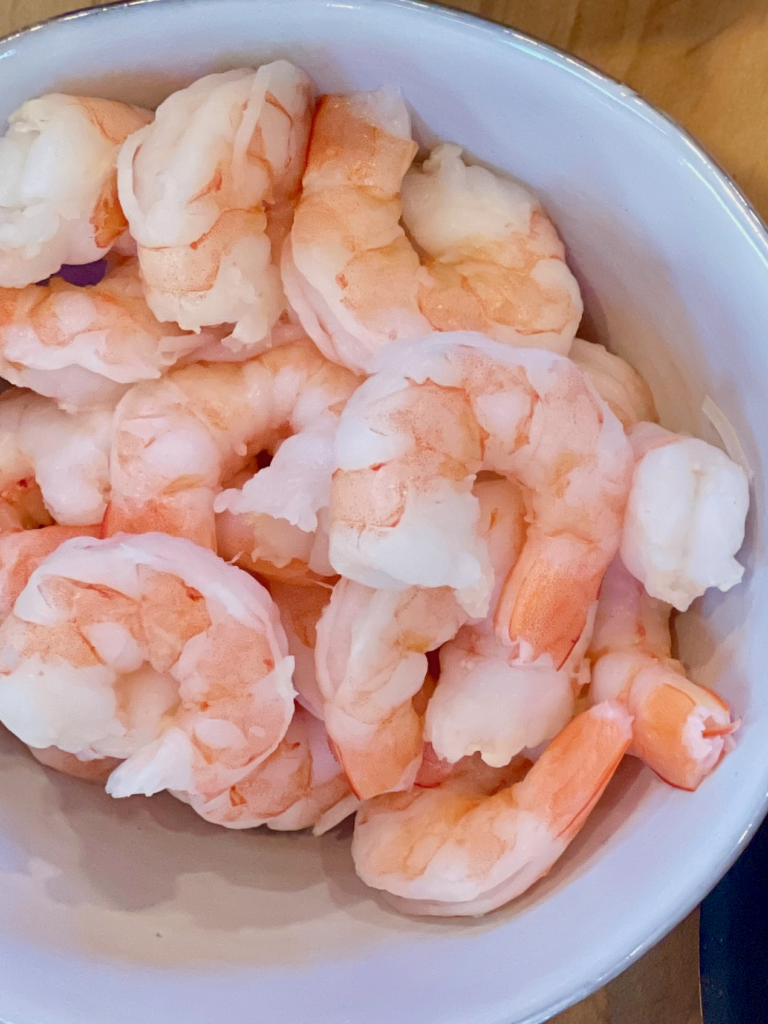 When I was young, my family would go out to dinner and my brother had a knack for ordering the most expensive thing on the menu. Usually, it was shrimp. Back then, the shrimp you would order was wild, delicious, and really rare.
Today, shrimp is the second most consumed seafood item in the United States, and with its rise in popularity, it's also done damage to our environment, including the mangrove forests.
That's why it's very important whenever you're buying shrimp to look for SUSTAINABLE shrimp, whether it's farmed or wild:
If you get farmed shrimp, look for farms with a four-star BAP (Best Aquaculture Practices) certification. This means that all of the components that go into raising the shrimp, from the feed to the processing, are sustainable.
If you get wild shrimp, you want to make sure that it's certified by the Marine Stewardship Council or by Seafood Watch.
For this Shrimp & Pesto Pasta recipe, I'm using Del Pacifico Shrimp, a Mexican wild shrimp that is Fair Trade Certified. This means that not only is it MSC-certified and properly harvested so we're not depleting that fishery in Mexico, it also means that there's a premium paid on this that goes back to the workers to build schools and soccer fields and all the great contributions that you'd want in a fisher community.
Poach these beautiful shrimp in salted, boiling water in a small saucepan and then put them in ice water in batches. They're so special – you want them to taste just perfect, and when combined with pasta and pesto, they're absolutely divine.
Makes 6 servings
12 ounces penne pasta (I love Blue Evolution's kelp pasta)
¼ cup pine nuts, toasted
8 ounces shelled, deveined and poached medium shrimp, tails removed
1 cup fresh store-bought basil pesto
¼ cup freshly grated Parmigiano Reggiano cheese (about 1 ounce)
1. Bring a large pot of salted water to a boil over medium high heat and add the pasta. Cook, according to the package directions, until just tender – usually 9 minutes or a little more. Drain well.
2. In a large bowl, combine the pine nuts and cooled shrimp with the penne. Toss in the pesto, and finish with the cheese. Season with salt and pepper and serve at room temperature. You can also refrigerate and let it sit on the counter about 30 minutes before serving.
TIP
Be careful when toasting pine nuts. They have more oil in them than other nuts and will brown faster. Instead of toasting them in a pan, which can cause them to burn in spots, try toasting them in the oven. Toasted at 350 F on a cookie sheet, they will brown evenly within 5-7 minutes, but be sure to watch them carefully – they will burn the minute you turn your back.
TIP
The key to success in this recipe is in gently poaching the shrimp, so that they don't become chewy. You can use frozen shrimp to save money, but better to buy it raw and poach it yourself. To poach the shrimp, bring a large pot of salted water to a boil. Add the shrimp a few at a time, so that you won't lower the temperature of the water. Once the shrimp are in the water, watch them carefully. Remove them as soon as they are pink and firm, no longer than 2 to 3 minutes. Drain them in a colander and set them aside until ready to put in the salad.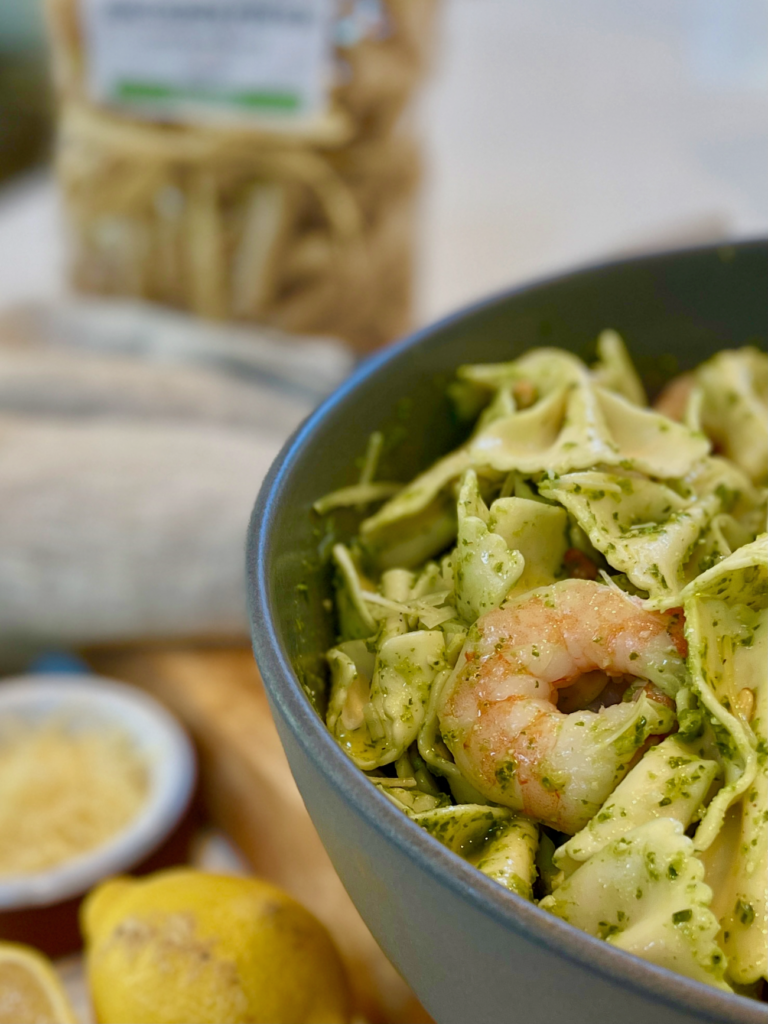 Looking for a shrimp appetizer? Try these Grilled Cajun Shrimp with Corn & Cumin Butter!