Even when it comes to Game Day grub, we can add elements of our Sea Pantry! I'm sharing a favorite combination of mine – shrimp and guacamole, while also featuring the addition of two very important ingredients starring kelp:
First, this kelp puree from Blue Evolution, which adds both umami and richness to the basic mixture of avocado yumminess.
And secondly, these ridiculously addictive (yet nutritive!) 12 Tides kelp puff snacks that are a delicious way to support water farmers raising organic kelp in Frenchman Bay, Maine.
Paired with perfectly poached shrimp, this appetizer is an absolute crowd pleaser at my house – and hopefully yours!
Tips for Finding Sustainable Shrimp:
Finding sustainably raised or caught shrimp can seem like a challenge. The United States imports around 90% of the shrimp that we eat!
When looking for sustainable options, examine the packages in the frozen seafood case or ask the fishmonger where the shrimp is from – you'll discover that the majority comes from aquaculture operations in places such as Mexico, Ecuador, Southeast Asia, China, and India.
Thankfully, with the help of organizations like Best Aquaculture Practices and Monterey Bay Aquarium's Seafood Watch Program, you can find an incredible amount of well-raised or sustainably harvested shrimp.
Keep an eye out for giant freshwater prawns farmed in Central and South America and giant tiger prawns from Selva Shrimp Verified Farms in Southeast Asia, which are rated green for "Best Choice." Kauai Shrimp, a farm on the west shore of the island of Kauai, is also rated "Best Choice."
"Good Alternatives" (the yellow rating from Seafood Watch) include white leg shrimp from ponds from Ecuador and Honduras, white leg shrimp grown in infrequent exchange ponds from Thailand, and giant freshwater prawns from Asia.
For wild-caught shrimp, look for spot prawns (aka spot shrimp) and two other closely related coldwater shrimp: the sidestripe and the coonstripe (both of which may be marketed as spot shrimp or prawns). These are caught on the Pacific Coast, primarily from Washington to Alaska, and have minimal conservation concern – the Monterey Bay Aquarium Seafood Watch program considers them all "Best Choices."
Serves 6
For the Shrimp:
Ice
4 quarts water
1 lemon, halved
1 tablespoon black peppercorns
2 bay leaves
2 teaspoons salt
2 pounds large sustainably-raised or caught raw shrimp, peeled, veins removed, and tails intact
For the Guacamole:
3 Haas avocados, halved, seeded, and peeled
2 limes, juiced
½ teaspoon kosher salt
½ teaspoon cayenne
½ medium onion, diced
½ jalapeno pepper, seeded and minced
2 Roma tomatoes, seeded and diced
1 tablespoon chopped cilantro
2 tablespoons kelp puree, such as this Alaskan Kombu Kelp Puree from Blue Evolution
Tabasco, to taste
12 Tides Kelp Puff Snacks (Go with the Chili Flavored ones!)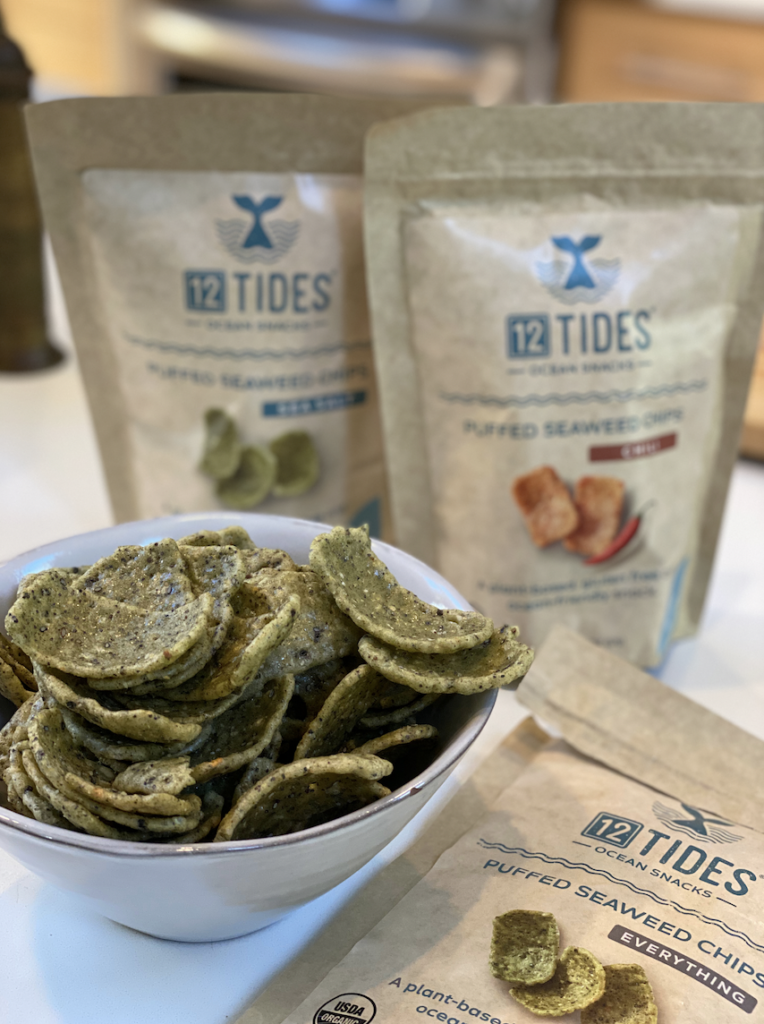 To Prepare the Shrimp:
Fill a large bowl halfway with ice and water. Pour the 4 quarts of water into a large pot. Squeeze the juice from the lemon into the pot. Stir in lemon halves, black peppercorns, bay leaves, and salt; bring to a boil over medium-high heat. Remove from heat; add shrimp. Cover and let it stand 5 minutes (or just until the shrimp turn pink). Stir the shrimp into ice water; let stand 10 minutes. Peel and devein shrimp.
To Prepare the Guacamole:
In a large bowl, place the scooped avocado and lime juice, tossing to coat. Using a potato masher or your hands, add the salt and cayenne and then mash. Fold in the onions, tomatoes, cilantro, and kelp puree. Season with Tabasco to taste. Let sit at room temperature for 1 hour and then serve with the shrimp and kelp puffs.
Want more Sea Pantry dishes to munch on for Game Day? Try these Crab Fritters or Spinach & Crab Dip!