Finding canned and pasteurized sustainable seafood can be very confusing. Most of what is out on the market is neither traceable nor sustainable. And yet, having something on hand such as crab can be the perfect addition to an omelette, a taco, or a crab cake dinner served with a salad!
For this recipe, I used pasteurized, frozen blue crab caught in Maryland's Chesapeake Bay with trotlines – a domestic crab that is considered a "Best Choice" by Monterey Bay Aquarium's Seafood Watch Program. Blue crab stocks in the U.S. are considered healthy in most states with the exception of Florida, Georgia, Louisiana, Mississippi, North Carolina, South Carolina, Texas, and Virginia's Chesapeake Bay waters. In these areas, there is an endangered turtle called the Diamondback Terrapin which lives in the brackish waters of estuaries, tidal creeks, and salt marshes of these states and gets caught in the pots used to catch crabs. 
When it comes to canned crab, most of the white lump meat crab that you'll find in the grocery store is from Indonesia. This region is on the "Avoid" list due to overfishing and poor catch methods. (Sustainable, canned anchovies are also very confusing and difficult to find.)
For canned or tinned seafood, look for cans that are eco-certified by the Marine Stewardship Council. I love using the delicious canned seafood from Scout Canning, for example!
When shopping for canned tuna, read the label for descriptions like "pole-caught," "troll-caught" or "pole and line caught." Look for canned tuna labels that say "FAD-free," "school caught," "free school," or "unassociated" to be sure you're getting a more ocean-friendly product. It takes a bit of awareness, but once you find a company that is doing the right thing, having these items on hand will be invaluable!
Green Goddess "from the Sea" Dressing
Originally served in 1923 at the Palace Hotel in San Francisco by their executive chef Philip Roeme, Green Goddess dressing has been a favorite of mine since my mom served it to us drizzled over iceberg lettuce and sprinkled with fresh chives. In this version, we take the mix of herbs and add our "herbs" of the sea to bring a brightness and a connection to the sea that is not only delicious but better for the planet. There will be plenty of dressing leftover to use as a dipping sauce for crisp vegetables or cold grilled fish! This also has sustainable anchovies, an ingredient essential to every pantry from the sea.
Yields 3 cups
4 cups fresh baby spinach leaves
1 cup basil leaves
½ cup tarragon leaves
½ cup dried kelp leaves, refreshed in water for 30 minutes and drained
2 cloves garlic, chopped
½ teaspoon anchovy paste
1 cup mayonnaise
1 cup Greek yogurt
¼ cup champagne vinegar or white wine vinegar
½ teaspoon salt
1 teaspoon freshly ground black pepper
Place the spinach, basil, tarragon, kelp, garlic, and anchovy paste to a food processor and pulse until finely chopped. Add the mayonnaise, yogurt, vinegar, salt and pepper. Process until smooth and green. Chill until ready to serve.
Chipotle Mayonnaise
In my version of this favorite condiment, I add a spoonful of the adobo sauce from a can of chipotle chilies packed in adobo. I freeze the remaining chilies individually to use in other recipes!
Yields 1 cup
2 tablespoons adobo sauce from a can of chipotle chilies packed in adobo
1 cup mayonnaise
2 tablespoons fresh lime juice
Freshly ground black pepper and salt to taste
In a small bowl, add the adobo sauce, mayonnaise, and lime juice. Whisk together and season to taste. Chill until ready to serve.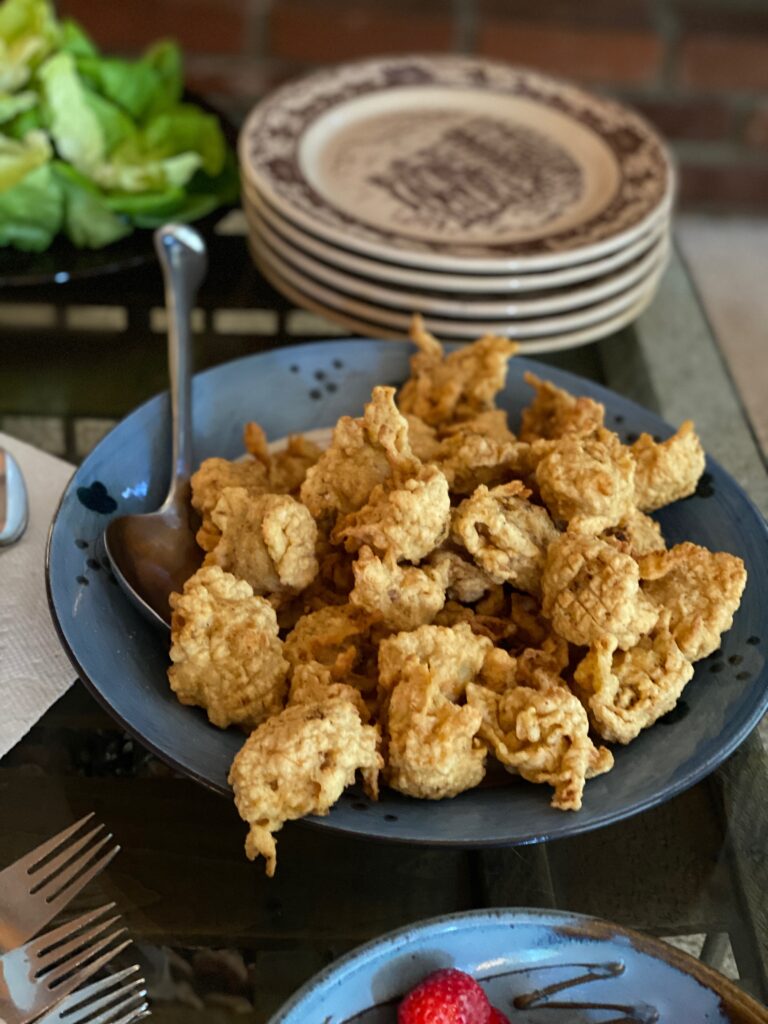 Crab Fritters
The idea of canning fish came shortly after inventor Peter Durand patented his own method for canning foods in a tin can. Canning was used in the 1830s in Scotland to keep fish fresh and was used in the U.S. shortly thereafter. Canned or pasteurized frozen crab meat makes this dish the perfect straight-out-of-the pantry "from the sea" recipe for anytime you like!
Yields 60 fritters
1 ½ cups flour
½ teaspoon cayenne pepper
1 teaspoon salt
½ teaspoon garlic powder
½ teaspoon black pepper
4 large eggs, room temperature
1 cup water
24 ounces Maryland blue crab meat, drained and well dried (I used this one)
Peanut oil, for frying
Lemon wedges
In a cast iron skillet or fryer, fill with 2 inches of oil. Heat the oil to 275 degrees F. Meanwhile, in a large bowl, mix together the flour, cayenne pepper, salt, garlic powder, and black pepper. In a separate mixing bowl, beat the eggs and add the water. Gradually add the dry ingredients to the wet ingredients, whisking until smooth. Next, gently fold in the crab meat.
Once the oil has come up to temperature, begin to spoon the fritter batter into the oil (about 1 tablespoon each), working in batches of 5-6 fritters to avoid overcrowding the pot. Fry the fritters for about 2 minutes on each side. When golden brown and cooked through, transfer them to paper towels. Immediately season with salt. Finish frying the rest of the fritters. Serve hot with the dressings on the side and lemon wedges.