A great dip makes everyone happy, and a great CRAB DIP…well, need I say more?
I sometimes use these dips for my family as an afternoon snack (on days when we're lucky to have it around).
If I need a festive, crowd-pleasing dish for a party though, this substantial snack is also a winner. It comes together quickly, can be heated before I leave the house, and is delicious served both cold or at room temperature if it has to sit for any length of time, making it truly ideal for gatherings.
I also recommend using canned lump crab meat to save money. In this dip, no one will be able to tell the difference!
I also wanted to share about the sustainability innovations in crab fishing:
Because whales are getting entangled in crab pots, we have to leverage tech to help crab fishers protect marine mammals. Instead of using crab pots with long ropes, we now have systems that can be used on fishers' phones to detect where the pots are and help them automatically rise to the surface and keep our whale friends safe and sound.
To find sustainably caught crab meat, look to the Monterey Bay Aquarium's Seafood Watch Program. Crab from Alaska is a "Best Choice," and crab caught on the U.S. West Coast is a "Good Alternative." Blue crab caught with trotlines in Maryland's Chesapeake Bay waters is a "Best Choice," and you can also find "Good Alternative" rated crab from Alabama, Delaware, Maryland's Chesapeake Bay waters, and New Jersey's Delaware Bay waters.
Atlantic rock crab caught in Massachusetts is a "Good Alternative," but all other sources are on the "Avoid" list. Don't buy U.S. blue crab from Florida, Georgia, Louisiana, Mississippi, North Carolina, South Carolina, Texas, and Virginia's Chesapeake Bay waters.
Always avoid Atlantic rock crab from Connecticut, Maine, Maryland, New Hampshire, New Jersey, New York, Rhode Island, and Virginia. Also, stay away from Florida stone or Gulf stone crab from Florida. Most imported crab is on the "Avoid" list, so try and find something that is from the U.S.
That can be a lot to remember so I recommend downloading the Seafood Watch app!
Makes 6 servings
8 ounces cream cheese, softened
2 tablespoons half and half
¾ cup mayonnaise
2 tablespoons finely-chopped shallots (about 4 medium cloves)
1 teaspoon creamed horseradish
1 teaspoon Dijon mustard
½ teaspoon cayenne pepper
½ teaspoon white wine vinegar
¼ teaspoon freshly-ground black pepper
½ teaspoon salt
One 10-ounce package frozen chopped spinach, thawed and squeezed as dry as possible
Two 6-ounce cans crabmeat, drained
¼ cup grated Parmigiano-Reggiano cheese (2 ounces)
One thin French bread baguette, thinly sliced
¼ cup olive oil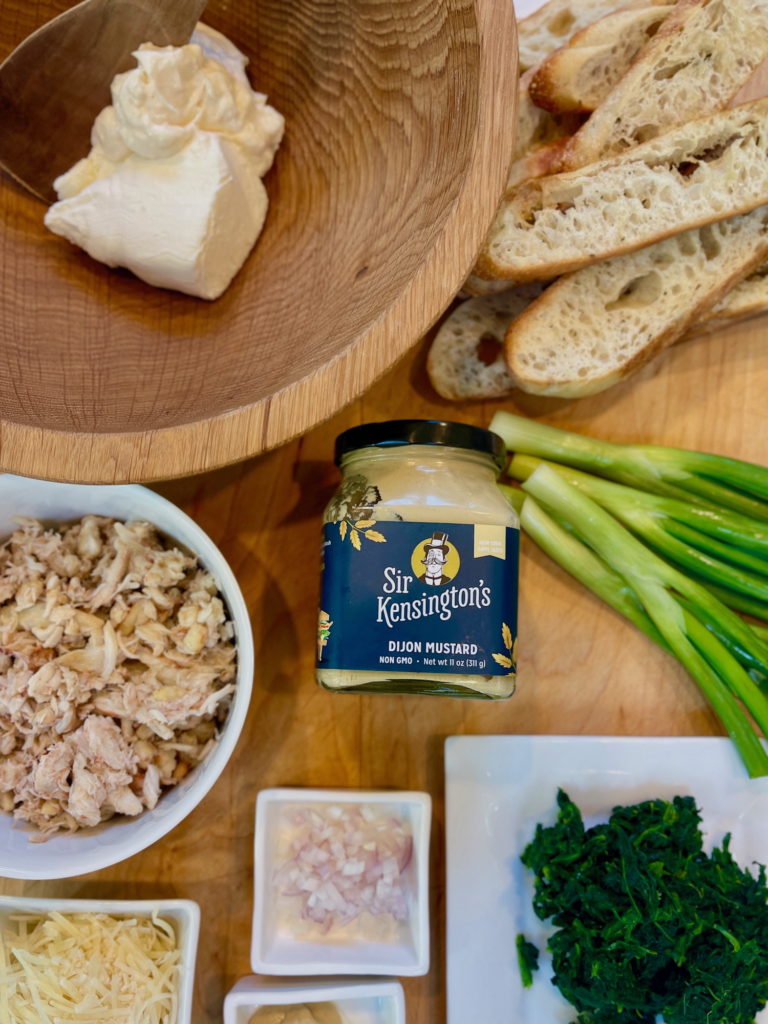 1. Preheat the oven to 375 F.
2. In a food processor fitted with the metal blade, purée the cream cheese, half and half, mayonnaise, shallots, horseradish, mustard, cayenne, vinegar, pepper, salt, and spinach. 
3. Scrape the mixture into a medium bowl and fold in the crabmeat. Spread the combined mixture in the bottom of a 9 x 9-inch square baking dish or a 1-quart casserole dish. Sprinkle the cheese over the top.
4. Bake until heated through, about 20-25 minutes.
5. While the crabmeat is baking, brush the bread rounds with olive oil and season with salt and pepper. Bake or grill until light brown, 2 or 3 minutes on each side. 
6. Serve the toast rounds with the bubbling hot crabmeat mixture—to dip at will 🙂 
TIP: I love the taste of grilled bread. Grilling the bread adds flavor without adding a lot of fat.  Preheat your grill pan or grill to medium-high heat and toast the bread until golden on each side, turning only once. Watch closely, as grilled bread seems to burn the minute you turn your back.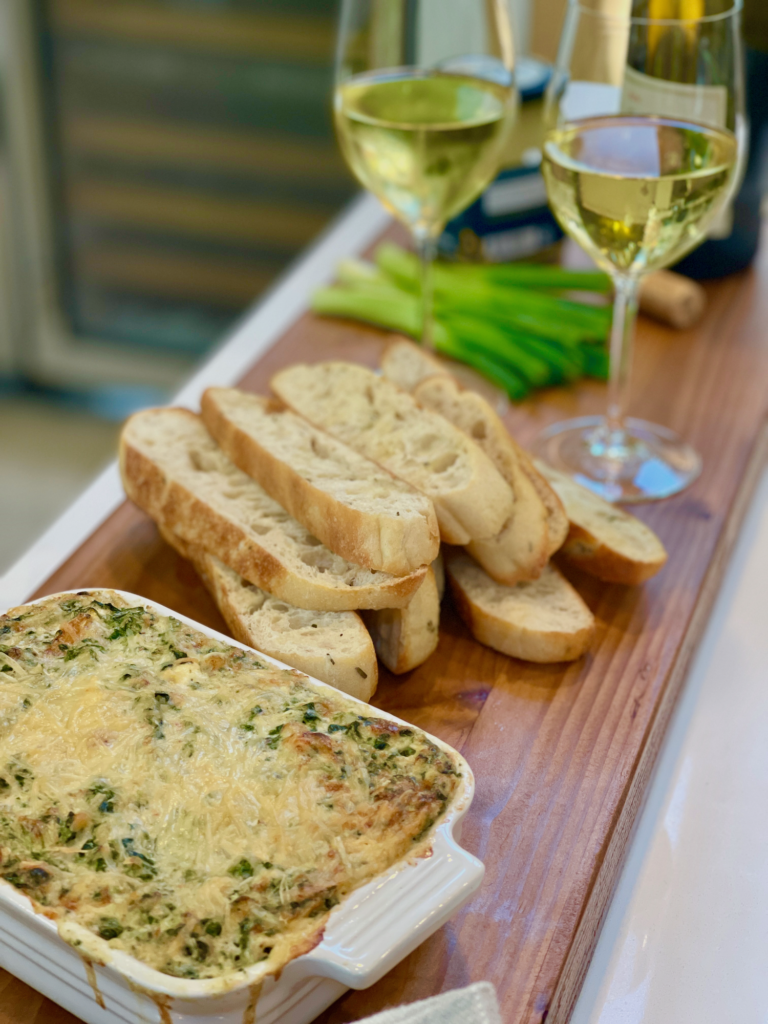 Can't get enough crab? Try these Fresh Crab & Seaweed Tacos or these Crab Fritters!