If you're looking for a simple, but delicious Easter recipe, look no further! This Steamed Fresh Fish with Hollandaise and Steamed Potatoes dish is inspired by the cooking classes I took at Ballymaloe Cookery School in Ireland.
The recipe is VERY adaptable and can be made with pretty much any flaky fish filet that you can get your hands on. I used a local rockfish from Monterey Bay that's currently in season in California, but I encourage you to experiment with any sustainable fish that's local and in season: salmon, halibut, turbot, sea bass, monkfish, and trout are all fantastic options!
The Irish butter is so rich and decadent; it turns this into a special, indulgent dish that's perfect for a holiday like Easter. And the herbs incorporated are so nice for spring — I used lemon thyme here, but feel free to use your favorite fresh herbs to add aromatics to your dish. While I love making my hollandaise from scratch with egg yolk, butter, and lemon, you can absolutely purchase it from the store to save time.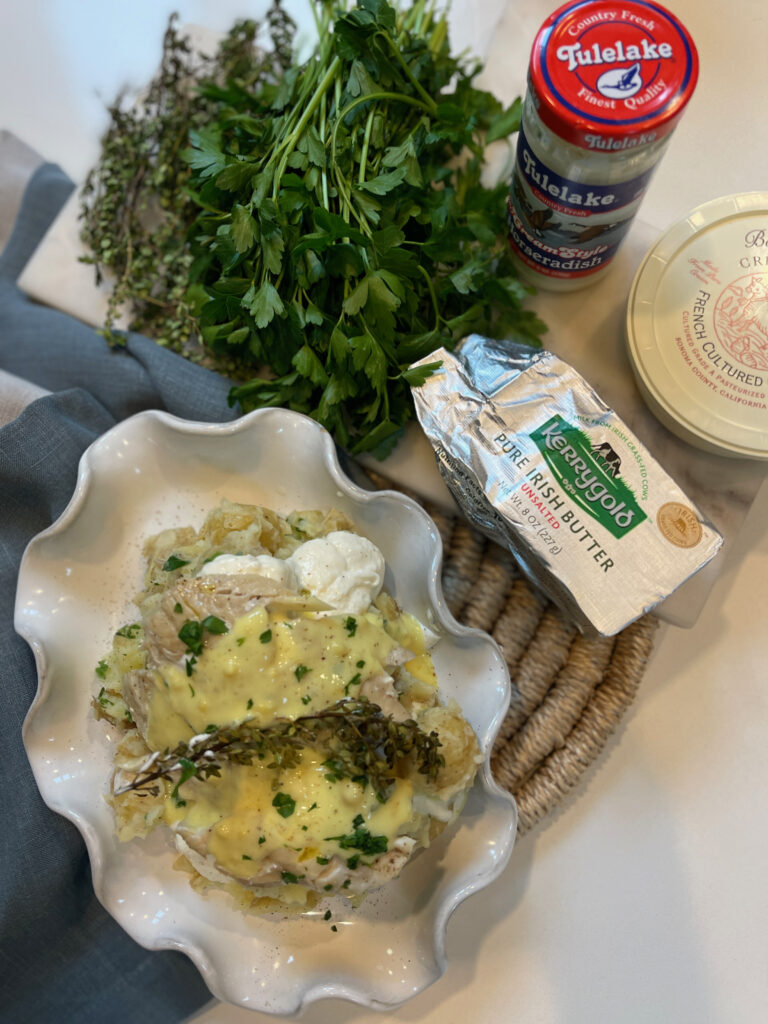 Makes 6 Servings
6- 4 ounce fillets of fresh fish, skinned
Sea salt and freshly ground pepper 
4 tablespoons Irish butter
Sprig of fresh fennel or dill 
Hollandaise sauce 
Chopped fresh herbs for garnish
Potatoes, steamed
Crème fraiche combined with horseradish to taste
Preheat the oven to 350° F. Meanwhile, salt the piece of fish and leave for 10 minutes.
Take a sheet of aluminum foil and fold it in half, then open the fold and smear a little Irish butter on the underneath sheet. Place the piece of fish on the buttered sheet, season with freshly ground pepper, and put the remainder of the butter plus a sprig of the fresh herbs on top.
Fold over the foil and seal the edges well. Bake in the oven at 350° F for 10 to 12 minutes.
Serve the fish immediately topped with a little Hollandaise sauce. Spoon a mixture of fresh herbs into the papillotes just before you serve them.
Serve with steamed potatoes and crème fraîche seasoned with a bit of horseradish.
Looking for more fresh fish recipes? Try this Baked Whole Fish with Tomato Tartare or Provencal Style Cod with Cannellini Beans and Tomato.