Baking and serving a WHOLE fish not only results in a succulent dish – it also makes for a beautiful presentation for your guests this holiday season (or your loved ones at home, if you're doing a small celebration with only your household). 
There's no reason to be scared of cooking a whole fish, as long as it's sustainably-sourced from a responsible, ethical farm or fishery. You can use a rockfish or a whole red snapper and check out the Seafood Watch app to confirm it's from a region that makes it an environmentally-friendly choice.
Serve your fish with your favorite green vegetable, such as green beans or roasted asparagus, along with the classic fish accompaniment of tiny boiled new potatoes seasoned with melted butter and chopped parsley. So delicious!
Makes 4 servings
Olive oil to coat baking dish
1 medium leek, dark green part trimmed away, quartered lengthwise, well-washed
2 medium carrots, peeled, trimmed, quartered lengthwise
2 medium celery stalks, cleaned, halved lengthwise
2 whole fish (I like rockfish or red snapper), about 1½ – 2 pounds each, gutted, gills removed, scaled
2 tablespoons olive oil
Salt and freshly ground black pepper
1 medium lemon, cut across into 6 thin slices
2 sprigs fresh rosemary
½ cup mayonnaise
1 tablespoon finely chopped cornichons
1 teaspoon finely chopped shallot (about 1 medium clove)
1 teaspoon finely chopped fresh chives
1 teaspoon tomato purée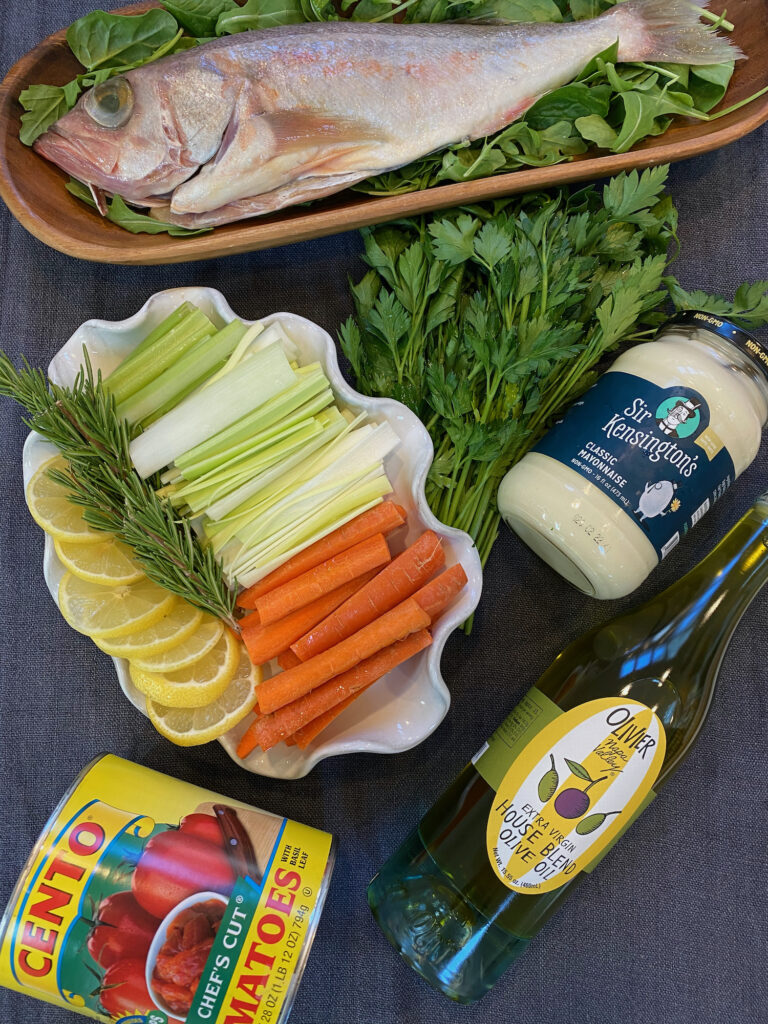 1. Preheat the oven to 350 F. Brush a baking dish that's large enough to hold the fish in an even layer with olive oil. Arrange the leeks, carrots, and celery in the bottom of the prepared pan in an overlapping crisscross pattern to form a trivet for the fish.
2. Prepare the fish: with a small knife, scrape off any scales that might still adhere, rinse in cold water, and dry well—inside and out. Rub the fish with the two tablespoons of olive oil and season the cavity and the outside with salt and freshly ground pepper. Place three slices of lemon and one sprig of rosemary in the cavity of each fish.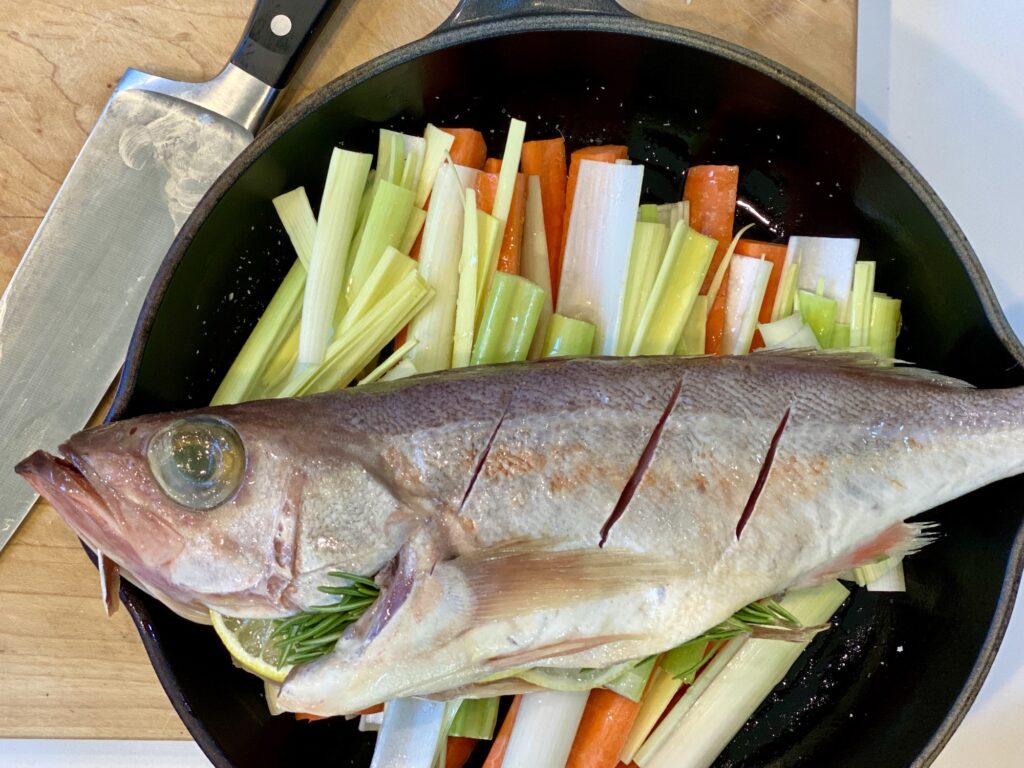 3. Arrange both fish on the layer of vegetables, make several angled slashes in the flesh of each fish, and bake in the preheated oven for 30 minutes, until the flesh is opaque and pulls away from the bone when a sharp paring knife is inserted along the backbone.
4. In a small bowl, mix together the mayonnaise, chopped cornichons, shallot, chives, and tomato purée. Season to taste with salt and freshly ground pepper. Reserve your Tomato Tartare.
5. Serve the fish whole, arranged on a platter and surrounded by the vegetables. Accompany with a bowl of Tomato Tartare.