I really do believe that frozen fish is the new "fresh!" With advanced freezing techniques, you can always have beautiful fish on hand, ready to go, that tastes just as delicious as fresh fish.
This Provencal style cod is one of my go-to dishes because it's incredibly simple and features vibrant wholesome ingredients like herbs, bell pepper, and tomato!
I love using Herbs De Provence and combining them with fresh thyme and basil, along with olive oil, salt, and pepper for a quick rub that can be used on any defrosted, mild fish such as sea bass, halibut, or cod.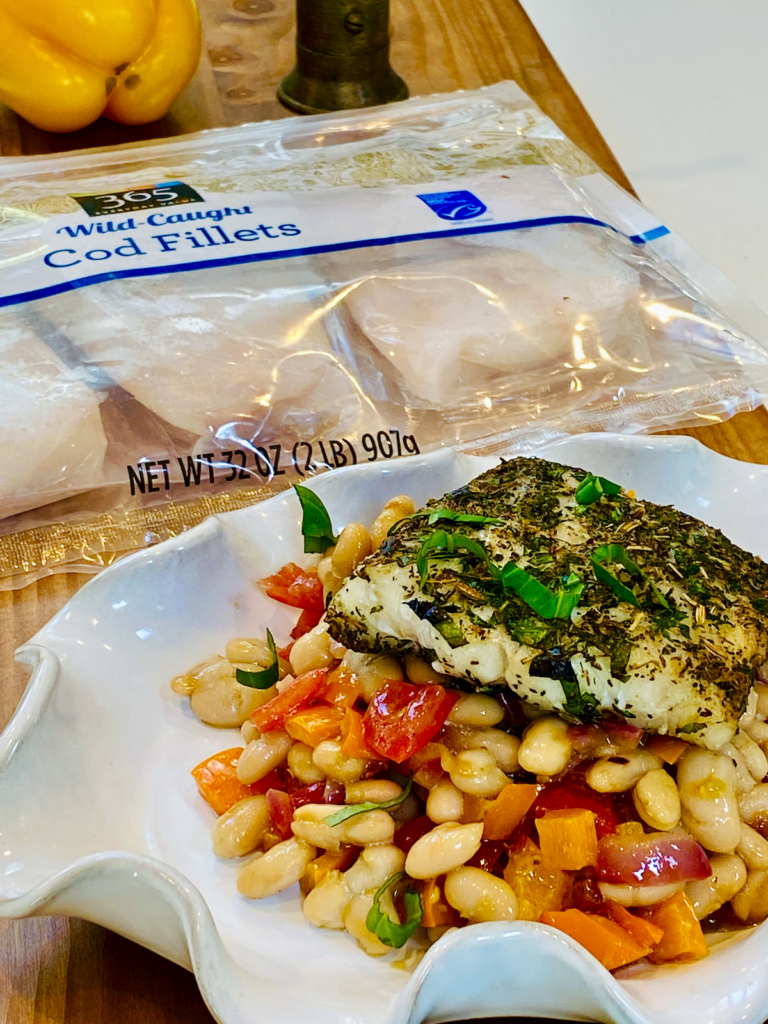 When you're shopping for your frozen fish, look for one that is Marine Stewardship Council Certified!
I bought these wild cod fillets from Norway. Since 2014, Norway's Arctic Cod Fishery has been certified as sustainable under the Marine Stewardship Council (MSC) environmental standard for sustainable and well managed fisheries. The fisheries comprise a wide variety of boats from large trawlers to smaller vessels using a mixture of fishing gear including trawls, longlines, Danish seines, hand-lines and gill nets to catch the cod.
Again, for wild seafood – whether it's frozen, canned, or in the fresh case, always look for that blue MSC label!
Makes 4 servings
4 tablespoons of olive oil
2 tablespoons chopped fresh thyme
2 tablespoons chopped fresh basil
2 teaspoons dried lavender or Herbs de Provence, crushed lightly
1/2 teaspoon salt
1/4 teaspoon freshly ground pepper
4 6-ounce, MSC certified cod fillets
Tip:
When looking for lavender to cook with, always make sure that it is untreated dried lavender. The treated lavender used in potpourri cannot be used in cooking.
In a small bowl, whisk together the olive oil, thyme, basil, lavender, salt, and pepper.
Spread this paste evenly on both sides of the fish fillets. Preheat the outdoor grill or grill pan over high heat. Grill until the flesh is opaque throughout and starting to flake, 5 to 7 minutes – turning once halfway through grilling time.
Serving Suggestion:
Arrange the warm fillets on a bed of cannellini beans and tomato.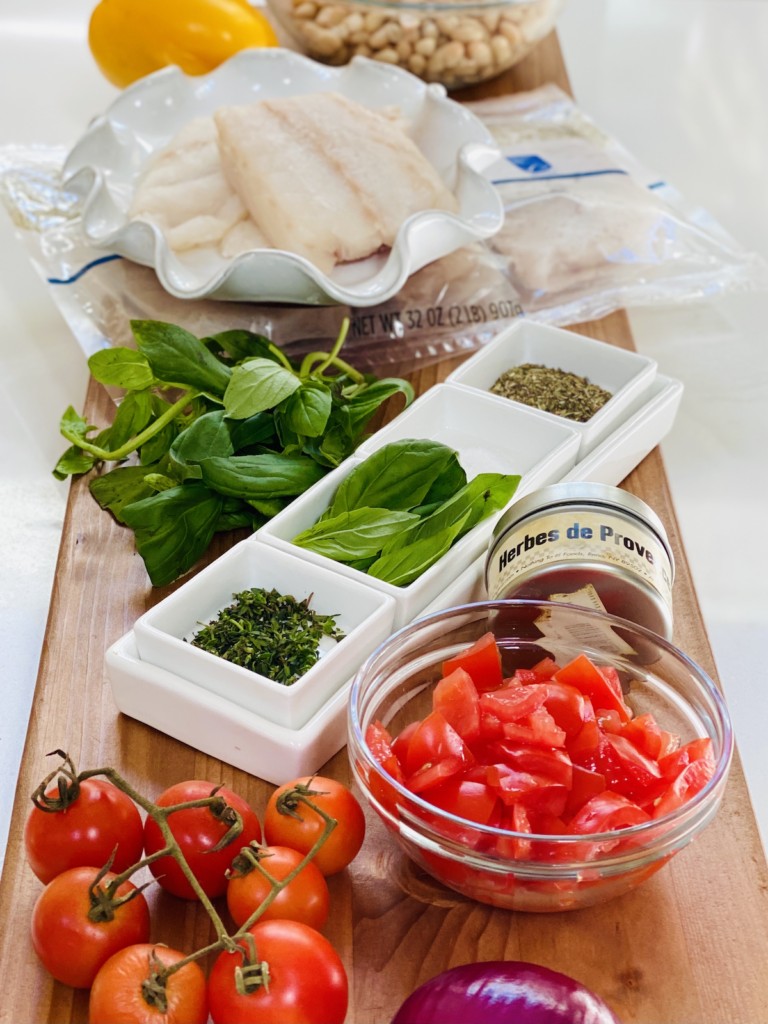 For the Cannellini Beans with Basil and Fresh Tomato:
While I serve these beans warm with the tuna (sometimes even using them as a bed for the grilled fish), they are also excellent when served as a chilled salad. They're especially delicious on a summer buffet table.
Makes about 4 servings
1 tablespoon olive oil
½ cup finely chopped white onion, about 1 medium
½ cup seeded, deveined, and chopped red bell pepper, about 1/2 medium
2 15-oz cans Italian cannellini beans, well-rinsed and drained
½ cup vine-ripened tomato, seeded and chopped, about 1 small
1 teaspoon minced fresh garlic
1-½ tablespoon balsamic vinegar
2 tablespoons extra-virgin olive oil
1 teaspoon chopped fresh thyme
½ teaspoon sea salt
⅛ teaspoon freshly ground black pepper
2 tablespoons freshly chopped basil
Heat the olive oil in a medium sauté pan over medium-high heat. Add the onion and cook just until soft, about 3 minutes. Add the red pepper and cook 3 minutes more. Add the drained beans to the pan and toss to coat with the vegetables. Add the tomato, tossing for 1 minute to heat slightly. Remove from heat.
In a medium bowl, combine the garlic, vinegar, and fresh thyme. Add the olive oil in a continuous thin stream, beating constantly. Toss this dressing with the bean mixture. Season with salt and pepper.
Tip:
To rinse, pour the canned beans into a colander and rinse with cold water until the foam dissipates.
Serving Suggestion:
Serve these beans hot or warm, garnished with basil.