Are you a fan of snails? They may not be the first seafood that comes to mind for stocking your Sea Pantry, but you will want to after this recipe! Personally, I have always loved escargot, and am partial to eating them the traditional French way: slathered in herbs, garlic, and butter, lightly broiled, and then served in the shell alongside crusty bread.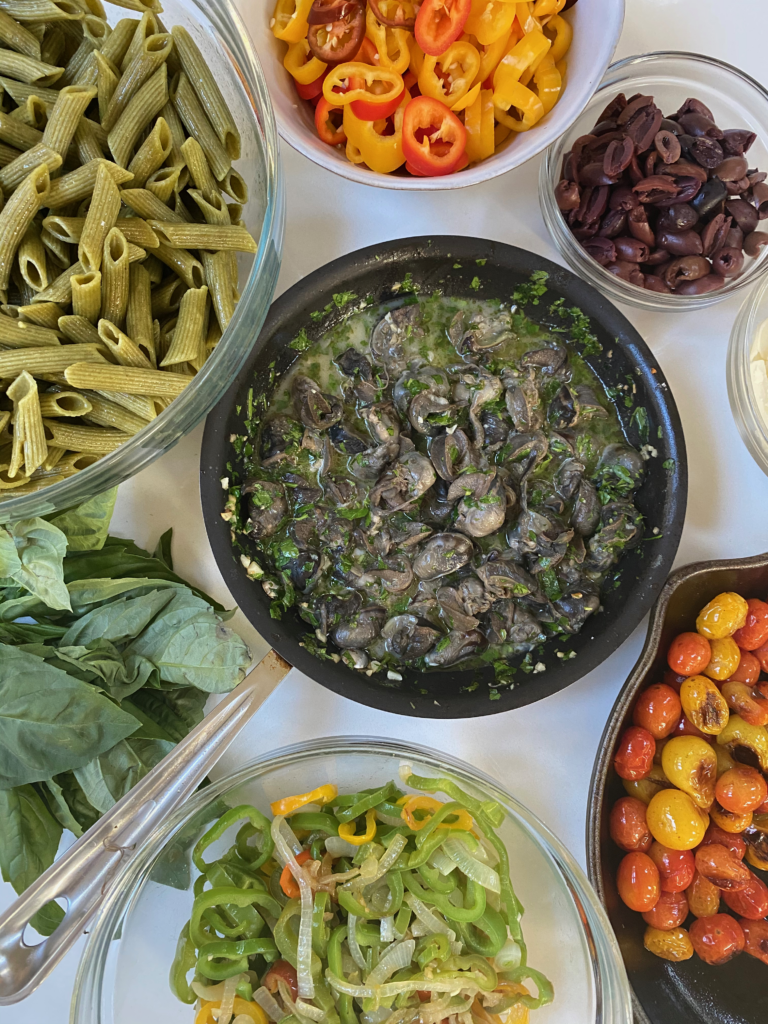 For this recipe, I'm tossing the most delicious, sustainably raised snails into Peperonata sauce (a rustic Southern Italian sauce of stewed bell peppers, tomatoes and onions — yum!). We may not be able to travel to Europe anytime soon, but can transport ourselves through flavorful meals like this pasta, all while supporting sustainable farmers.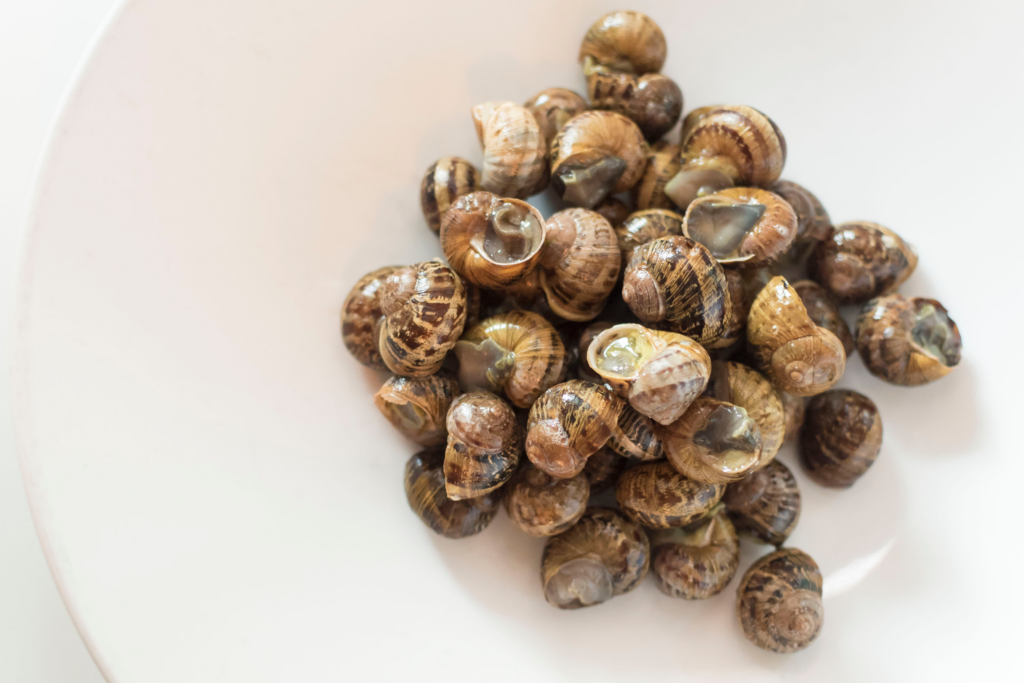 Peconic Escargot was started by Chef Taylor Knapp on the North Fork of Long Island, New York, after he grew frustrated not being able to find fresh, local escargot from any of his food suppliers. He started the first greenhouse in 2013, where they raise a heritage French species called Petit Gris or "Little Grey Snail," known for their exquisite flavor and tenderness. The snails are raised on an incredible diet of wild, foraged, local greens like dandelion, burdock, clover, and sorrel. These are truly special snails, and I hope this recipe has you incorporating them into your regular recipe repertoire!
1/4 cup extra-virgin olive oil, plus more for drizzling
2 fresh garlic cloves, peeled and crushed
1 large onion, halved and thinly sliced
1 1/2 pounds mild peppers (such as bell, sweet, and banana), stemmed, seeded, and sliced into 1/4-inch pieces (4 cups)
Kosher salt
2 cloves garlic, minced (1 tablespoon)
1 pint cherry tomatoes, halved
3/4 cup Kalamata olives, pitted and halved
1 basil sprig, plus 1/3 cup fresh leaves, sliced if large
1 cup cooked sustainably raised Peconic Escargot
12 ounces Blue Evolution Penne Pasta
¼ cup Italian Parsley, finely chopped
2 1/2 ounces Parmigiano-Reggiano, grated (1 cup)
1 finger pepper or other hot pepper, thinly sliced into rounds; or 1 dried hot pepper, such as cayenne, crushed
Heat a large straight-sided skillet or shallow pot over medium. Swirl in oil.
Add onion, mild peppers, and 1 teaspoon salt. Cook, stirring occasionally, until vegetables have collapsed and are tender, 18 to 20 minutes.
Add garlic, tomatoes, olives, and basil sprig. Cook, stirring occasionally, until tomatoes have collapsed and release their juices, and sauce thickens to a stew-like consistency, 6 to 8 minutes. Remove and discard basil.
Meanwhile, cook spaghetti in a large pot of generously salted boiling water until al dente, about 2 minutes less than package instructions. Reserve 1 cup pasta water, then drain.
Transfer spaghetti and 1/2 cup pasta water to skillet with sauce and continue cooking, tossing a few times, until sauce thickens slightly and clings evenly to pasta, 3 to 4 minutes. Remove from heat.
Add escargot, half of cheese, and finger pepper, tossing until evenly combined. Add more pasta water, a little at a time, until sauce evenly coats pasta again.
Stir in basil leaves and serve, topped with remaining cheese and a drizzle of oil.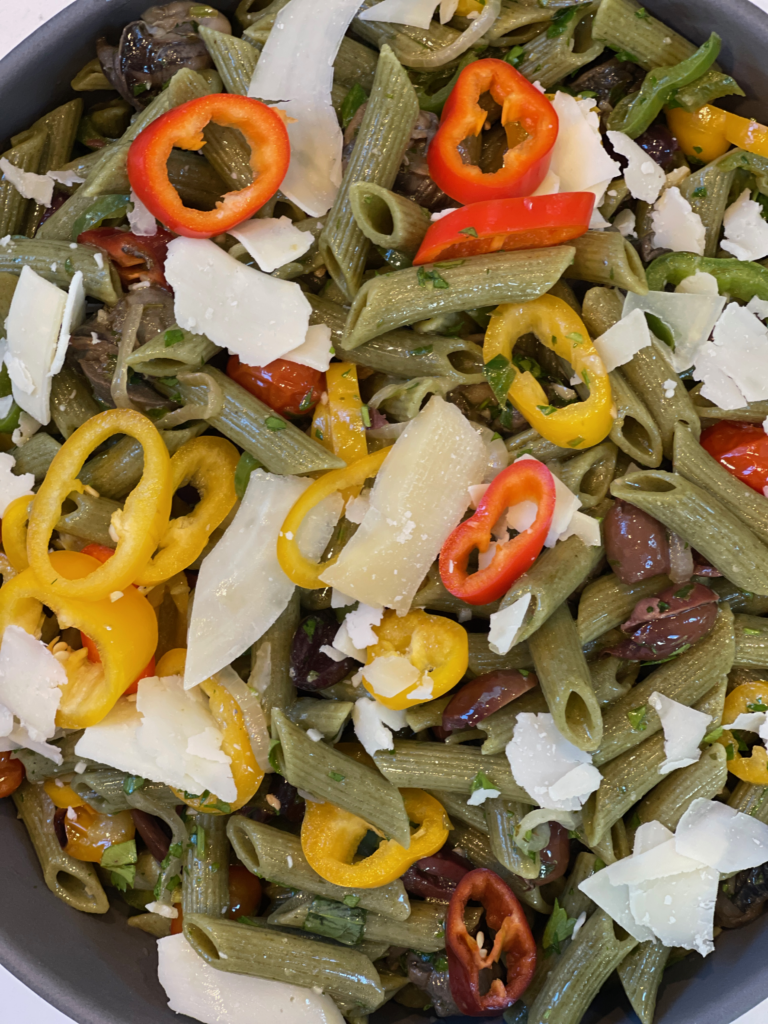 Want more seafood pasta recipes? Try this Shrimp Pesto Pasta or Seaweed Pasta with White Clam Sauce & Parsley!