I like to keep canned clams and dry seaweed pasta in the pantry for a dinner that can be on the table in minutes!
It's true that tinned and canned seafood can be hard to trace. When shopping for canned clams, remember to look at the label for one that is a small harvest, sustainably-raised or caught, and carries sustainability certification logos such as the Marine Stewardship Council label.
Bar Harbor Foods is one that I really like – it's a wild, chopped sea clam. They've been operating for over 100 years in Downeast, Maine – since 1917! Basically, you can have a yummy clam that supports heritage fishers on the East Coast, while supporting ocean health – clams actually help filter the ocean of impurities.
For this recipe, you'll create a beautiful clam sauce with garlic, thyme, parsley and then pour the sauce over a kelp pasta!
While regular pasta is delicious, I LOVE kelp pasta! It's not only delicious, but also has so many amazing vitamins and minerals from the ocean.
We all should be seaweed geeks due to the health benefits for us and the oceans from both wild and farmed kelp. I recommend cooking kelp pasta like Blue Evolution rotini and penne al dente in salty water – like the sea! 
Makes 4 servings
2 tablespoons olive oil
2 tablespoons unsalted butter
3 cloves garlic, minced
½ teaspoon dried thyme—or more, to taste
1 14-oz can MSC-certified whole clams or 2 6-½ ounce cans chopped clams
1 cup bottled clam juice (1 8-ounce bottle)
½ cup dry white wine
Salt and pepper to taste
¼ – ½ cup freshly chopped flat-leaf parsley
Kelp pasta, cooked in salty water until al dente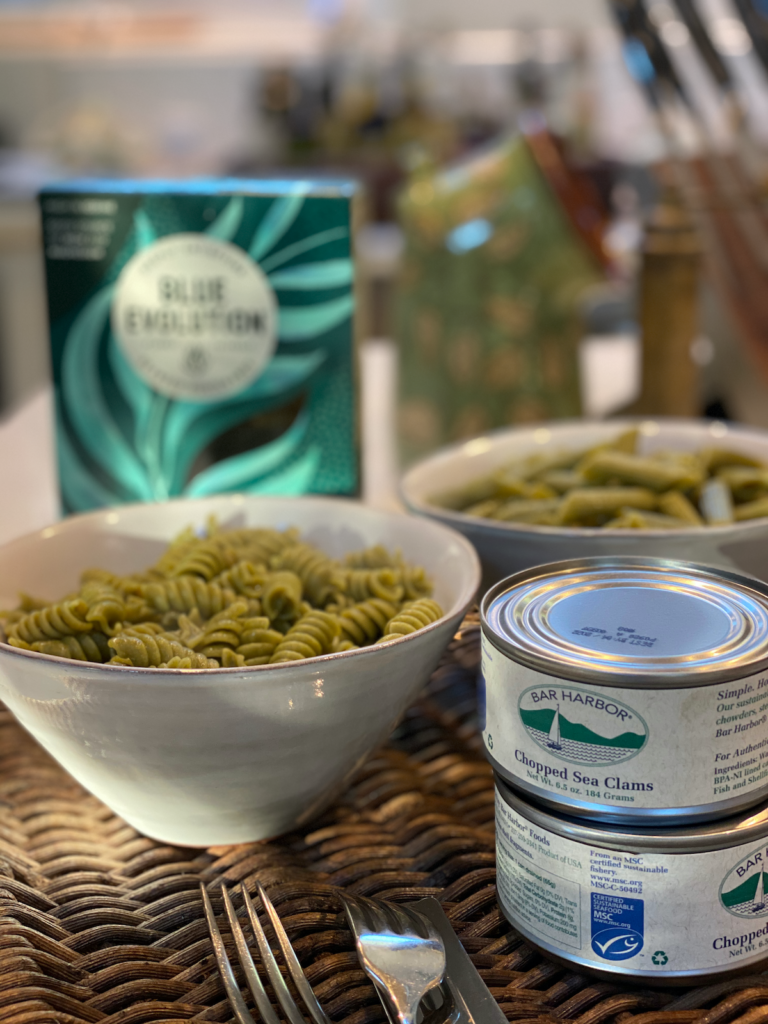 Heat the oil and butter in a heavy skillet. Add garlic and thyme and sauté 1 minute. Add clams and shake to cover with oil. Add clam juice and wine. Cover and cook for 2 to 3 minutes. Season with salt and pepper. Stir in parsley and boil for 1 minute.
Serving Suggestion:
Toss the pasta with a small amount of the sauce. Place the pasta on a warm platter and then pour the sauce and clams over it. Drizzle with more olive oil if you like and garnish with parsley.