If you order a Thai Green Curry at a restaurant, chances are you'll have the option of getting it with a meat like chicken or pork or possibly shrimp (also a yummy option), but I LOVE a curry with a beautiful FISH. I was craving a warm bowl with Thai flavors, so I made one at home and added in yellowtail loins—an essential fish in my freezer "Sea Pantry." 
You might recognize yellowtail as a popular fish for sashimi and sushi, but it's also phenomenal when cooked. When it comes to seeking this seafood, I love Dutch Yellowtail.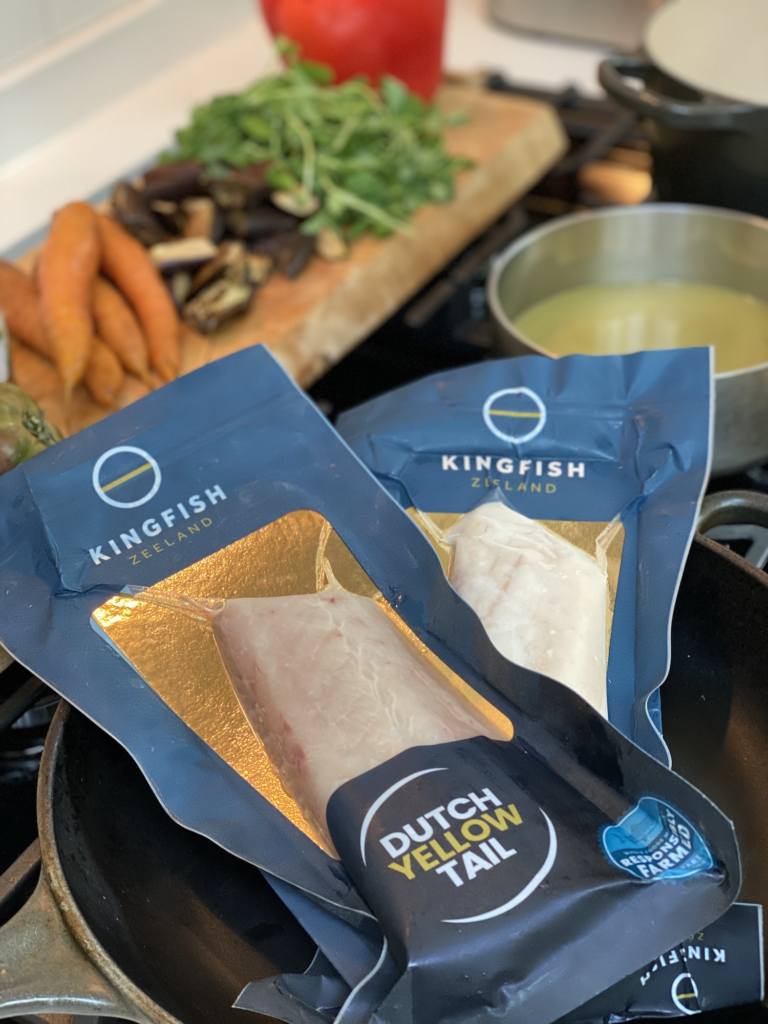 Farmed with NO hormones and NO antibiotics and certified by both ASC and BAP, Dutch Yellowtail ticks all of the boxes for me. You can find this delicious, firm fish at Whole Foods Market in the frozen seafood section. 
Sustainably raised in The Netherlands, the fish are farmed in land-based, indoor basins using 100% renewable energy. You can eat this with pride in knowing that the fish supports the environment, wildlife, and communities.
And this dish hits the SPOT if you're looking for an immunity-boosting, warming meal with bold flavor. You can also have nearly all of the ingredients ready to go in your pantry (coconut oil, curry paste, coconut milk, chicken broth, fish sauce, peas, rice, and the fish) and just need to grab 7 items at the store—bell pepper, ginger, onion, spinach, cilantro, chiles, and lime—to whip up this curry on the stove in no time. 
Finally, it makes great leftovers too that you'll truly look forward to eating!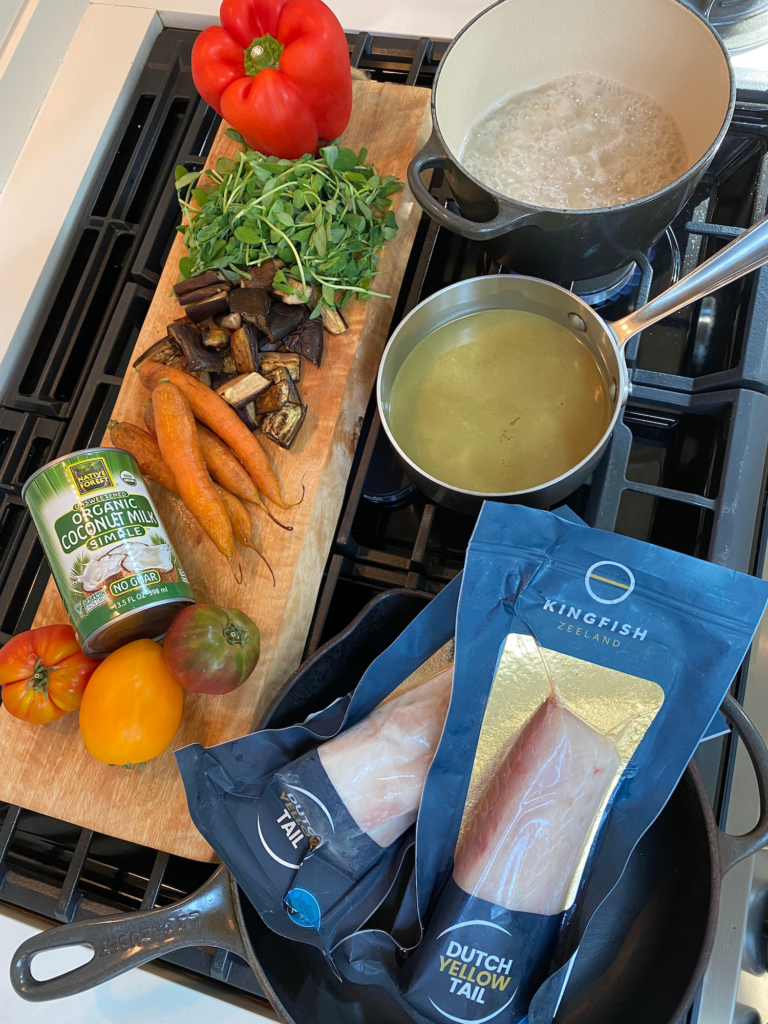 Serves 4
1 tablespoon coconut oil or other vegetable oil
½ cup finely chopped onion
1/2 cup red bell pepper
2 tablespoons finely chopped ginger
2 to 4 tablespoons Thai green curry paste
1 (14-ounce) can coconut milk
1 (14-ounce) can chicken broth
1 tablespoon Asian fish sauce, plus more for seasoning 
1 lemongrass stalk, bottom 6-inches, lightly crushed (optional)
10 ounces Dutch Yellowtail, thawed and cut into 2-inch chunks
½ cup peas (thawed, if frozen)
5 ounces baby spinach
chopped fresh cilantro, sliced fresh chiles, lime wedges, and steamed brown rice for serving
Heat the oil in a medium pot or large saucepan over high heat. Add the onion, pepper, and ginger and cook, stirring, until lightly browned, about 5 minutes. Stir in as much of the curry paste as desired, then add the coconut milk, chicken broth, 1 tablespoon fish sauce, and lemongrass and lime leaves if using. Bring to a boil and cook until slightly reduced, 5 to 8 minutes.
Add the fish and peas and cook over medium heat until the fish is cooked through, but not falling apart—about 5 minutes. Season to taste with fish sauce. Just before serving, remove the lemongrass and lime leaves if used, and stir in the spinach just to wilt. Serve with cilantro, sliced fresh chiles, lime wedges, and jasmine rice.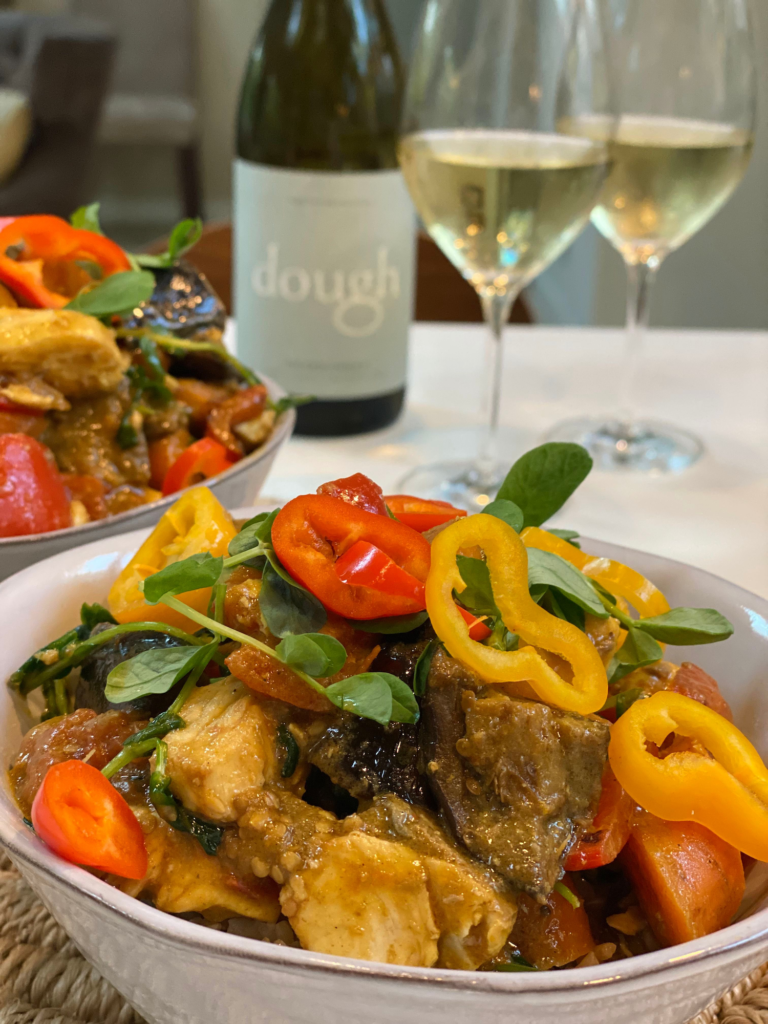 Curious to try yellowtail in another dish? Try these Yellowtail Banh Mi Sandwiches!