Let's do a seafood spin on the traditional Banh Mi sandwiches!
A street food with roots in Saigon, these sandwiches are a fun fusion of French and Vietnamese cuisine that combine a beautifully crispy, short baguette with cucumber, daikon, chiles, pickled carrots, mayo, and marinated pork, paté, or chicken.
But the moment I tried The Kingfish Company's Dutch Yellowtail, I knew I wanted to feature them in a Banh Mi!
While many of you may be familiar with yellowtail nigiri or sashimi, this delicious white fish is incredibly versatile and is also amazing when grilled. Dutch Yellowtail are sustainably raised in indoor basins on a 100% green-energy, land-based farm using wind, solar, and biogas. Their fish are also reared without antibiotics and hormones, and the farm uses water from a pristine marine estuary.
I always recommend checking to see if your seafood has been certified by a third-party organization, and Dutch Yellowtail checks all of the boxes!
They are certified and approved as sustainable and environmentally friendly by the Aquaculture Stewardship Council (ASC) and Best Aquaculture Practices (BAP), which lands them a place in my kitchen as the perfect Sea Pantry item that easily goes from freezer to dinner in under an hour. 
This Banh Mi recipe works great for lunch or dinner, and I love adding a noodle salad on the side. You can make these with leftover grilled fish too, as the flakiness of the fish is maintained in the refrigerator!
Serves 4
12 ounces Dutch Yellowtail, cut into 6 pieces (You can find their fish in the frozen seafood section at Whole Foods Markets)
6 tablespoons hoisin sauce, divided
6 tablespoons rice wine vinegar, divided
2 garlic cloves, grated
2 tablespoons fish sauce
1 carrot, peeled and grated
4 small radishes, thinly sliced
1 teaspoon kosher salt
2 tablespoons vegetable oil
4 six-inch baguettes, sliced in half lengthwise
2 tablespoons unsalted butter, melted
1/4 cup Siracha mayonnaise
1/2 cup pea shots or arugula
Place the fish in a bowl, and then add 3 tablespoons of hoisin sauce, 3 tablespoons of rice vinegar, garlic, and fish sauce to a bowl; mix until well combined. Let sit at room temperature for 15 minutes.
Preheat a grill or grill pan to medium-high heat. Add the fish and cook through, about 4 minutes per side, based upon the thickness. Allow to rest for about 6 minutes and then flake into chunks.
Meanwhile, toss carrot and radishes with remaining vinegar and salt; let sit at room temperature until ready to use.
Brush the baguette with butter and toast in the oven for 10 minutes until golden brown or on the grill. Spread mayonnaise on the bottom half. Layer pea shoots, then pickled vegetables and fish on the bottom half. Place on the top half and slice crosswise before serving.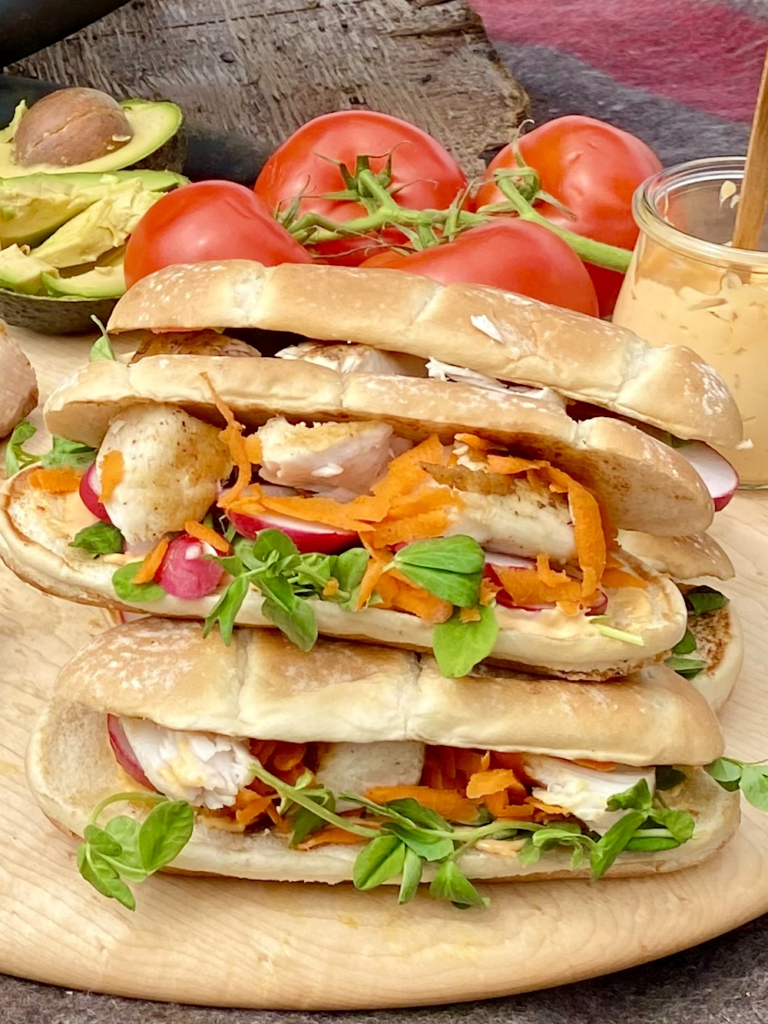 Want to try another dish with Dutch Yellowtail! Try making them into fish tacos!