In my house, Taco Tuesday isn't complete without fish tacos! Even though golden tortillas brimming with freshly-caught fish typically bring summertime to mind, the great thing about this recipe is that it can actually be made year-round.
The sustainably-raised Dutch Yellowtail is farmed on land in incredible indoor basins that form the perfect ecosystem for this species (seriola lalandai) for all four seasons, which grants us the luxury of having this beautiful fish 365 days of the year! I love that they're also raised using 100% renewable energy with no hormones or antibiotics and are ASC Certified and BAP Certified.
You can find these convenient packs of loins at Whole Foods Markets nationwide in the U.S. in the frozen seafood section — I recommend keeping them stocked in your own Sea Pantry (aka: the freezer!).
Add in avocados and a cilantro coleslaw for a taco that is delicious, full of flavor, AND sustainable. I've also included instructions for grilling, baking, or cooking the fish on the stovetop — whichever suits the time of year when you're having your Taco Tuesday night!
And if you're open to pairing tacos with wine instead of a beer, I strongly recommend a Cabernet Sauvignon from Dough Wines — they make amazing wines that support restaurant recovery, equity in the kitchens, and sustainable food systems!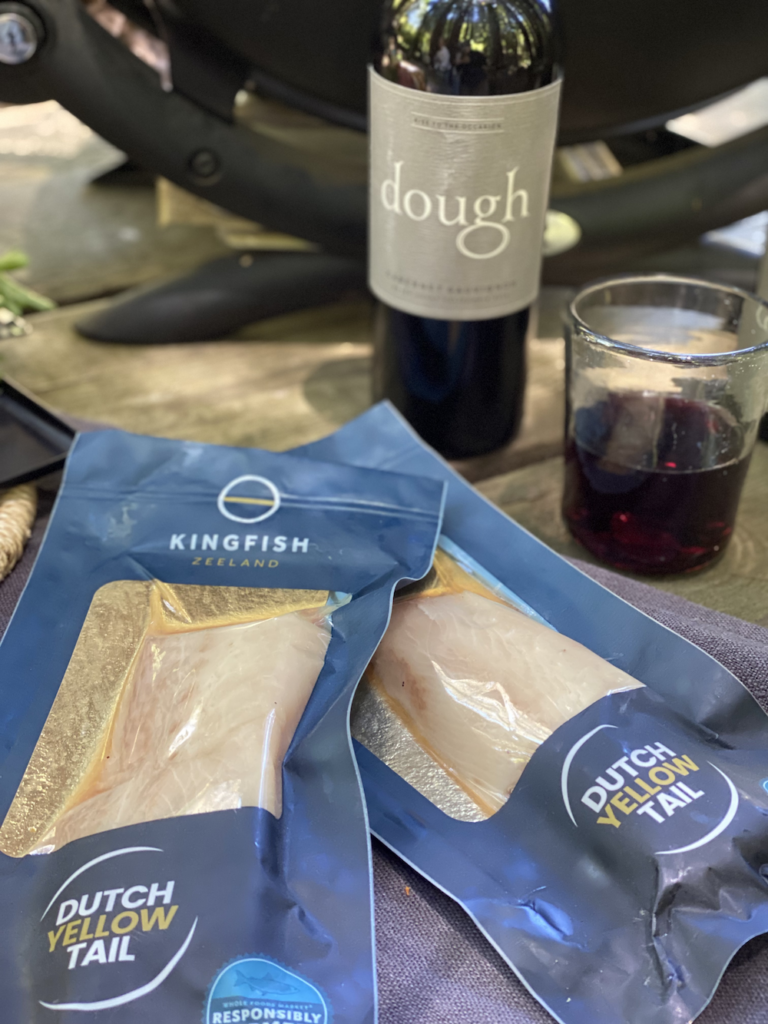 Serves 4
2 garlic cloves, finely chopped
3 tablespoons fresh orange juice
1 teaspoon dried oregano (preferably Mexican)
2 cups chopped white onion, divided
¾ cup chopped cilantro, divided
¼ cup extra-virgin olive oil, plus more for grill
5 tablespoons fresh lime juice, divided
2 eight-ounce packages Dutch Yellowtail
Kosher salt, freshly ground pepper
8 corn tortillas
2 avocados, peeled, pitted, and sliced
½ small head of cabbage, cored and thinly sliced
½ cup cilantro
Lime wedges (for serving)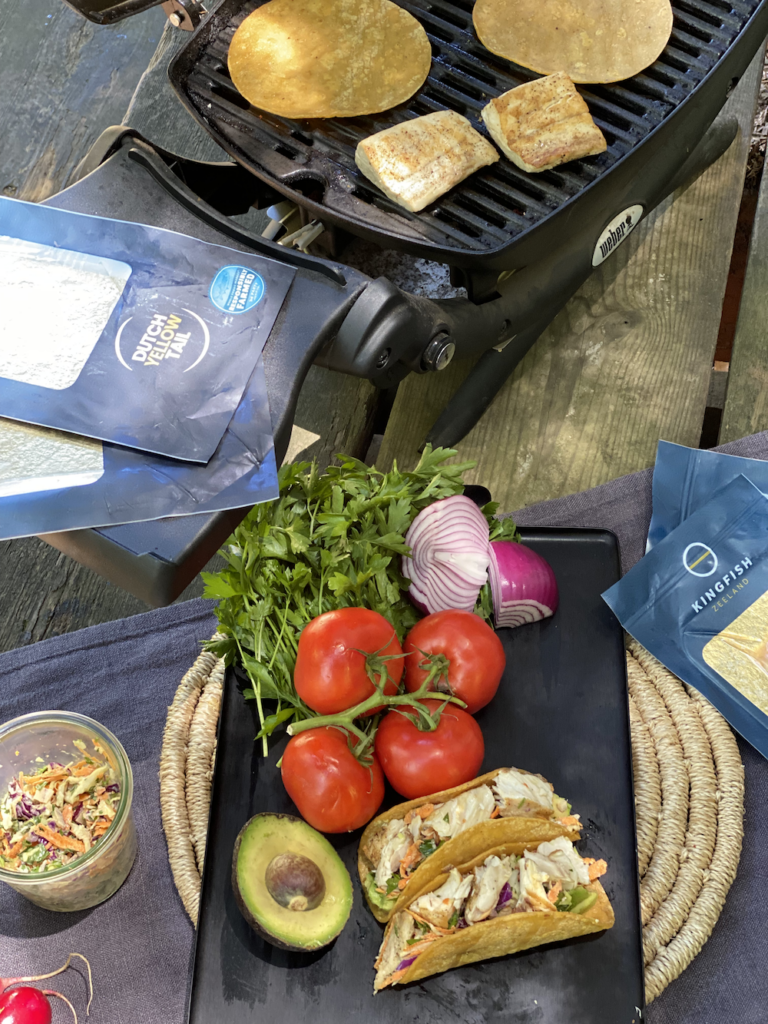 Stir garlic, orange juice, oregano, 1 cup onion, ¼ cup cilantro, ¼ cup oil, and 3 tablespoons of lime juice in a medium bowl. Season fish with salt and pepper. Spread half of the onion mixture over the bottom of an 11"x7"x2″ glass baking dish. Arrange the fish over the onion mixture and spoon the remaining mixture over the fish. Cover and chill for 30 minutes. Turn fish; cover and chill for 30 minutes longer.
Prepare a grill for medium-high heat; brush grate with oil. Grill fish, with some marinade still clinging, until just opaque in the center, about 3–5 minutes per side. Grill tortillas until slightly charred, about 10 seconds per side.
Coarsely chop the fish and arrange on a platter. Serve with the tortillas, avocados, cabbage, lime wedges, and a remaining 1 cup chopped onion and ½ cup cilantro.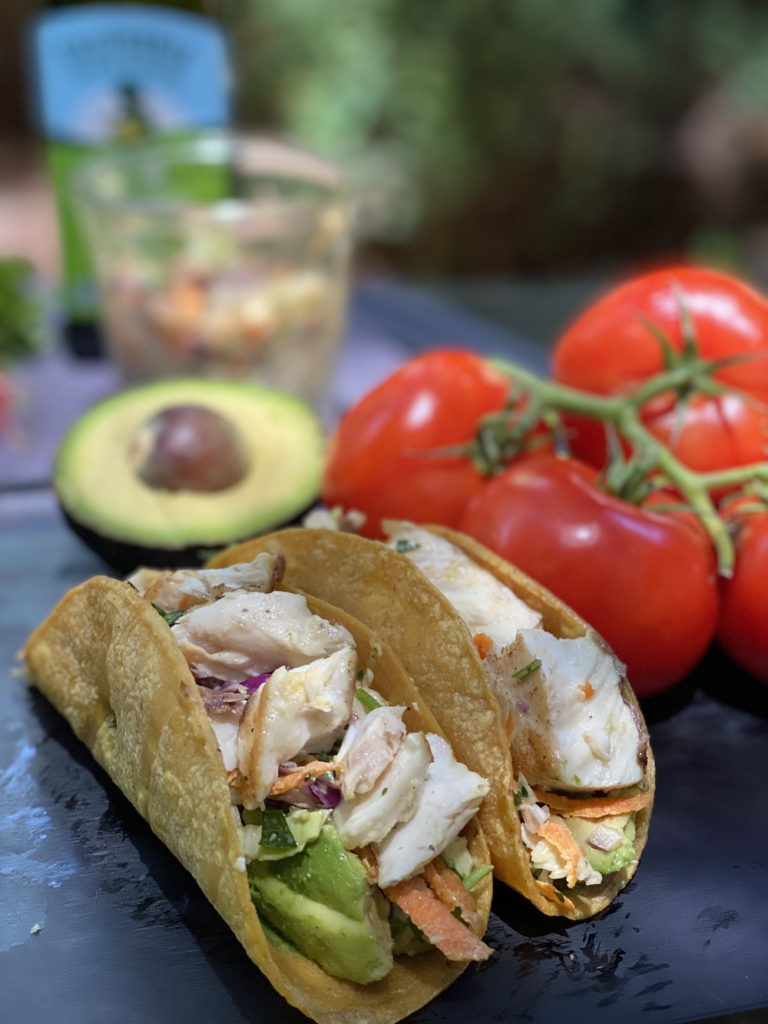 Want more Taco Tuesday recipes? Try these Classic Salmon Tacos with Salsa & Kelp Lime Mayo or these Fresh Crab & Seaweed Tacos!