Creating a great fish taco has been the envy of many cooks, but it's actually quite simple!
Start out with a beautiful fillet (one of my absolute favorites is Kvaroy Arctic's sustainably-raised salmon from the Arctic Circle), bread it cold, and fry it just before you're ready to place it into the taco shell.
Serve this with your favorite coleslaw and the kelp lime mayonnaise for a perfect finish.
Watch how to make them below (jump to the 3:40 mark)!
Makes 4 servings
1-1/2 pounds Kvarøy Arctic salmon, cut into sticks
Spiced fish breading mix
Peanut oil for frying
8 8-inch corn tortillas, grilled
Lime Kelp Mayonnaise (recipe below)
Two limes, cut into wedges
Coleslaw
Cilantro or cilantro microgreens
Toss the fish in a paper bag with spicy fish breading mix until well-coated – be sure to bread the fish while it is cold so the coating will stick. Place the breaded fish in the refrigerator while the oil is heating.
Add oil to a large heavy skillet to a depth of 1 inch and heat to 375° F. Fry the fish until crisp and well-browned. Drain on paper towels and keep warm in the oven.
To assemble the tacos: Layer the coleslaw in the grilled tortilla. Place a piece of the salmon on top, drizzle with the kelp mayonnaise, and top with microgreens!
TIP
Do not overcrowd the pan, because the oil temperature should not dip below 350° F. Frying only tastes heavy and greasy when the oil used doesn't remain at 350°F.
Ocean's Balance Kelp Lime Mayonnaise
1 large egg
3/4 cup canola oil
1 teaspoon dijon mustard
2 tablespoons fresh lime juice
2 tablespoons Ocean's Balance Kelp Purée
1 teaspoon kosher salt
Freshly ground black pepper, to taste
Place egg and mustard in a blender. Blend on high to combine.
Next, add the oil in a slow, thin stream until the mayonnaise thickens.
Stir in the lime juice, Ocean's Balance Kelp Purée, salt and pepper.
Adjust seasoning.
Serve over the tacos!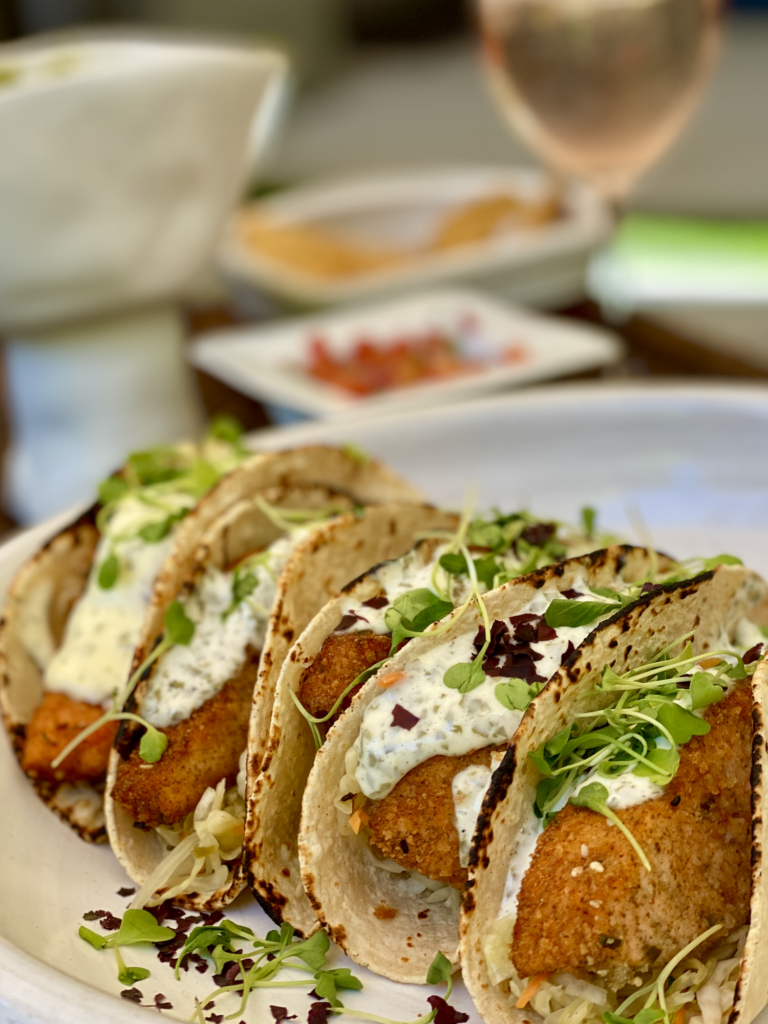 Hungry for more tacos? Check out these Fresh Crab & Seaweed Tacos or Roasted Vegetable & Seaweed Tacos!