Why kelp? Kelp is one of our secret weapons for fighting climate change and when we choose to eat it, we support kelp farmers and their production systems. There are so many amazing benefits of seaweed, from sequestering carbon to providing safe habitats for marine life to supplying our bodies with essential vitamins, minerals, and antioxidants. Studies have even shown that feeding cows kelp could have a positive impact on decreasing carbon emissions! You can taste the kelp in this burger and will pick up beautiful vegetative flavors, which are balanced by the amazing meatiness of the burger.
Kelp is now in burger form, thanks to AKUA! I just tried their kelp burger and it is SO delicious – some bites truly had me doing a double-take, thinking I was eating a real burger.
For this burger, I decided to take the Italian route and turn this plant-based kelp patty into a Tuscan Kelp Burger. AKUA's plant-based burger is a contributive, climate-conscious blend of ocean-farmed kelp, crimini mushrooms, pea protein, black beans, quinoa, crushed tomatoes, and superfoods. I top it off with melted mozzarella and an addictive, homemade Kelp Pesto Mayonnaise (you can easily make it vegan by subbing in plant-based mayonnaise and plant-based mozzarella). If you are going for a true hamburger experience, I recommend making sure you get the burger super crispy and caramelized when you grill it in the pan.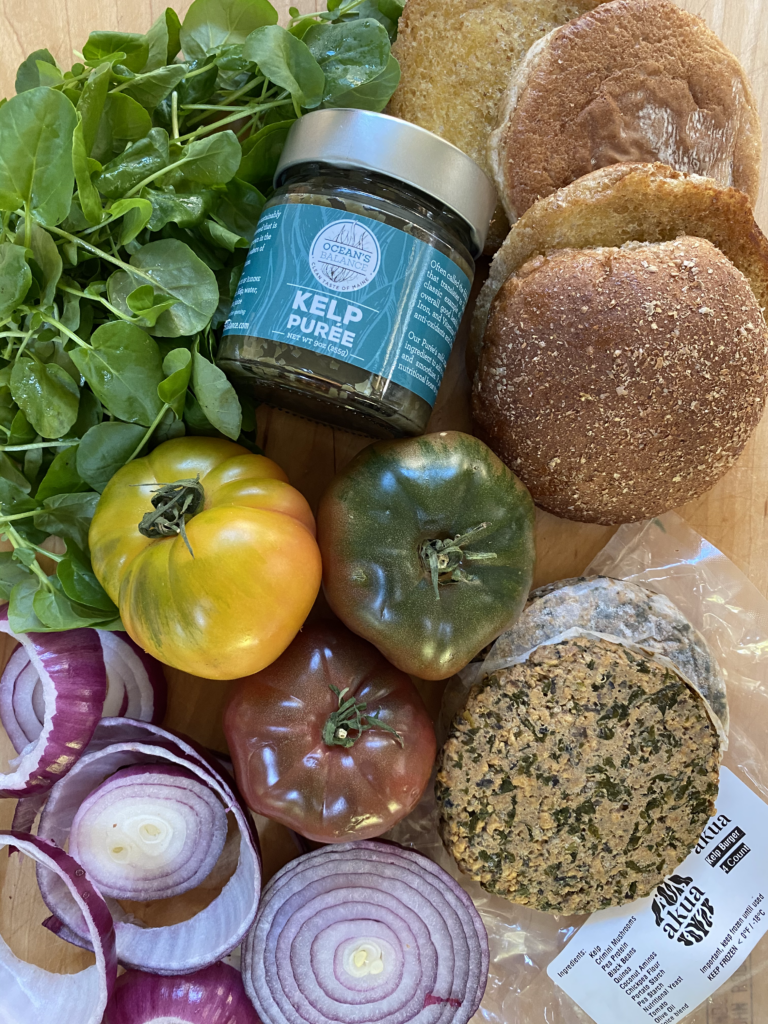 Serves 4
1/4 cup vegan or regular mayonnaise
1/4 cup basil or kelp pesto, divided
1/4 teaspoon black pepper
1/8 teaspoon kosher salt
4 Akua Burgers, thawed
1 small red onion, cut into 4 slices, soaked in ice water
1 large heirloom tomato, quartered horizontally into thick circles
2 tablespoons olive oil
8 ounces fresh mozzarella cheese, cut into 4 slices (optional)
4 Italian rolls, split, brushed with olive oil, and toasted
1 cup fresh baby arugula
PESTO MAYO:
In a small bowl, combine mayonnaise and 2 tablespoons Kelp pesto; cover and chill until serving.
KELP BURGER:
Preheat a grill or grill pan. Brush the AKUA burger with olive oil. Grill the burgers until heated through and browned. Brush onion and tomato slices with oil. Grill onion over medium heat for 4-6 minutes on each side or until crisp-tender. Grill tomato for 1-2 minutes on each side or until lightly browned.
Top burgers with mozzarella cheese (if desired). Grill 1 minute longer or until cheese is melted. Spread cut sides of rolls with kelp pesto mayonnaise; top with burgers, onion, tomato and arugula.
P.S. Here are more of my favorite ways to eat kelp right now.
Want more vegan recipes? Try these Plant-based Shrimp Rice Paper Wraps!