Would you try plant-based shrimp?
The Impossible Burger is a perfect example of a delicious substitute product that many people like. What's often discussed are the nutritional values of these foods and whether or not we can feed everyone on a plant-based diet.
I believe that the solution will be a COMBINATION of plant-based and "real" food-based, primarily on a "Seagan" diet.
The carbon footprint for sustainably-raised or caught seafood is much lower than most other protein sources, and there is no doubt that "real" fish and seafood will continue to have a significant spot at the table. BUT lab-grown seafood and plant-based can also help ease the burden on our oceans and farms.
Just imagine a sushi board that includes delicious bites of ALL of these – from farmed to wild, from plant-based to lab-grown. More importantly, we have to provide nutritious, healthy protein to ALL.
That's why I'm so excited to see foods from The Plant Based Seafood Co., including these "shrimp" that are gluten-free, non-GMO, and soy-free. 
I thought it'd be fun to roll these up into spring rolls, especially as one of my favorite wrappers is rice paper! You can create a quick, light dinner using plant-based shrimp (or real sustainably-farmed or caught shrimp), chopped raw vegetables, and the fresh noodles. 
The Plant Based Seafood Co. also makes Coconut Shrimp, which made a really fun appetizer to nibble on before diving into the wraps!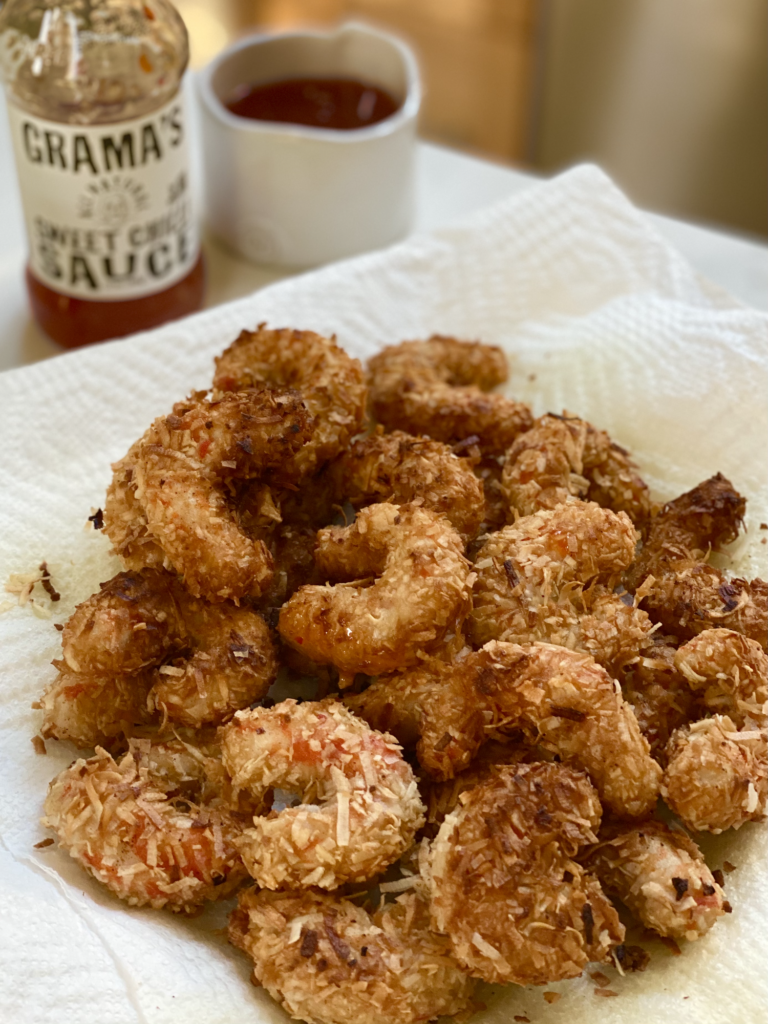 Serves 6
Shrimp (plant-based or real!)
½ cup carrots, peeled and finely julienned
1 cup  red bell pepper, julienned 
1 cup Napa cabbage, shredded
1 serrano chile, seeded and diced
1 cup rice noodles, softened in water
3 tablespoons sesame oil
2 tablespoons olive oil
1 tablespoon fresh lime juice
¼  cup cilantro, chopped
12 rice paper wrappers 
Hoisin sauce for garnish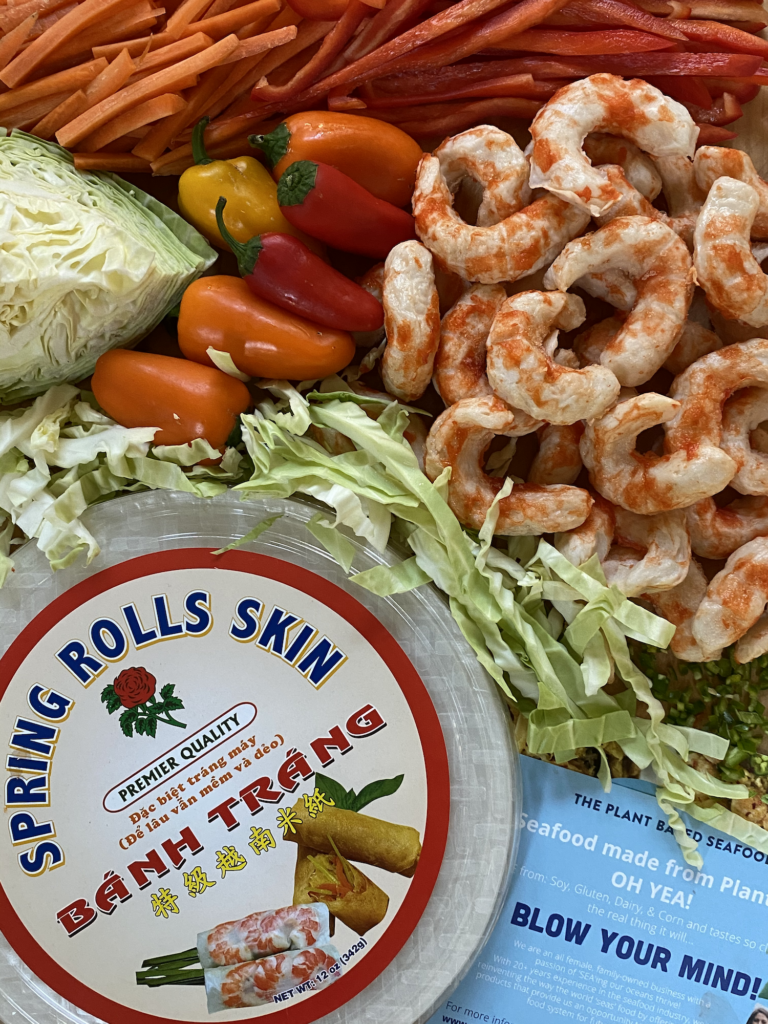 TIP:
To slice the vegetables julienne-style means to cut them into fine thin strips. The carrot and the red bell pepper will need to be cut into long plank-like pieces first, and then turned and cut lengthwise into strips.
In a large bowl, combine the "shrimp," carrots, red bell pepper, cabbage, mushrooms, chile, and noodles. Add the sesame oil, olive oil, lime juice, and cilantro to the bowl and toss to combine. Season the mixture with salt and pepper, and then allow to stand 15 minutes.
Serving Suggestion:
Lay the lettuce leaves out flat, and fill each one with a spoonful of the shrimp & vegetable mixture. Roll the lettuce leaves to close them slightly. Place the wraps on a platter and serve.  For a more filling dish, add tofu, fish, or chicken to the mixture. Pass a dish of hoisin sauce for dipping.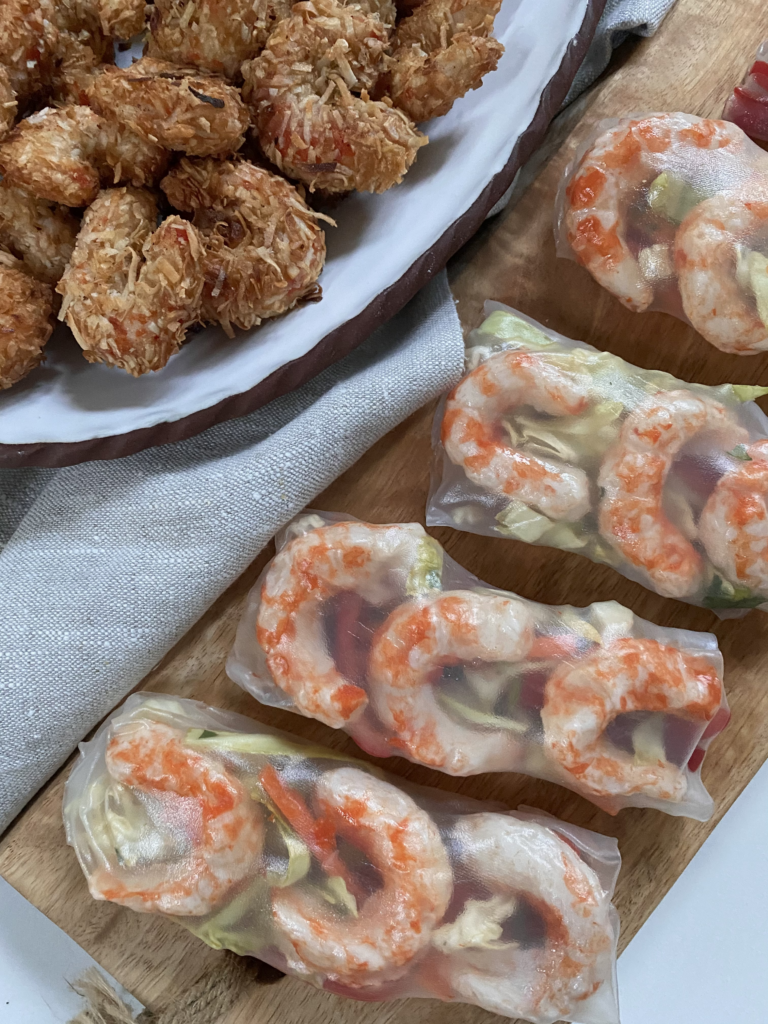 Looking for another vegetarian-friendly recipe? Try these Roasted Vegetable & Seaweed Tacos!