I am a huge fan of a straight-out-of-the-freezer dinner — one that can come together quickly with the vibrancy and flavor that would be expected from a more time-intensive meal. Keeping my sea pantry stocked with salmon burgers and kelp puree, plus a dozen of Model Bakery's incredible English Muffins stashed in my freezer, make this an effortless lunch or dinner that will WOW your taste buds!
I highly recommend you give these particular English muffins a try from Model Bakery in Napa Valley. You can order them online and they will keep in the freezer for six months (although in our home they never last that long)!
When it comes to sustainability and restorative aquaculture, kelp is a powerful key ingredient.  
Growing kelp can reduce ocean acidification by sucking up carbon in the water, mitigate the problem of nutrient pollution from agricultural runoff by eating up nitrogen, and clean the water used in aquaculture, allowing fish farmers to sustainably increase density and raise more fish⁠. Seaweed helps reverse climate change and support the health of the planet, plus it's incredibly nutritious for us as well!
In this recipe, I added a healthy serving of kelp to the unbelievably delicious, herbaceous, citrusy sauce to bring bold flavor to the burger.
Kvaroy Arctic's salmon burgers are hands down my salmon burger of choice. I love using them because they were developed with the goal of repurposing salmon trimmings and minimizing food waste. They have a full weekly recommended allowance of Omega-3s in one serving and are non-GMO, and gluten-free. There are lots of flavors to choose from: Original Recipe, Chile & Cheddar Cheese, Original & Cheese, and Jalapeno & Cheese. Take your pick and let me know what you think!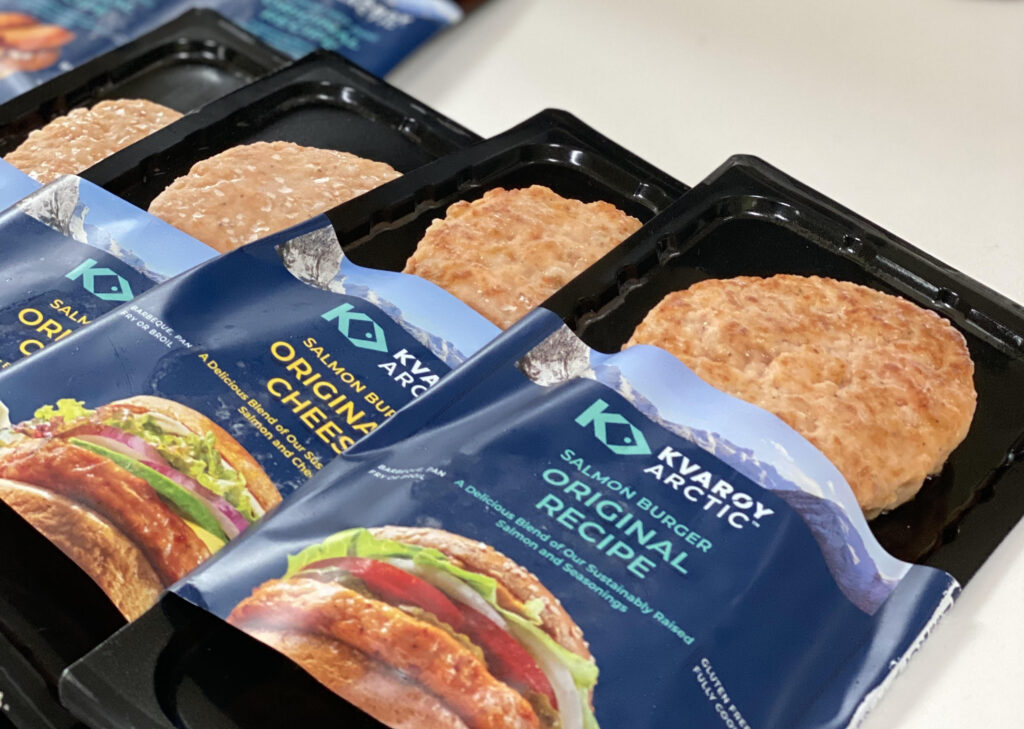 Makes Four Servings
For the Kelp Lime Sauce:
½ cup olive oil
¼ cup freshly squeezed lime juice
1 tsp fresh garlic, chopped
½ cup kelp puree
½ cup arugula, cilantro, or Italian parsley
Salt to taste
For the Salmon Burgers:
2 tablespoon olive oil
Cheddar Cheese for the burgers, if desired
4 Model Bakery English Muffins, toasted and buttered
Arugula (to serve)
Sliced tomatoes (to serve)
Mustard (to serve)
To Prepare the Kelp Lime Sauce:
In a blender or food processor, add the olive oil, lime juice, roughly chopped garlic, salt, kelp puree, and roughly chopped herbs. Puree in the blender until smooth. Season with salt and lime juice.
To Prepare the Salmon Burgers:
Heat a skillet to medium high heat. Add the oil and the burgers. Fry them until they are golden brown, turning once. If topping with cheese, add the cheese slices at this point. Turn the heat off and cover. The cheese will melt in just a few minutes from the residual heat.
To Assemble:
On four plates, lay the bottom of the English muffins on the plate. Spread a generous amount of the Kelp Lime Sauce to the bottom of the muffin. Add the burger and any accompaniments that you would like. Brush the top of the bun with mustard, if desired. I served this with a shaved brussel sprout salad and baked kettle chips to complete the meal!
Want more seafood burger recipes? Try this Tuscan Kelp Burger with Pesto Mayo!