I feel like there's almost nothing like cockles – a type of small shellfish that are absolutely stunning.
Cockles farmed worldwide with off-bottom cultures are a "Best Choice" or Green from Seafood Watch.
I picked my cockles up at Caputo's Market and Deli (they have other great tinned seafood too!) and layered them on top of a gorgeous black rice with salsa di pomodoro.
Between the pancetta, the mushrooms, and cockles in this dish, we get a lot of meatiness. I loved topping everything off with a Spanish aioli for a touch of richness, along with rosemary and parsley – DELICIOUS.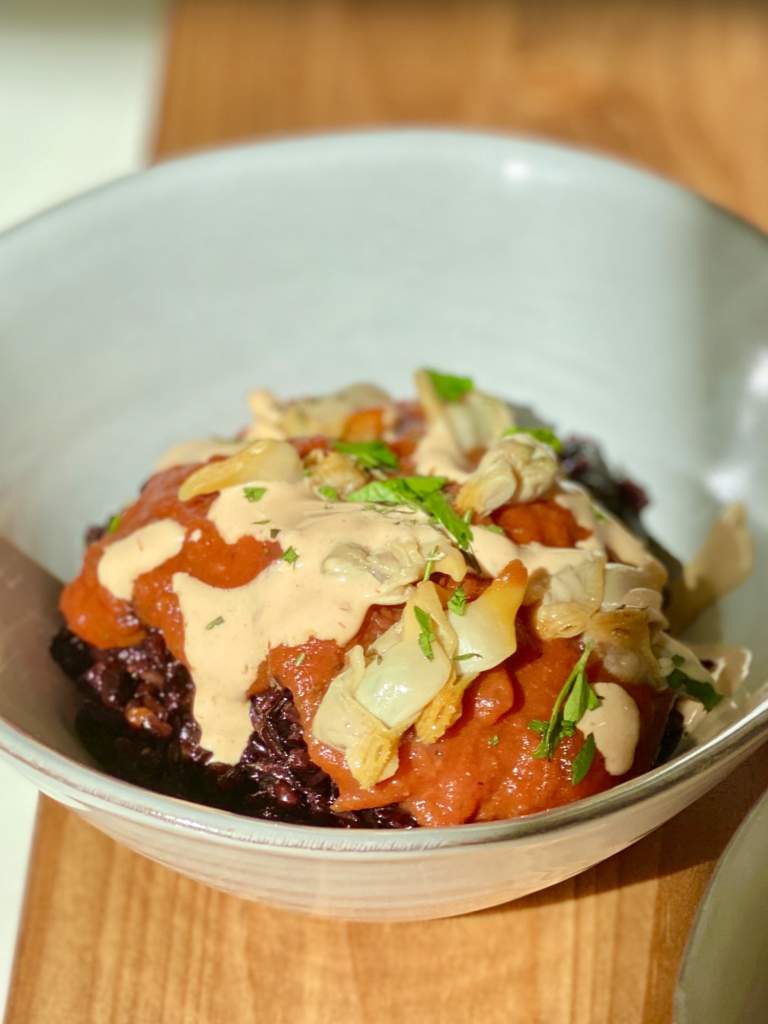 For the Rice:
2 tablespoons olive oil
½ onion, chopped
1 cup sliced seasonal mushrooms, such as porcini
2 garlic cloves, minced
¼ cup diced pancetta
½ cup dry white wine
1 teaspoon butter
¾ cup Italian or Spanish Black Rice
6 cups roasted chicken stock
salt and freshly ground black pepper
2 tablespoons fresh rosemary, finely chopped
For Roasted Tomato Sauce (Salsa di Pomodoro):
2 cups crushed canned Italian tomatoes
6 garlic cloves, finely minced
salt
freshly ground black pepper
1 tablespoon crushed red pepper (more or less)
2 tablespoons extra virgin olive oil
2 tablespoons balsamic vinegar
1 tablespoon fresh rosemary, roughly chopped
For Serving:
8 ounces tinned cockles or other seafood
1/4 cup Italian parsley, finely chopped to serve
Italian extra virgin olive oil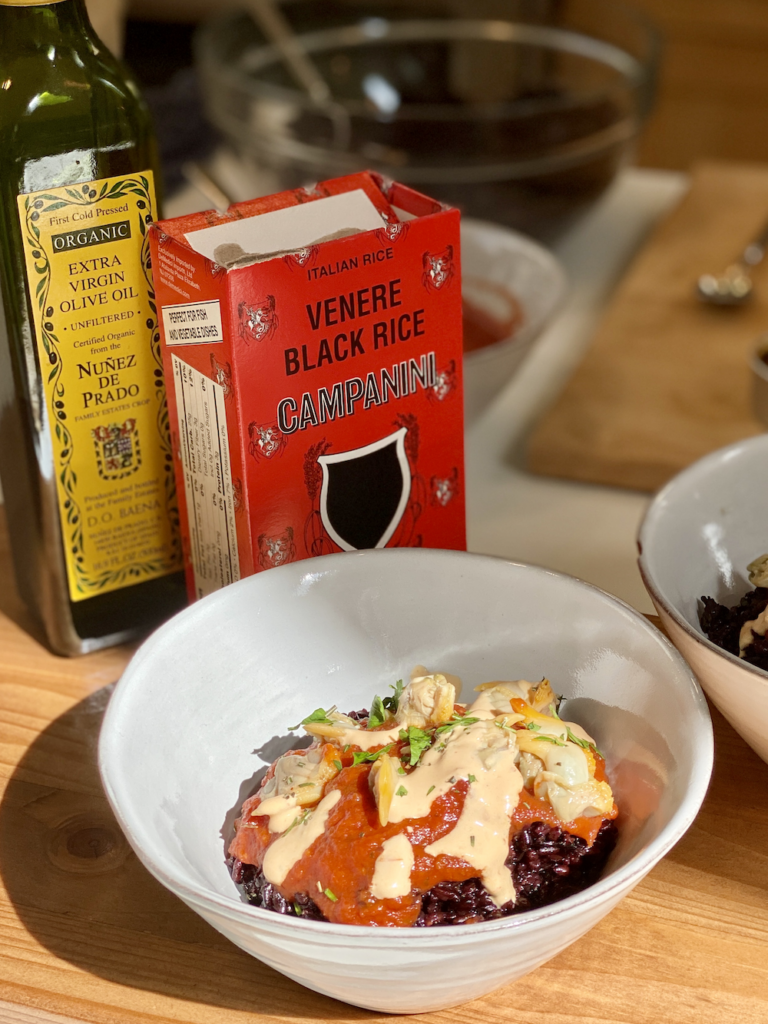 Preparing the Rice:
Heat 1 tablespoon olive oil in a skillet over medium heat. Add the mushrooms, onions, and garlic and cook until softened, about 4 minutes. Add the pancetta and cook stirring often, about 3-5 minutes. Season with fresh ground pepper and salt. Add the wine to the pan, stirring until the liquid dissipates. Add the butter, melting and coating the vegetables. Stir in the black rice, add salt and pepper and cook for 5 minutes, tossing quickly so the rice gets slightly toasted. Meanwhile, heat the stock in a separate pot until it is hot and near a boil.
Add 1 cup hot stock & simmer until about absorbed, stirring often, about 3-5 minutes. Continue to cook until rice is just al dente and the mixture gets creamy, adding more stock, stirring often and allowing most stock to be absorbed before adding more, about 35-40 minutes. If the rice is al dente, add more broth and allow to cook for several minutes more.
Preparing the Salsa di Pomodoro:
Heat oven to 400 degree F. In a large, oven-proof dish, combine all of the ingredients and stir to blend. Then transfer to the oven and cook until the tomatoes begin to caramelize, about 30 minutes. Remove the dish and stir well. Return to the oven and continue to cook until further caramelized and much of the liquid has evaporated, about 15 to 25 minutes longer. If the sauce seems too thick, thin with water. Use immediately or cool completely and refrigerate for up to 3 days in a non-reactive, airtight container. While still warm, add the cockles to warm through.
To Serve:
Spoon the rice into open bowls, topping with tomato sauce and cockles. Serve drizzled with olive oil and garnished with chopped parsley. I drizzled over an aioli that I made from store-bought mayonnaise, lemon, salsa di pomodoro, and hot sauce to taste!