I love taking all of the delicious ingredients I'd use for lox & bagels and transforming them into a SMOKED SALMON PANINI! 
I used to make paninis for my son every single afternoon when he got home from school. Warm and toasty, they make the best winter lunch or dinner, especially when served with an arugula salad.
When it comes to choosing smoked fish for my panini, I love Kvaroy Arctic's Smoked Salmon – a Sea Pantry staple. 
When you take the most sustainably-farmed salmon in the world that's certified by both Best Aquaculture Practices (BAP) and Aquaculture Stewardship Council (ASC) and then have Santa Barbara Smokehouse work their magic on the fish, you're in for a treat. 
At their smokehouse, the entire salmon is rope-hung and lightly smoked with pine needles and wood to bring out the tenderness and sweetness of the fish – SO DELICIOUS.
Press with ciabatta, caper cream cheese, vinaigrette-marinated onions, and arugula, and you'll have that crispy, hearty panini that is sure to please everyone around the table. 
1 tablespoon Champagne vinegar 
3 tablespoons fresh lemon juice, divided 
3 teaspoons Dijon mustard, divided 
1 teaspoon minced garlic 
3 tablespoons extra-virgin olive oil 
Kosher salt and freshly ground black pepper 
1 small red onion, halved and sliced paper-thin 
6 ounces cream cheese, softened 
4 ounces soft goat cheese 
¼ cup thinly-sliced green onions 
1 tablespoon chopped capers 
1 teaspoon grated lemon rind 
¼ teaspoon freshly ground black pepper 
1 loaf ciabatta, about 7×14 inches 
8 ounces Kvaroy Arctic Smoked Salmon
3 cups arugula or spinach 
Extra-virgin olive oil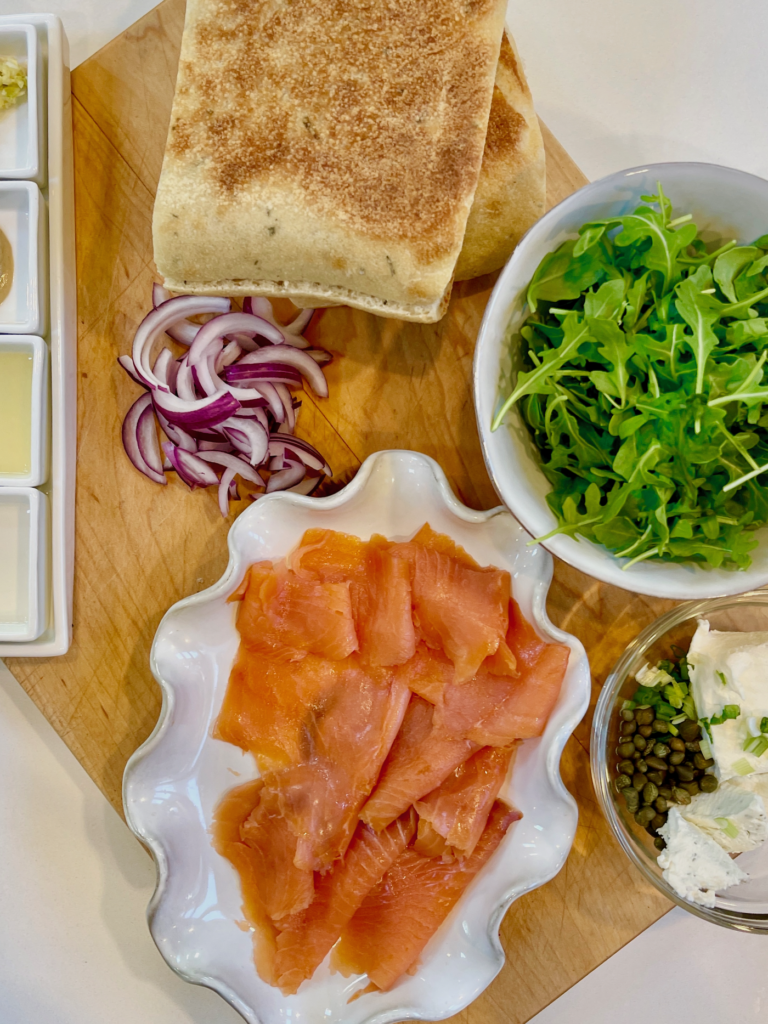 Whisk together vinegar, 2 tablespoons lemon juice, 2 teaspoons mustard, and garlic in a bowl. Slowly drizzle in 3 tablespoons olive oil, whisking constantly, until mixture is slightly thickened. Add salt and pepper to taste. Add red onion, tossing to coat. Let stand 30 minutes (can be made ahead and refrigerated).
Combine cream cheese and the next 4 ingredients. Stir in ¼ teaspoon pepper, the remaining 1 tablespoon of lemon juice, and the remaining 1 teaspoon of mustard.
Slice ciabatta horizontally into top and bottom halves. Spread cream cheese mixture evenly on both pieces of bread. Arrange the salmon in an even layer over cheese on the bottom half of the bread; press the salmon firmly into the cheese. Top with spinach or argula and marinated red onion. Place the top half of the bread on the sandwich, which can be prepared in advance up to this point – if kept tightly wrapped and refrigerated (4 to 6 hours).
Cut into 4 individual sandwiches. Heat panini maker or grill to medium-high heat. Brush both sides of each sandwich with olive oil. Grill about 5 minutes, or until crisp and browned. (If grilling, weigh down sandwiches with a baking sheet topped with heavy canned goods.) Cut each sandwich in half diagonally.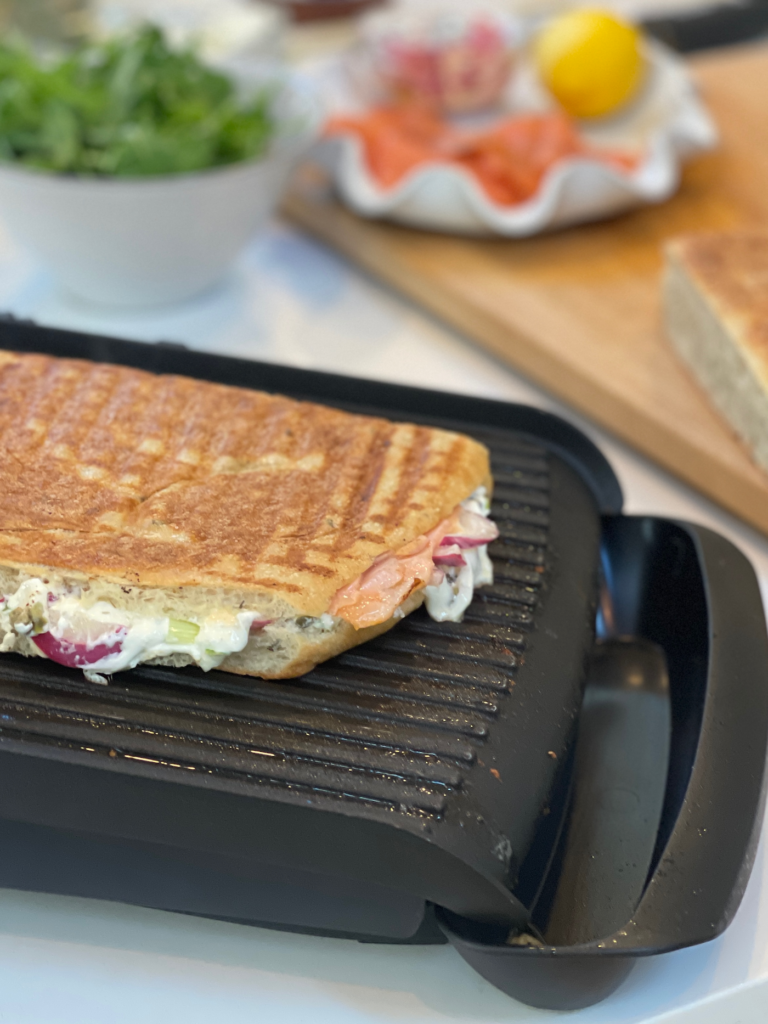 For another wintertime Sea Pantry meal, check out this Baked Basil Kelp Penne Pasta with Tomatoes recipe!