Ready to try KELP PASTA?
I paired this yummy penne (made only with two ingredients – seaweed & wheat) from Blue Evolution with Kvaroy Arctic's omega-3-rich salmon hot dogs to make a comforting BAKED PASTA.
After adding basil, parsley, tomatoes, garlic, onions, ricotta, and Parmigiano Reggiano (watch my full video at the bottom of this post), you'll have the most beautifully creamy, warm dish to get you through fall & winter!
There's also true magic in a dish like this that offers a deeper connection to the sea. By stocking your Sea Pantry with ocean-friendly kelp companies like Blue Evolution, you directly support restorative aquaculture that REMOVES carbon from our waters.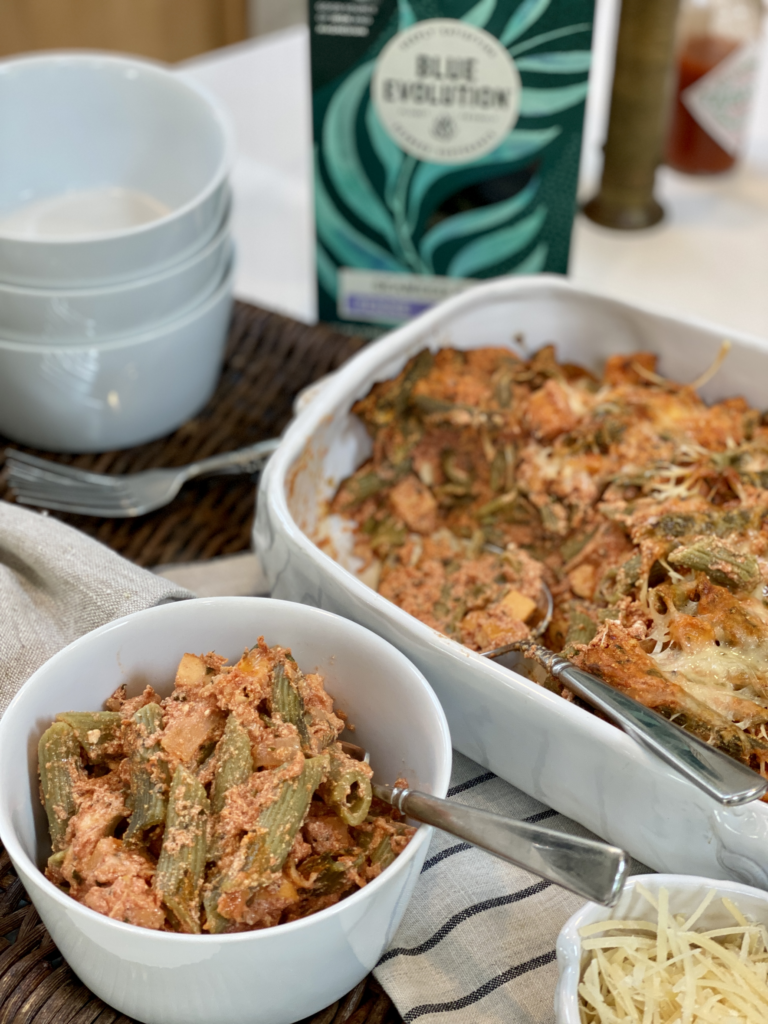 Makes 6 servings
2 tablespoons olive oil
1 cup white onion, finely chopped
1 tablespoon fresh garlic, creamed
1 pound chicken, fish (I used Kvaroy Arctic Salmon Hot Dogs!), or vegan sausage
Salt, to taste
Pepper, freshly ground, to taste
3 cups whole Italian canned tomatoes, chopped with the juice
¼ cup fresh basil, chopped
1 cup ricotta cheese
1 cup Parmigiano Reggiano cheese, grated
½ cup Italian parsley, finely-chopped fresh
1 pound Blue Evolution penne pasta
½ pound fresh mozzarella, cut into cubes
Preheat the oven to 400° F. Lightly oil a large baking dish.
Bring a pot of water to a boil, add the pasta, and cook until tender, about 9 or 10 minutes.
In a large sauté pan, heat the olive oil over medium high heat. Add the onion and sauté until soft. Add the garlic and the sausage, and sauté until the sausage is browned. If the sausage has given off a lot of fat, pour it off before you continue.
Add the tomatoes with all of the juice, and let it simmer uncovered until it thickens. Add the basil and season with salt and pepper.
In a large bowl, mix the ricotta, half of the Parmigiano cheese, and the parsley. Season with salt and pepper. Drain the pasta well and toss in the cheese mixture. Add the sausage mixture and mix again. Toss in the Mozzarella and pour into the prepared dish. Sprinkle with the remaining Parmigiano and bake uncovered until lightly-browned, about 20 minutes. Serve immediately.
Want another pasta recipe starring scallops from the Sea Pantry? Dive into my Tinned Scallops & Pesto Pasta recipe!