Have you ever thought of pairing a caesar salad with fish? It's a great way to add on a nutritious, delicious protein! This meal is easy to put together and made super convenient with one of my favorite Sea Pantry items: My Fish Dish Cod with Lemon & Herb Butter.
But before we talk about the fish, let's talk about this classic salad. The caesar salad was originally created by Italian-Mexican Chef & Restaurateur Caesar Cardini in Tijuana, Mexico in the 1920s. This dish has since become a beloved American classic – and for good reason. Who doesn't love this combo of dressing, lettuce, and croutons? It's worth noting that the original salad did not have any anchovies in the dressing, so if are not keen on them, simply omit them. If you do opt to include them, look for sustainable, traceable anchovies like the ones I used from Sea Tales. Additionally, Mr. Cardini did not cut or tear up the romaine leaves; he only used the smaller leaves from the heart of the romaine, left whole and piled up on the plate. While this presentation is a tad difficult to eat, it's very pretty.
Now the cod itself is unbelievably delicious! My Fish Dish sources Northern Atlantic Norweigan cod from a fishery that's been certified by the Marine Stewardship Council since 2010. The fish comes prepared with lemon and a classic herb butter infused with thyme, oregano, sage, and more. All you need to do is cook it!
For the caesar dressing, I love to use Eggbeaters instead of preparing it the original way (with fresh 1-minute eggs) in order to eliminate any chance of salmonella. The Eggbeaters still gives the dressing enough consistency to fully coat the romaine.
Then there are the crunchy, garlicky homemade croutons with kelp! The recipe will make four cups and can be made ahead of time and kept crisp in an airtight container. Keep them in your Sea Pantry and toss into any salad to make it a more festive dish!
Makes 6 to 8 servings
For the Fish:
For the Dressing:
1/2 cup olive oil
1 can traceable anchovies, drained and chopped to a paste
3 cloves garlic, minced
1-1/2 teaspoons Worcestershire Sauce
1 tablespoon Dijon-style mustard
1/4 cup refrigerated egg product, such as Eggbeaters
Juice of 1-1/2 lemons
For the Salad:
2 heads of romaine lettuce, well washed, dried, and torn into bite-sized pieces
1/4 cup grated Parmigiano Reggiano cheese
Freshly ground black pepper
One recipe of Homemade Garlic Croutons (see below)
For the Garlic Croutons (makes 4 cups)
To Prepare the Fish:
OVEN: Place cod and butter on a greased baking dish, bake 12-16 minutes at 400F. Spin baking dish halfway through for even cooking.
GRILL: Place cod and butter on two sheets of tin foil and fold the edges of the tinfoil upward, creating a pouch. Grill pouch for 15-20 minutes over medium-high heat.
STOVETOP: Melt butter in a pan over medium-low heat. Cook cod for 5-8 minutes, occasionally brushing with butter.
To Prepare the Dressing:
Put the olive oil, anchovies, garlic, mustard, and Worcestershire sauce in a bowl.
Add the Eggbeaters on top of the ingredients.
Pour the lemon juice over the egg.
Beat with a fork until thick.
To Prepare the Croutons:
In a large frying pan, over medium high heat, combine the oil and the garlic and fry the garlic until brown, but not burned, about four minutes.
Remove the garlic from the oil and discard.
Add the bread cubes to the pan and fry over high heat, stirring or tossing often, until browned. Transfer to paper towels and drain.
Cool croutons completely and toss with seaweed sprinkles such as Barnacle Foods Kelp Seasonings or Oceans Balance Sprinkles.
To Prepare the Salad:
In a large bowl, toss the dressing with the romaine lettuce
Add the croutons
Sprinkle with Parmigiano Reggiano cheese
Season with freshly ground pepper.
Toss lightly
Serve with the Baked Cod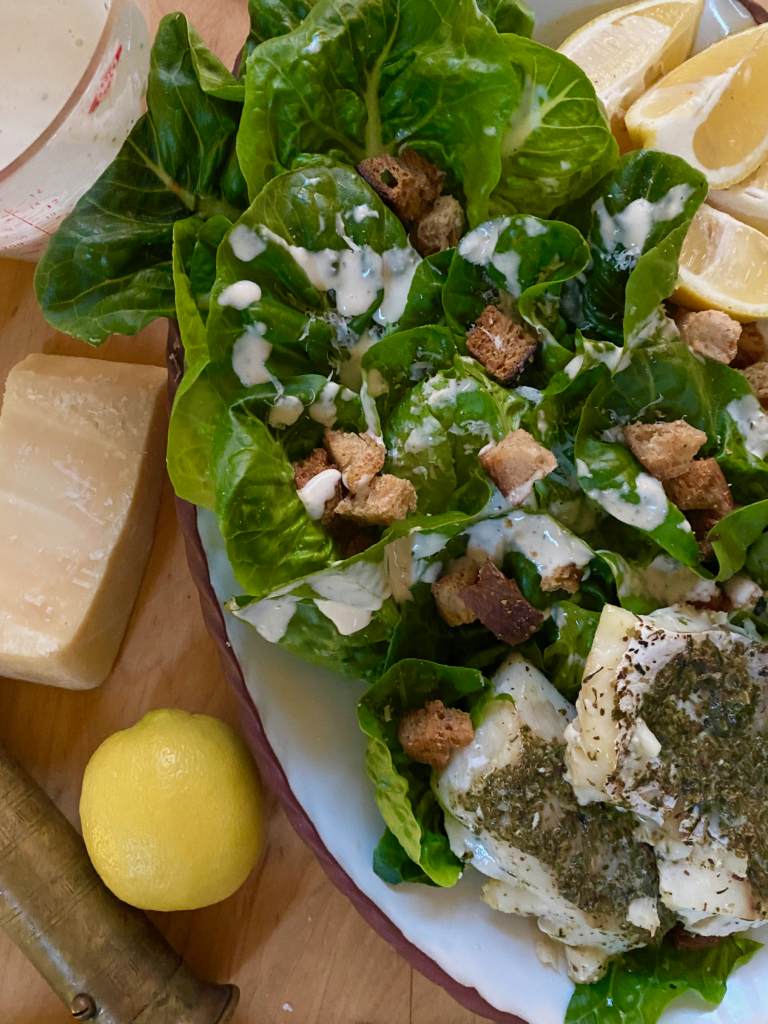 Want more main dish salads? Try this recipe for Glazed Scallops with Cumin Butter Leaf Salad!