The mild, sweet flavor of scallops makes them a family favorite, but one we rarely think to make at home. This seems funny to me because they cook quickly and take on any great flavor that we might add to them. Just be careful not to overcook and your family will find a new home treat!
The trick is to get the pan very, VERY hot, add a little bit of oil, get the scallops in, and then let them sear for a couple of minutes on each side.
When looking for scallops, you can find sustainable ones that are wild or farmed – I recommend looking for Fair Trade Certified Scallops from Maine, and I love Bristol Seafood's scallops.
Look for the dry pack of scallops (if they're packed in water, they soak up the water like a sponge and don't sear well) or the frozen variety to keep on hand in your Sea Pantry.
This recipe stars seared scallops atop a butter leaf salad with tomatoes, drizzled with a beautiful glaze of Kalamata olives, toasted cumin, roasted bell peppers, capers, red wine vinegar, and mustard!
Serves 6
1 tablespoon sesame oil
1 tablespoon grated fresh ginger
salt and freshly ground black pepper
18 large sea scallops
¼ cup chopped Kalamata olives
1 teaspoon ground cumin
2 tablespoons chopped roasted red bell pepper (from [½] small pepper)
2 teaspoons rinsed capers
2 tablespoons red wine vinegar
1 teaspoon Dijon mustard
½ cup extra-virgin olive oil
2 medium vine-ripened tomatoes, quartered
6 cups torn butter leaf lettuce (about 9 ounces)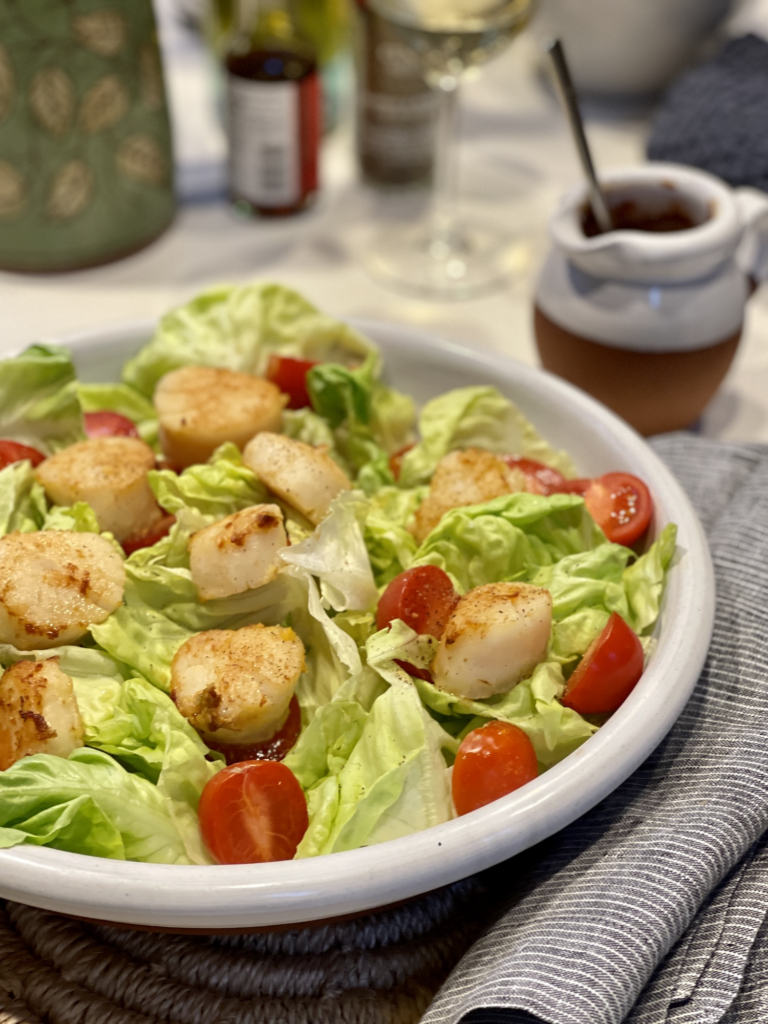 1. Stir or toss the cumin seeds in a small skillet over medium high heat until fragrant and light brown. Transfer the seeds to a spice grinder, mortar and pestle, or into a heavy plastic bag and grind them coarsely.
2. Combine the sesame oil and the ginger in a medium bowl. Season with salt and pepper and add the scallops. Toss gently to coat. Refrigerate for up to one hour.
3. In a blender or food processor, combine the olives, ground cumin, roasted bell peppers, capers, red wine vinegar, and mustard. Pulse to combine. With the machine running, add the olive oil in a thin stream to emulsify the mixture.
4. Heat the grill or grill pan to medium high heat. Grill the scallops until they are cooked through, about 2-3 minutes per side, turning only once.
5. Toss the lettuce with half of the vinaigrette. Divide the lettuce and the tomatoes among 6 plates. Top each plate with three scallops and serve with the remaining vinaigrette on the side.
TIP: When you use scallops, make sure to rinse them in cold water and pat them dry. Use a small sharp knife to remove the tough muscles on the side of the scallop, if necessary.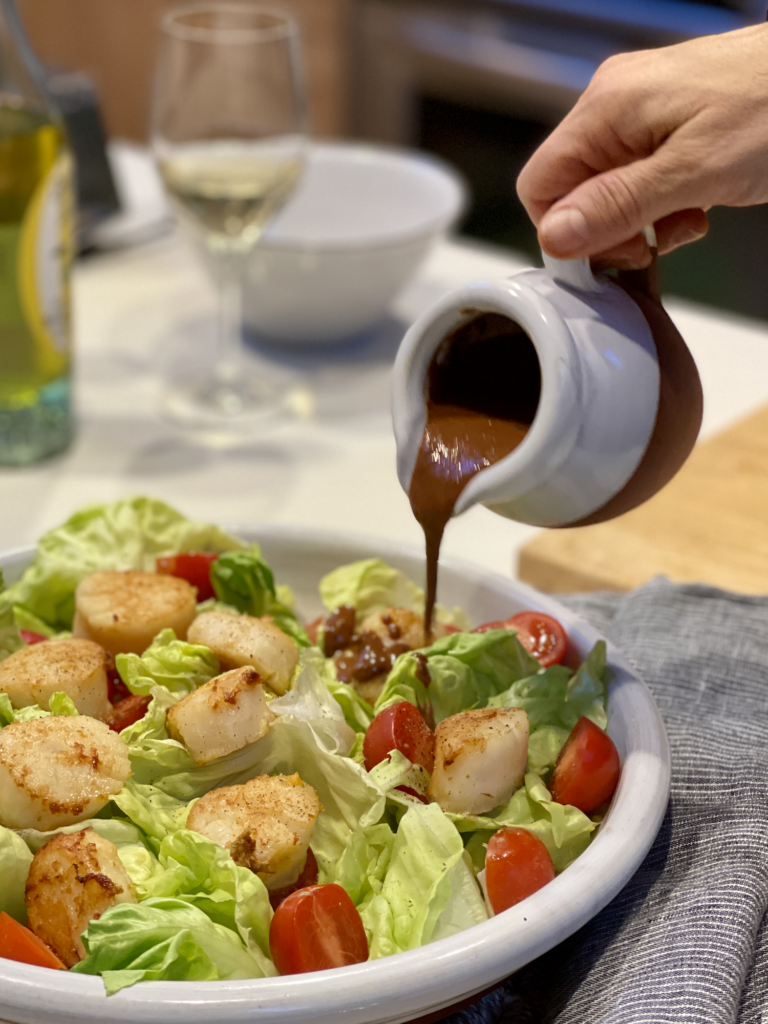 Ready to try TINNED scallops? They're excellent, trust me. Give them a try with this Tinned Scallops & Pesto Pasta Salad Recipe!