Would you try plant-based "seafood?" When you consider how widely used imitation crab meat is, the idea of plant-based seafood — like these Lobster Crab Cakes from the incredible Plant Based Seafood Company — is actually not so outlandish as it sounds!
I've talked to some people who are skeptical of plant-based seafood and meats for various reasons, and I think it's extremely valid and important to ask questions about the journey of your food before it reaches your plate. When it's farmed, ask how it was farmed. When it's wild, ask how it was caught. And if it's plant-based, ask about the ingredients used to make it.
With the latter, it's especially worth considering these alternative seafood options because many new products are being created sustainably, with integrity and concern for the environment and your health being top of mind. The Plant Based Seafood Company's crab and lobster cakes are made by hand from ingredients that you can actually feel good about eating like artichoke, hearts of palm, sea kelp, and algae, among other ingredients.
I absolutely love the story behind Plant Based Seafood Company, as well as the selection of delicious products I've tried so far. The women-led company is founded and operated by a family who has worked in the fishing industry on a tiny island in the Chesapeake Bay for over 20 years. After experiencing firsthand some of the horrific practices in the seafood industry such as slavery, they decided to create a plant-based alternative that tastes like your favorite seafood in order to take demand away from these bad players.
I recommend giving these plant-based alternatives a try, knowing that they're a contributive food choice and one of the many impactful solutions to helping fix our food systems and heal our oceans. For this recipe, I sautéed the cakes to get them golden and crispy, made a zippy homemade Mustard Jalapeño sauce, and put it all together on brioche buns for an absolutely delicious sandwich! Let me know if you give these a shot – I'd love to hear what you think of them.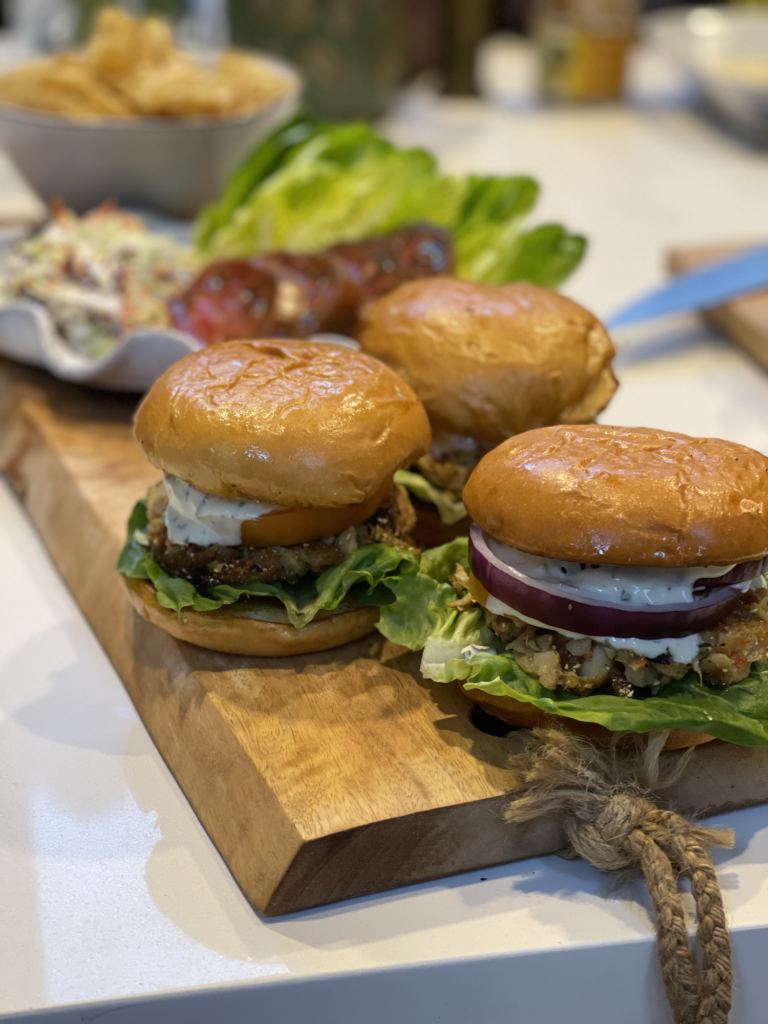 Makes 6 Servings
For the Lobster Cake:
Cornmeal, for coating
1 cup olive oil, for sautéing
For the Mustard Jalapeño Sauce:
1 jalapeño pepper, seeded and minced
1 cup mayo
1/2 cup whole-grain mustard
1 tablespoon of fresh lemon juice
1 tablespoon capers, chopped
1 tablespoon Italian parsley leaves, chopped
Salt and pepper
For the Sandwiches:
Baby lettuce leaves such as mache, arugula, or red leaf
Vine-ripened tomatoes, sliced and seasoned with salt
6 brioche buns, toasted and buttered
To Prepare the Mustard Sauce:
Blend all ingredients together in a mixing bowl.
(Can be made up to 1 week in advance)
To Prepare the Lobster Cakes:
Dredge the cakes in cornmeal.
Heat a skillet with one inch of olive oil to medium-high heat.
Add one small piece of the cake to the oil to confirm that it quickly sautées to a golden brown.
Remove the piece, add the cakes, and sauté until brown on one side.
Flip over the cakes and finish cooking in the oven for three minutes on the other side, or until golden.
To Assemble the Sandwiches:
Lay the bottom of the toasted buns on a cutting board.
Add the warm cakes, then top with the lettuce and tomatoes.
Spread the mustard sauce on the top bun and place it on top of the lobster cake.
Serve with Cole Slaw and Kettle Chips.
Want to explore more plant-based seafood recipes? Try these Plant-Based "Shrimp" Rice Paper Wraps!