Caviar is an ancient delicacy first enjoyed in the early 13th century. I love to treat myself to ethically-farmed caviar, especially with the two recipes I'm about to share!
Sustainable, eco-friendly sturgeon farming relies ultimately on the purity of the water and the artistry of the farmer. The sturgeon grow in either open ocean net pens or in tanks on land in an effort to preserve the environment and to create the highest quality caviar. Sustainably raising sturgeon is not an easy process, but in some cases, it also helps to preserve the breed.
I believe that it is very important to buy the caviar DIRECTLY from the farm. This is because caviar changes hands and is repacked once it leaves. The labels rarely give you the provenance of the farm, making it hard to know where your caviar has come from.
The process for raising world-class caviar begins with farming the sturgeon at the highest level. It can take over a decade to have a sturgeon produce eggs that are best-in-class for caviar. Look for one that has the most sustainable farming practices, features proper tank or pen configurations, and uses the highest level feed models that allow the fish to thrive and produce. Land-based operations should be rated GREEN by the Monterey Bay Aquarium's Seafood Watch Program.
My favorite farm is Sterling Caviar, which is responsible for saving the California white sturgeon and producing exceptional caviar! You'll fall in love with these two fun, decadent recipes featuring their caviar.

I invite you to watch my National Caviar Day chat with Lisa Simon, the National Sales & Marketing Manager from Sterling. You'll discover more on what to look for in order to buy the best sustainable caviar and how to enjoy it as an accompaniment in a variety of dishes – including french fries and soup!
TATER TOT WAFFLES WITH CREME FRAICHE & CAVIAR
Originally inspired by an experience eating at The Riddler, a champagne bar in San Francisco, this recipe is so basic and yet incredible – featuring everything from smoked salmon to trout roe and of course, caviar!
6 waffles
1 32-ounce bag of Ore-Ida Golden Tater Tots, thawed
1 tablespoon oil, such as grape seed oil, canola, or peanut, or clarified butter
Sea salt
2 ounces Sterling Caviar
6 ounces creme fraiche
4 ounces Kvaroy Arctic Smoked Salmon
Trout roe
Fresh dill, for garnish
Wild arugula leaves, for garnish
Lemon wedges
Heat waffle iron and lightly grease the waffle iron with a flavorless oil or clarified butter. Spread 2 cups of the tots on it; sprinkle with salt.
Close and cook on medium-high until nearly crisp, about 5 minutes.
Open the waffle iron and fill in any holes in the waffle with more tots, then close and cook until golden and crispy, 2 to 3 minutes.
Transfer to a baking sheet; keep warm in a 300 degree F oven.
Serve with accompaniments of caviar, creme fraiche, smoked salmon, trout roe, dill, and lemon.
CLASSIC DEVILED EGGS WITH CAVIAR & SUMMER FLOWERS
Peeling eggs is always so hard. If your aim is beautiful, pristine hard-boiled eggs for deviled eggs or a similar dish, the only sure-fire trick I know is to use old eggs.
As eggs age, they gradually lose moisture through the pores in their shell and the air pocket at the tip expands. The pH of the whites also changes, going from a low pH to a relatively high pH, which makes the whites adhere less strongly to the shell.
Farm-fresh eggs will always be tricky to age. Ideally, buy your eggs a week or two before you plan to boil them and let them age in the fridge.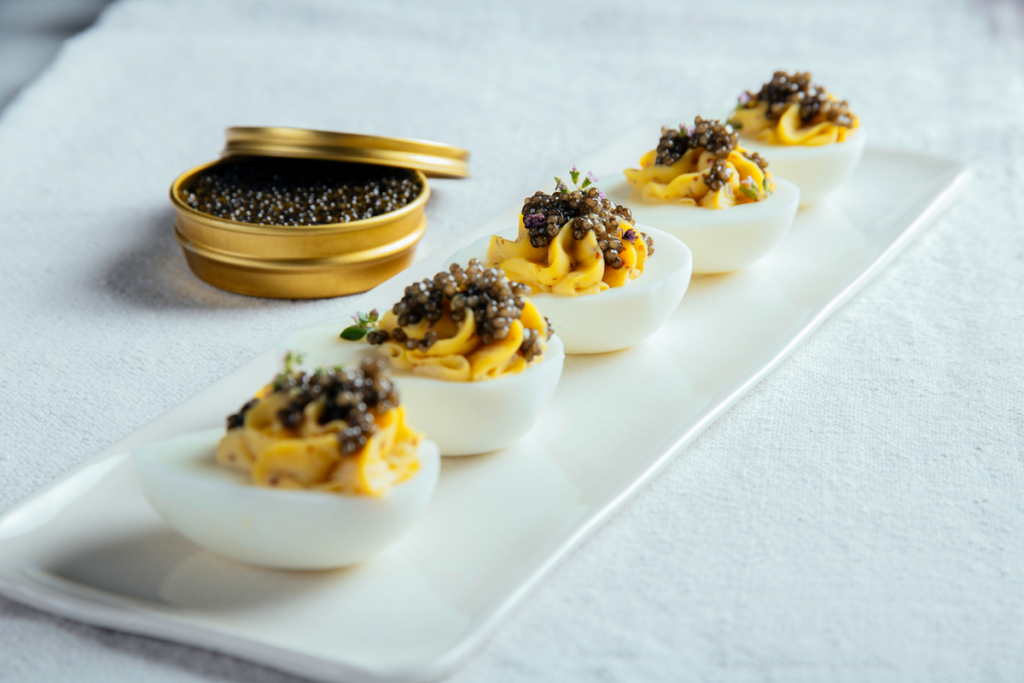 6 large eggs, 14 days old and room temperature
1/4 cup mayonnaise
1 teaspoon Dijon mustard
1/4 teaspoon paprika
Kosher salt
Freshly ground black pepper
2 ounces Sterling Caviar
Finely chopped chives, for garnish
Fresh petite wildflowers, for garnish
Place eggs in a large saucepan and cover with cold water. Set pan over medium-high heat and bring water to a boil.
Turn off heat, cover pan with a lid, and let sit for 10 minutes.
Drain, rinse eggs under cold water, and peel. Halve eggs lengthwise and scoop out yolks into a medium bowl.
Add mayonnaise, paprika, and Dijon mustard to bowl, then mash yolks with the back of a fork, and stir until mixture is smooth. Season with salt and pepper.
Spoon or pipe the mixture into each egg.
Garnish with chive strands, caviar, and wildflowers.
Photos courtesy of Eric Wolfinger Photography and Sterling Caviar.