Sea vegetables are a true superfood when it comes to the nutrients they contain.
Restorative for you and for the environment, the "sea veggie" category includes nearly 15,000 species that vary in color, from being whimsically translucent to purple-black.
Nori, dulse, kelp, wakame, sea lettuce, sea beans, sea cucumber are some of the commonly-eaten species that you might recognize.
For this dish, I paired saltwort (also known as "sea beans") with an immunity-boosting salmon fillet for a vibrant powerhouse of a lunch/dinner recipe.
If you can't find them, you can use fresh French green beans—however, I am hoping that we begin to see more and more sea vegetables at our farmer's markets and grocery stores!
Serves 6
For the Shallots:
2 tablespoons unsalted butter or olive oil
4 medium shallots, peeled and thinly sliced
For the Sea Vegetables:
2 cups saltwort (sea beans), tough stems removed
2 cups baby spinach, cleaned and large stems removed
2 lemons, cut in half and seeds removed
For the Green Peppercorn Mustard Dressing:
1-1/2 tablespoons mayonnaise, regular, low-fat or non-fat
1 tablespoon Green Peppercorn Mustard
1/4 cup white wine vinegar
1/4 teaspoon crushed dried green peppercorns
1/2 cup vegetable oil
2 tablespoons chopped flat-leaf parsley
For the Salmon:
In a medium saute pan, melt the butter over medium heat. Add the shallots and saute slowly until softened. Season with salt and pepper.
Bring a large pot of water to a rolling boil. Place sea vegetables in boiling water for 60 seconds. Scoop out with a slotted spoon and transfer to an ice water bath, squeeze the lemon juice into the water, and stir to chill completely. Drain.
Pat the salmon dry with paper towels. Generously salt and pepper both sides. Heat the peanut oil in a large heavy-duty skillet, preferably cast iron, over medium-high heat. When the oil shimmers, add the salmon skin side down, and cook undisturbed until the skin is crisp, about 3 minutes. Lower the heat to medium, flip the salmon over, and continue to cook until done to your liking, 1 to 3 minutes more.
In a wooden bowl, add the sea vegetables and spinach. Combine mayonnaise, mustard, vinegar and green peppercorns in a small bowl. Whisk in oil. Stir in parsley. Cover and refrigerate until ready to use or for up to a week.
Portion the salad between six plates and then place a salmon fillet on top.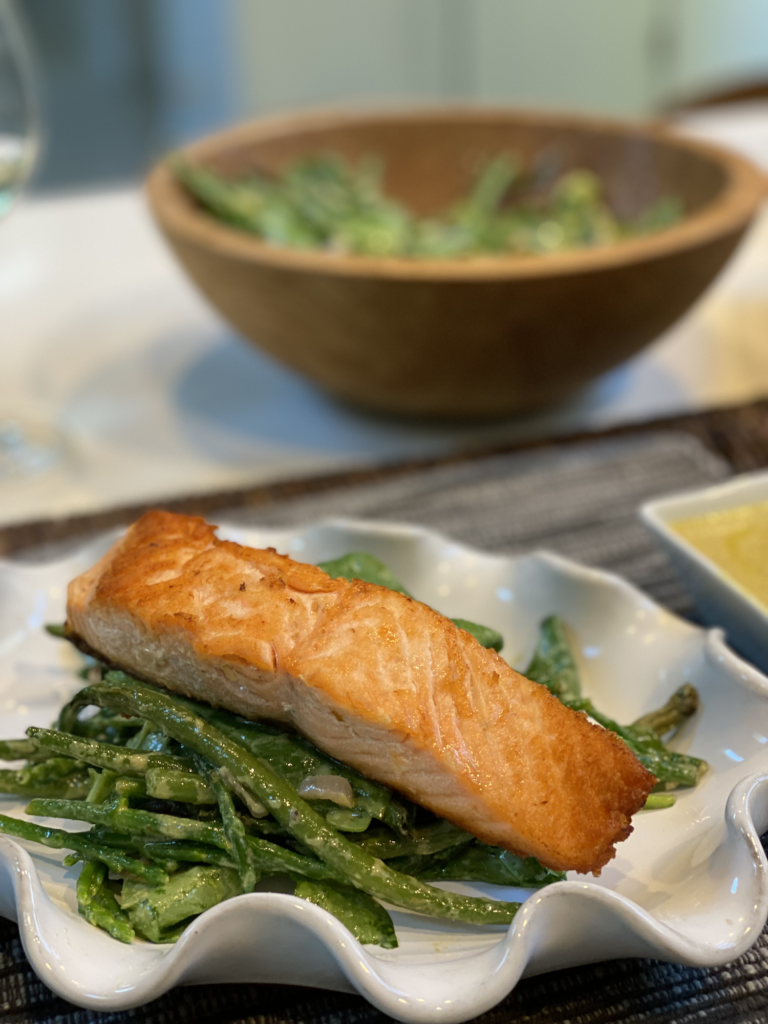 Looking for more sea veggie recipes? Try these Roasted Vegetable and Seaweed Tacos!