For this grilled tuna kabob, I used a sustainable, wild-caught yellowfin tuna, but you can also use albacore from a sustainable fishery!
You'll first prep the fish in a wet marinade composed of soy sauce, cumin, olive oil, and fresh lime juice so that it's full in flavor.
After cooking the kabobs on a grill pan or outside on the grill if the weather is nice, serve your tuna skewers with a creamy curry sauce on top of a beautiful, sauteed maple-glazed butternut squash – you can cut the squash into fun noodles or cubes!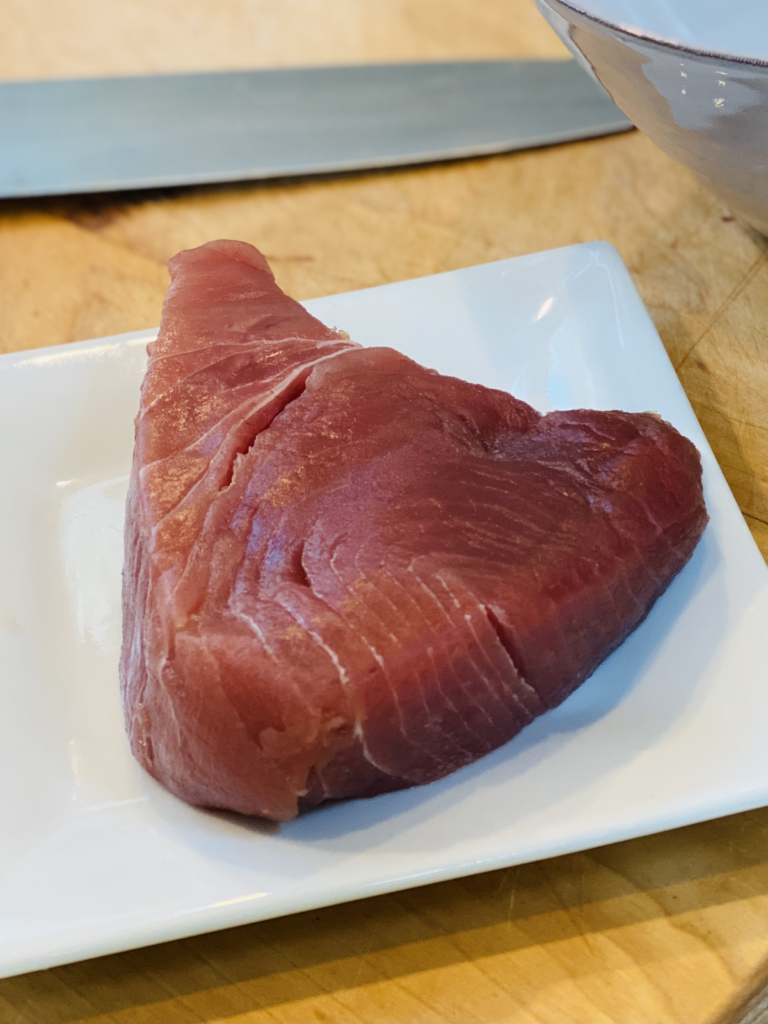 When it comes to sustainability, tuna carrying the blue MSC label is certified sustainable. MSC labelled tuna comes from a fishery that has been independently assessed by the Marine Stewardship Council. This means that companies using the label all along the supply chain have been assessed to ensure products can be traced back to an MSC-certified fishery. 
With yellowfin tuna steaks – both fresh and frozen – always check to see that the MSC label is on the box or displayed in the fish case.
Makes 4 servings
3 tablespoons olive oil
2 tablespoons lime juice
1 teaspoon ground cumin
1 tablespoon soy sauce
1½ pounds highest quality tuna in one 1½ inch thick piece, cut into 1-½ inch chunks, 24 in all
16 cherry tomatoes
8 8-inch wooden skewers, soaked in water for 30 minutes (to help prevent them from burning)
Combine oil, lime juice, cumin, and soy sauce in a zippered plastic bag. Add tuna and marinate for 15 minutes. Pour off the marinade and discard it. On each skewer, thread 1 piece of tuna, 1 tomato, 1 piece of tuna, 1 tomato, and 1 piece tuna, in that order.
Tip:
When I go to the market, I always look to see which fish looks the freshest. Don't follow your shopping list, let the freshness at the market determine the choice. Make sure that the fish smells fresh and is nice and moist. When you bring it home, take it out of the paper, put the bag with the fish in it on ice in a colander over a bowl. As the ice melts, it will drain and the water will stay away from the fish. Use it within 48 hours.
Repeat order on remaining skewers. Grill at medium high heat, turning to cook all 4 sides, 5 to 7 minutes total, until seared on the outside, still rare inside.
Serving Suggestion:
Serve hot or warm with the Cream Curry Dipping Sauce on the side. Have the maple glazed butternut squash ready to serve with them!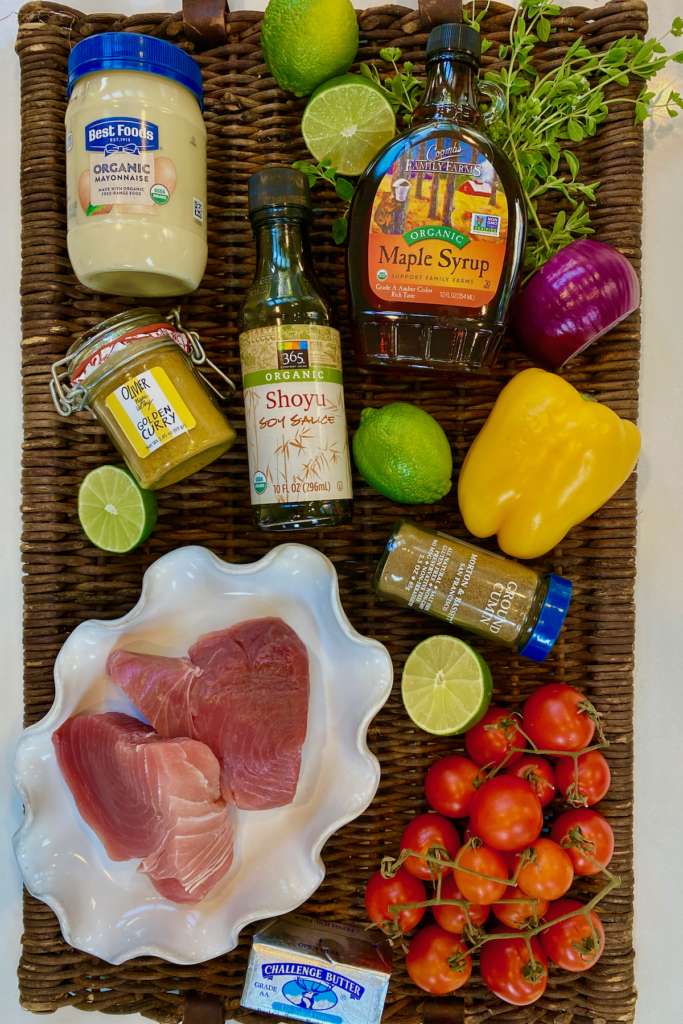 For the Creamy Curry Sauce: 
I love this sauce! The yogurt gives it a slightly tart flavor. The addition of the lime zest really gives it great flavor.
Makes about 1¼ cups
1 cup mayonnaise
2 tablespoons curry powder (hot or mild to taste)
1 bunch scallions, white and light green, very thinly sliced
Salt and freshly ground pepper
1 teaspoon lime zest
1 tablespoon freshly chopped cilantro
Tip:
Zest is the outside, colored rind of the citrus fruit. It is the most flavorful part of the fruit and it gives food a lovely fragrance and flavor of lemon, lime, and orange. When removing the zest, it is important to remove only the bright shiny outer part of the peel for the best flavor. I like to use the microplane grate zester – the shape keeps you from getting any of the pith with the zest quicker than you can imagine.
Beat together all ingredients in a small bowl. Chill.
For the Maple Glazed Butternut Squash:
Butternut squash is sweet and flavorful in its own right. Add this luscious maple glaze, and the result is almost like candy. Kids love it, and it is perfect with fish dishes of all kinds!
Makes 4 to 6 servings
¼ cup olive oil
2 small butternut squash, peeled and cut into ¾-inch cubes (about 6 cups) or curls for noodles
¼ cup maple syrup
2 tablespoons Italian (flat-leaf) parsley
2 tablespoons grated parmesan cheese
½ teaspoon sea salt
⅛ teaspoon freshly-ground black pepper