For so many years, my dad has been OBSESSED with babka. Here's my take on this traditional twist bread. Baked with chocolate, cinnamon, and the lovely "chocolate-y" seaweed called DULSE, it would make my Jewish grandmother proud.
You might be wondering, "Why add seaweed to a sweet bread and not save it for sushi rolls?"
A seaweed like dulse (also known as Palmaria palmata) has the potential to add SO much goodness to baked treats:
A nutrient-rich punch of fiber, vitamins, and minerals
That rich "umami" flavor
The esters of cocoa to provide that yummy hint of chocolate—but from the sea!
I'm excited that we're in the midst of a seaweed evolution (along with our blue foods!), and that brands like Ocean's Balance are here to make it easy to find these amazing foods from the oceans.
One huge reason to support a mission-driven company like theirs is that they've developed zero-input techniques that don't require arable land, fertilizers, and freshwater to sustainably farm their seaweed—a huge plus as droughts and freshwater shortages become more common.
Plus, farming seaweed helps the local economy, as it's an alternative means of income for coastal fishermen, and seaweed processing creates job opportunities for immigrant communities.
Sustainable seaweed is an all around-win, so join me in challenging yourself to find more unexpected ways to bring it into your cooking and baking!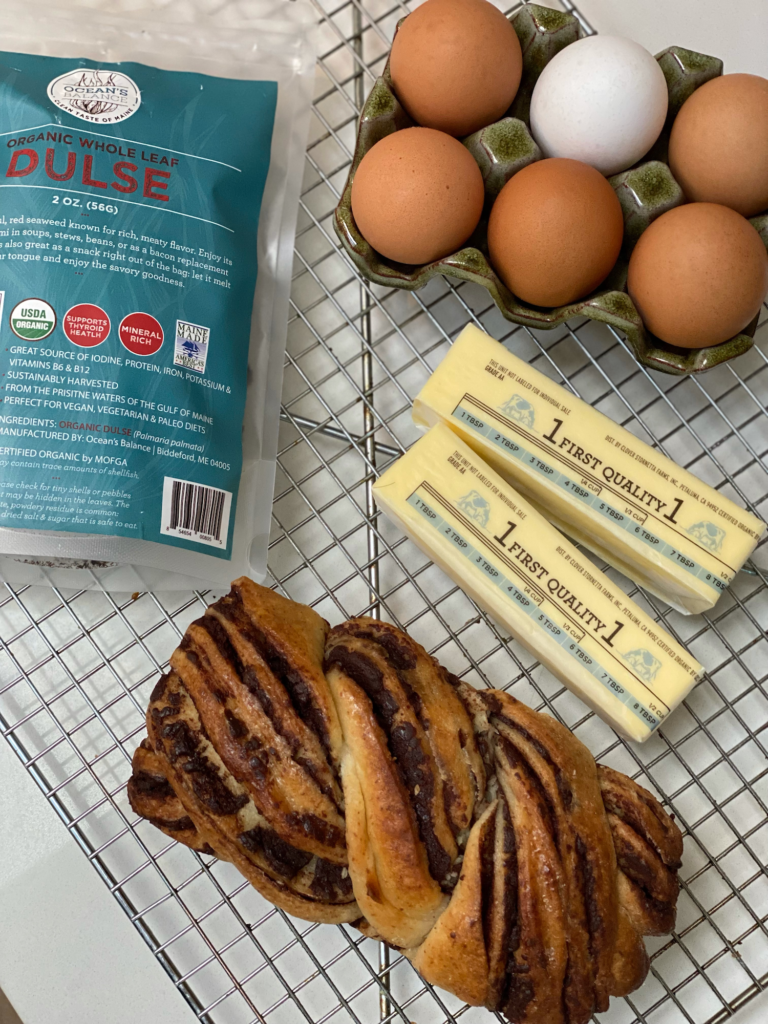 Makes 2 loaves
Dough:
6⅓ cups all-purpose flour
¾ cup granulated sugar
1 tablespoon active dry yeast
1 tablespoon orange zest
4 large eggs
¾ cup warm whole milk (105°F to 110°F)
1 teaspoon vanilla extract
1 cup unsalted butter, softened
1 tablespoon kosher salt
Egg Wash:
1 large egg
1 tablespoon water
Simple Syrup:
½ cup granulated sugar
½ cup water
For the Filling:
2 cups unsalted butter, softened
2 cups granulated sugar
¼ cup ground cinnamon
2 teaspoons grated fresh nutmeg
1 cup rehydrated and pureed dulse seaweed, extra moisture removed
Filling: In the bowl of a stand mixer fitted with the paddle attachment, beat the butter, sugar, cinnamon, and nutmeg at medium speed until creamy, stopping to scrape sides of the bowl, for 3 to 4 minutes. Fold in pecans.
For the dough: In the bowl of a stand mixer fitted with the dough hook attachment, combine the flour, sugar, yeast, and zest. With the mixer on low speed, add eggs, milk, and vanilla. Beat until the mixture comes together, 2 to 3 minutes. (If the mixture remains too dry and crumbly, add more milk, 1 tablespoon at a time.)
With the mixer on medium speed, add butter, 1 tablespoon (14 grams) at a time, letting each piece incorporate before adding the next. Add salt, beating just until combined, about 3 minutes. Increase mixer speed to medium, and beat until a smooth and elastic dough forms and pulls away from the sides of the bowl. (If the dough does not pull away from the bowl, add more flour, 1 tablespoon [8 grams] at a time.)
Spray a large bowl with cooking spray. Place the dough in the bowl, turning to grease top. Cover and let rise in a warm, draft-free place (75°F) until it's doubled in size, after 1½ to 2½ hours. After the dough has risen, refrigerate for 30 minutes. Alternatively, the dough can be made one day in advance and the entire rise may take place in the refrigerator overnight.
For the egg wash: In a small bowl, lightly beat together egg and water.
Spray 2 (9×5-inch) loaf pans with cooking spray, and line with parchment paper.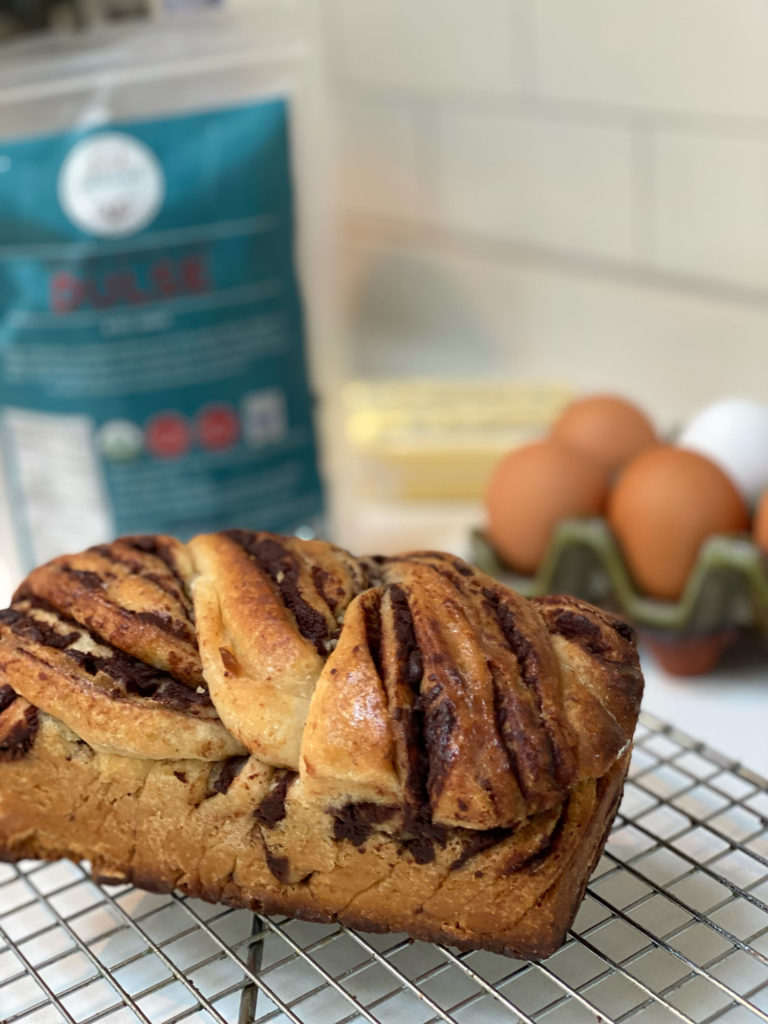 Divide the dough in half. On a heavily floured surface, roll half of the dough into a 16×12-inch rectangle. Brush edges of dough with egg wash. Spread with half of the filling, leaving a 1-inch border on long sides of dough. Starting at one short side, roll up the dough, jelly-roll style, and press the edge to seal. Using a sharp knife, cut the roll in half lengthwise. Carefully twist the dough pieces around each other, and place in a prepared pan, cut sides up. Repeat the procedure with the remaining half of the dough. Place prepared pans on a foil-lined rimmed baking sheet. Cover and let rise in a warm, draft-free place (75°F) until it has doubled in size, for about 1 to 1½ hours.
Preheat the oven to 350°F. Bake for 30 minutes. Cover with foil and bake until a thermometer in the center registers 190°F, about 35 minutes more.
For simple syrup: In a small saucepan, bring sugar and ½ cup water to a boil over medium-high heat, stirring occasionally, until sugar is dissolved. Remove from the heat and let cool slightly. Pour simple syrup over warm loaves while still in pans. Let cool in pans for 5 minutes before transferring to a wire rack.
Looking for other ways to add dulse to your treats? Try these Chocolate Chip Mousse Kelp Brownies!