These blini (Russian pancakes) are good enough to eat any time of the day and with a variety of condiments and toppings – including sustainable caviar! 
Because a yeasted blini is more traditional and the flavor is amazing, I always go with this variety when I need a simple vessel for my favorite seafood starter. They cook very quickly, so stay at the stove during the process.
I recommend adding sustainable seafood toppings straight from your Sea Pantry for extra nutrients and deliciousness. For my next batch, I'll be adding Kvaroy Arctic's Smoked Salmon, along with Sterling Caviar!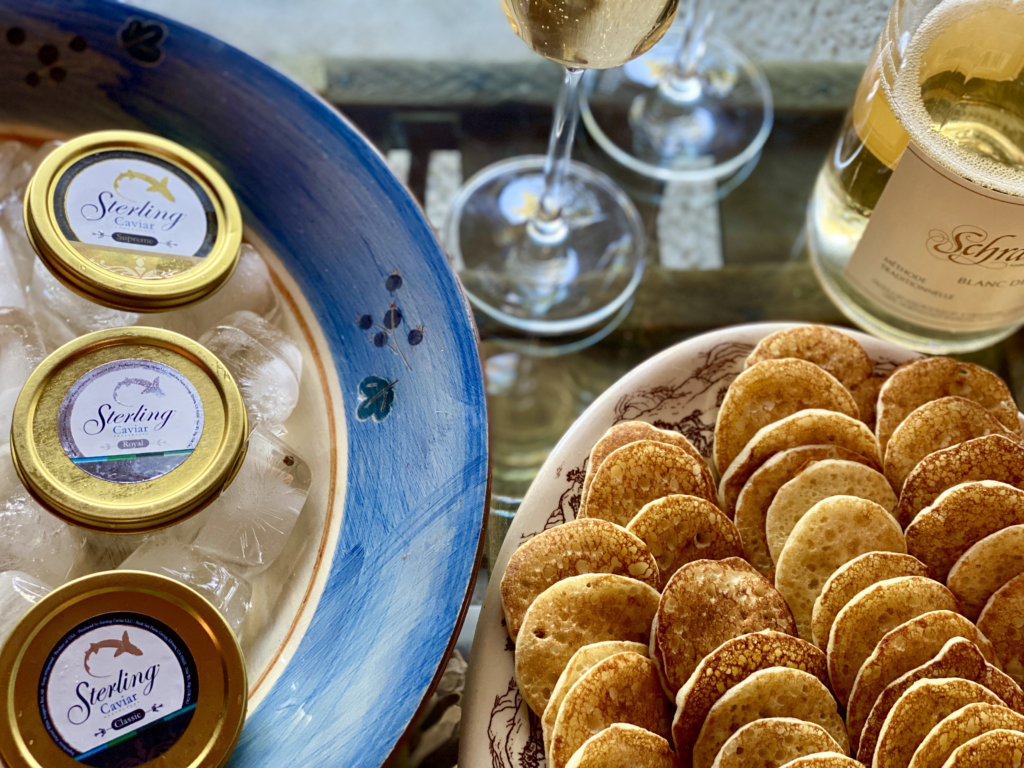 60 2-inch Blini
2 cups whole milk
1 packet rapid rise dry yeast
2 teaspoons white sugar, divided
1 ½ cups all-purpose flour, divided
½ teaspoon salt
2 tablespoons unsalted butter, melted and cooled
1 tablespoon vegetable oil, plus one teaspoon placed on a paper towel
2 large eggs, room temperature, separated
1 cup crème fraîche
Caviar, served in the tin over crushed ice
Smoked salmon, cut into cubes
Smoked trout, if desired
1/4 cup fresh chives, chopped
Lemon wedges, if desired
1. In a small saucepan, bring milk to a simmer over medium-high heat. Transfer milk to a large bowl and let cool until it registers 110 degrees F. Add the yeast and 1 teaspoon of sugar to the bowl of warm milk and let sit for 5 minutes. The mixture should froth and foam. Add half of flour and whisk mixture until smooth. Cover bowl with plastic wrap and set aside in a warm spot until the mixture has approximately doubled in size, about 1 hour.
2. Add the remaining 3/4 cup flour and 1 teaspoon sugar, as well as salt, melted butter, oil, and egg yolks. Whisk until the ingredients are well-incorporated, but the batter is still slightly lumpy. In a small bowl, whisk the egg whites until they hold soft peaks. Using a rubber spatula, carefully fold egg whites into the batter, working it as little as possible.
3. Heat a large nonstick skillet over medium heat for 5 minutes. Sprinkle a small amount of water over the skillet. If it evaporates rapidly, the skillet is ready. Rub a small amount of vegetable oil into the skillet until no visible oil remains. Using a spoon, place silver dollar pancake–sized circles of batter (about 2 ½ inches in diameter) in the skillet. Cook until the bubbles appear on the surface of the blini and turn with an offset cake spatula. The bottom of the blini will be light golden brown, which takes about 2 minutes.
4. Carefully flip the blini and cook on the second side until light golden brown, about 1 minute longer. Wrap the finished blini in a clean kitchen towel, place the towel on a wire rack set in a rimmed baking sheet, and transfer to a warm oven. Repeat the blini-cooking process until all of the batter is used up.
5. Serve blini with crème fraîche, caviar, smoked salmon or trout over ice and chives. Drizzle with lemon, if desired!