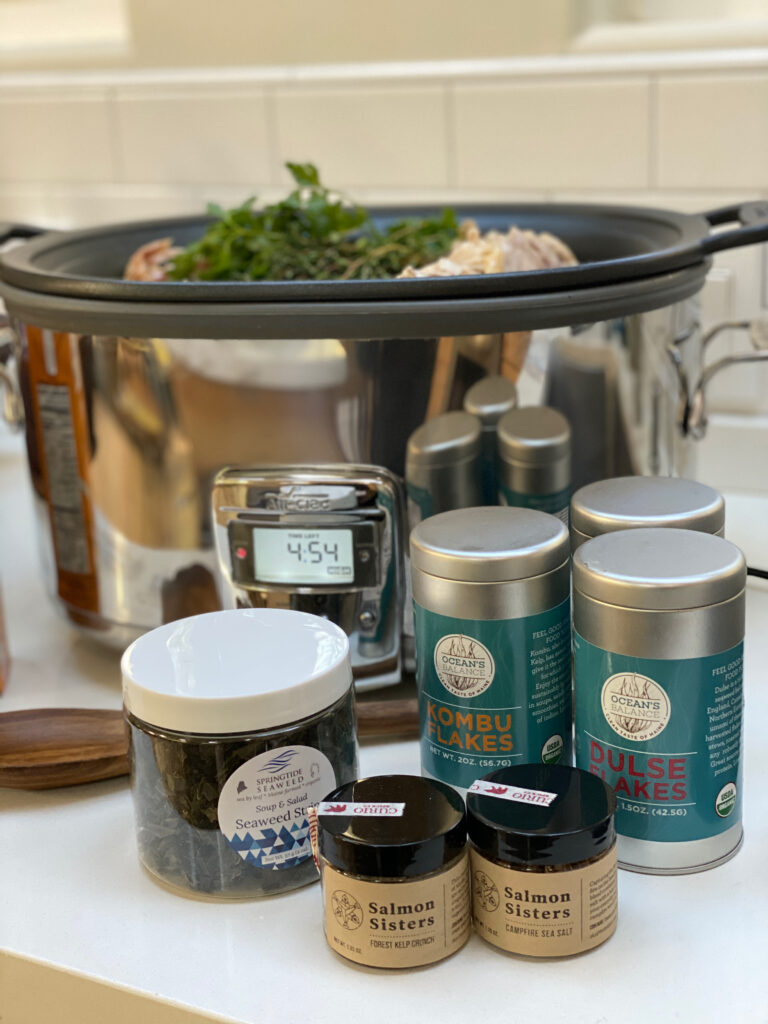 Between the COVID pandemic and ongoing climate crisis, the first month of 2021 has dealt us some serious challenges. Fortunately, there are small actions we can take in our daily lives to support our own health that collectively impact the health of our planet in a big way! Reaching for ingredients from our Sea Pantry when we're cooking is one of those ways we can help heal our oceans and make a contribution to a healthier planet.
Few things say comfort food more than a warm, cozy bowl of soup. This is my grandmother's turkey bean soup recipe, updated with Sea Pantry ingredients. We start by sautéing aromatics in olive oil to build a delicious base of flavor, then add in the turkey, beans, seaweed, and broth and let it simmer for hours. I love adding seaweed to soup at the beginning to extract all the yummy umami flavor, plus the marvelous health benefits. Feel free to use whatever seaweed flakes you have on hand! I switch up what kind of seaweed I use and love trying different kinds, but some of my favorites are Springtide Seaweed Soup & Salad Seaweed Strips, Salmon Sisters Forest Kelp Crunch, and Ocean's Balance Dulse Flakes.
Beyond being delicious, it's super nutritious! Seaweed has anti-inflammatory properties to fight arthritis, celiac disease, asthma, and obesity, and it is a fantastic source of antioxidants. It contains almost every mineral found in the ocean and is rich in vitamin C, vitamin B, vitamin A, vitamin E, iron, and iodine. Additionally, seaweed has a molecule known as fucoidans, which are believed to contribute to overall life expectancy, but also to immunity and cardiovascular function.
On top of how it supports our health, seaweed lends a valuable service to the sea. Ongoing studies suggest that it can filter water and absorb huge amounts of carbon dioxide to offset global warming. The more seaweed you eat, the more you support and encourage its production.
Gram's Slow Cooker Turkey Bean Soup
Makes 8 Servings
2 tablespoons olive oil
2 cups white onion, chopped
4 carrots, diced
4 celery stalks, chopped
3 garlic cloves, minced
Kosher salt
½ teaspoon black pepper, freshly ground
1 turkey carcass with some meat attached, cut into pieces
3 fresh thyme stems
8 cups turkey broth
One bunch flat-leaf parsley leaves
2 cups mixed dry beans
¼ cup seaweed flakes
Heat a slow cooker on high until hot.
Add the olive oil, onion, carrots, celery, garlic, salt, and pepper and cook, stirring occasionally until golden, 6 to 8 minutes.
Add in the turkey carcass, thyme, broth, parsley, beans, and seaweed.
Reduce the heat to low and cook the soup until the turkey meat is falling off the bones, 6 to 8 hours.
Discard the turkey bones and season the soup with salt and pepper to taste.
Serve sprinkled with the parsley leaves.
Looking for another cozy recipe that utilizes your Sea Pantry? Try these Traditional Native American Baked Beans of the Northeast with Kombu.