Stumped on what to cook for breakfast, lunch, or dinner? Enter the frittata, an egg dish that's delicious any time of day. An elegant, open-faced cousin of the omelet, a frittata is best enjoyed at room temp, but is also delicious when warm or even cold. A large frittata can feed a crowd, but a smaller one is the perfect solo meal. Talk about versatile!
Frittatas can be packed with just about anything–meats, cheeses, veggies, and even leftovers. I enjoy this version with not one, but two types of greens: a kelp-based chutney and a yummy artichoke puree.
Fiber-packed artichokes are at the peak of freshness from March until May, making this the perfect time of year to enjoy them. Kelp, meanwhile, is incredibly nutrient-dense, and contributes to ocean health by removing excess carbon dioxide and nitrogen. This frittata is truly a marriage of two powerhouse greens.
I love the spice of this chutney, to which the kelp puree lends a subtle umami. The artichoke's mild nuttiness adds further complexity. Finally, the eggs provide the perfect base to enjoy all these flavors together. Good for you, good for the ocean, and good for your palate–what more could you ask for?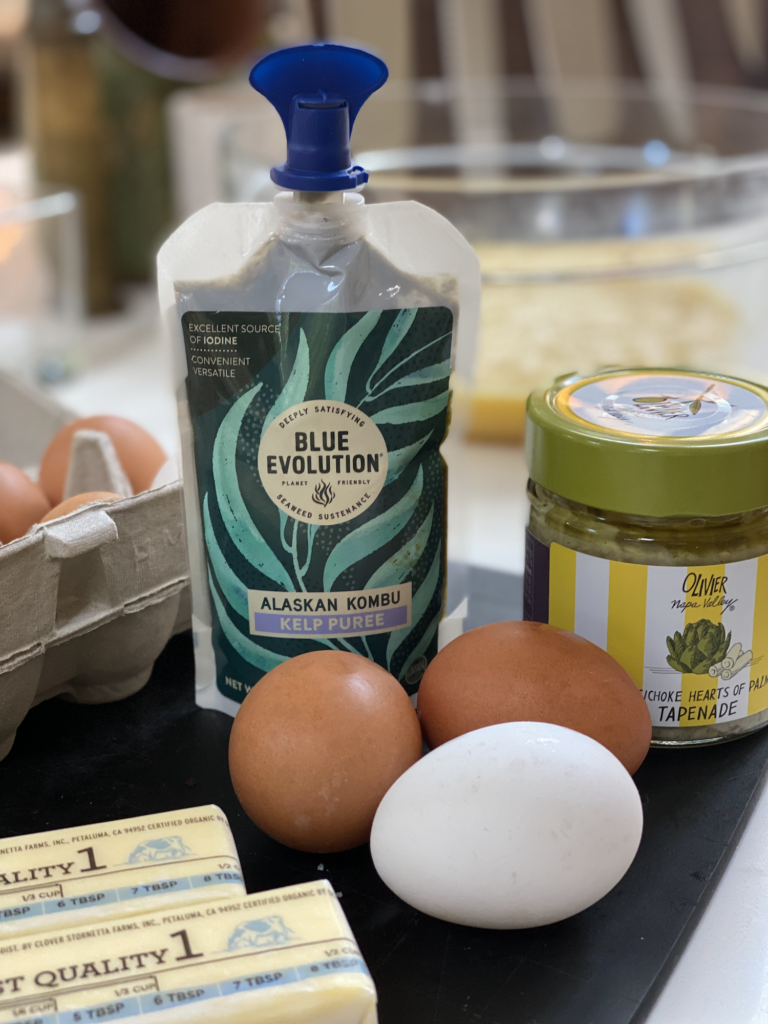 Serves 6
For the Chutney:
1½-inch piece ginger, peeled, chopped
1 jalapeño, seeds removed, chopped
1 cup kelp puree
1½ cups mint leaves
⅓ cup plain whole-milk Greek yogurt
4 teaspoons fresh lemon juice
4 teaspoons vegetable oil
1 teaspoon chaat masala
Kosher salt
Pulse ginger, jalapeño, kelp puree, mint, yogurt, lemon juice, oil, and chaat masala in a food processor until smooth; season with salt.
For the Frittata:
Preheat your oven to 350°F. Heat 3 tablespoons of olive oil in a 10″ oven-safe skillet over medium-high heat. Add ½ cup diced onions. Cook, stirring occasionally, until softened, about 5 minutes. Meanwhile, whisk 8 large eggs in a medium bowl with ½ cup of milk, ¾ teaspoon salt, and ¼ teaspoon pepper.
Pour the egg mixture and any additions into your skillet, stir, and cook just until edges start to pull away from the pan. This will take 5 to 7 minutes. Sprinkle with the green chutney and the artichoke puree of your choice! Transfer skillet to oven and bake until set, 16 to 18 minutes.

Ready to experiment more with kelp puree? Try this delicious Blue Foods Bowl with Crab Cakes!