For those of you who love cookies AND "test kitchen" type experiments, you might be interested in my adventure in making SEAWEED FROSTING.
I absolutely love baking with seaweeds because they add nutrients and beautiful richness, while also contributing to the health of our oceans. If seaweed isn't already a staple in your kitchen, it needs to become one—stat!
And given all the greenery around the holiday season, I thought it'd be a festive way to create a frosting. So after a failed attempt to place big leaves of wakame kelp directly into the food processor (oops!), I finely chopped and blitzed them, before combining with sugar, cream cheese, butter, and vanilla to create a yummy frosting that has a natural green color from the seaweed.
With this simple recipe below (which can be made ahead), I baked mini cookies instead of larger ones for a nice, BIG batch. I left some plain, frosted others, and sprinkled a bunch with GREEN salt made from salicornia—an incredible sea vegetable that grows by the ocean. You use it just like sea salt! I sprinkled the cookies with the green salt after frosting them for a light salt flavor and a STUNNING emerald color.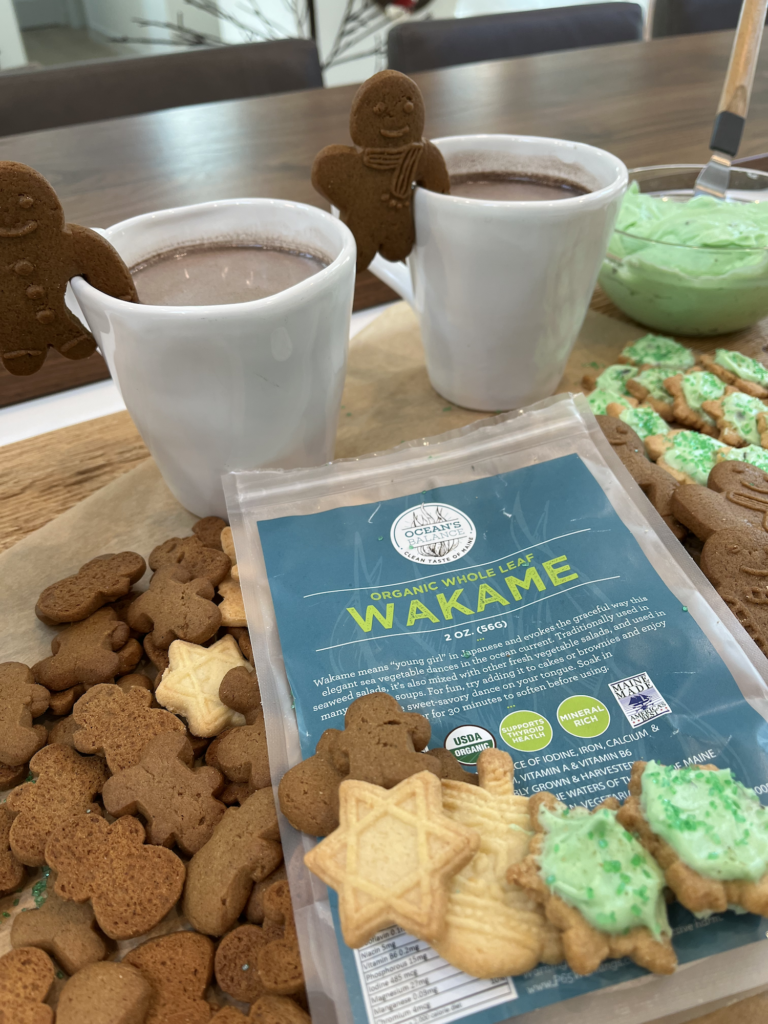 For the Cookies:
Makes 24 small cookies
*Both the cookies and the dough can be made ahead and then frozen.
1 unsalted butter, softened
1 cup sugar
1/4 cup milk
1 large egg, room temperature
1 teaspoon vanilla extract
3 cups all-purpose flour
½ teaspoon baking powder
¼ teaspoon green salicornia salt (here's the one I get!)
Heat oven to 375°F.
Combine butter and sugar in bowl. Beat at medium speed, scraping bowl often, until creamy. Add milk, egg, and vanilla. Continue beating until well-mixed. Add flour, baking powder, and salt; beat at low speed until well-mixed. Cover; refrigerate 1 hour or until firm.
Roll out dough on lightly floured surface, one-half at a time (keeping remaining dough refrigerated), to 1/8-inch thickness. Cut with assorted 2-inch cookie cutters. Place 1 inch apart onto ungreased cookie sheets. Bake 5-7 minutes or until edges are lightly browned. Cool completely.
Frost and decorate cooled cookies as desired.
For the Cream Cheese Seaweed Frosting:
2 ounces wakame, finely chopped (I LOVE Ocean's Balance Wakame)
1 tablespoon sugar
3 tablespoons green decorating sugar
8 ounces cream cheese, at room temperature
1 stick unsalted butter, at room temperature
2 teaspoons vanilla
2 cups powdered sugar, sifted
2-3 drops of food natural food coloring if a darker green color is desired
¼ teaspoon green salicornia salt (here's the one I get!)
In a food processor fitted with a metal blade, add the seaweed, sugar and 2 tablespoons of the green sugar. Grind until a powder forms (there will be bits of seaweed).
In the bowl of a stand mixer fitted with the paddle attachment, beat the cream cheese, butter, and vanilla on medium-high speed until very light, creamy, and smooth. On low speed, gradually add in the sugar and beat until fluffy. Fold in the seaweed powder until you get the desired green color that you want!
Loved the seaweed cookie idea? Now, how about some seaweed brownies?