Sustainable aquaculture is the solution to feeding our world's growing populations and can also help bring more seafood into vulnerable communities that especially need the nutritional benefits of fish and shellfish.
When I heard that Sophie's Neighborhood (a nonprofit dedicated to finding a cure for a rare genetic disorder, MCTO Syndrome) was auctioning off a 30 minute Zoom cooking class or conversation with Andrew Zimmern, I had to put my hat in the ring. The four-time James Beard award-winning TV personality, chef, writer, teacher, and social justice advocate had generously donated his time, and I was lucky enough to be the winning bidder!
I asked Andrew to expand the 30 minutes to one hour and then lead a public conversation on aquaculture with five sustainable water farms from around the globe:
I invite you to watch this riveting, eye-opening discussion or read the recap below and then check out ways you can support sustainable water farmers at the end!
THE DISCUSSION
Please note that the questions and points shared by the panelists below are paraphrased:
Q: How are we going to collectively survive and ideally thrive trying to build more aquaculture systems here in America and around the world?
A: Ideal Fish (Branzino, Connecticut)
We are involved in recirculating aquaculture (RAS) and grow branzino in a controlled environment, where we create the environment, from the level of salt in the water to the oxygen level to the temperature. We have full control of the environment, which has no negative environmental impacts. We're able to produce a high-quality protein fifty-two weeks out of the year, regardless of whether the sun is shining or it's snowing and deliver it into the markets within twenty-four hours of harvest. We're able to go into depressed areas, take over run-down factories, retrofit them out with our technology, and create jobs – it's a win-win across the board.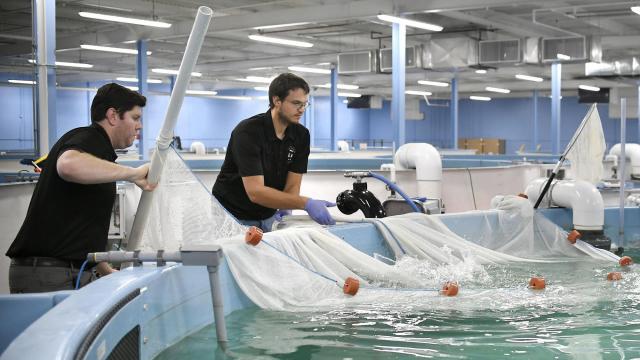 A: Pacifico Aquaculture, (True Striped Bass, Baja California)
Aquaculture as an industry on a commercial scale is still very young, and what we're doing right now is super important – we're talking about it. We have a great group of companies proving to the world that we can do it in a really healthy way – whether it's through RAS or open ocean technology. I think this is the first step – talking about it and education. Our farm raises our fish eight miles offshore; we are very far away from industrial contaminants or pollutants that you would otherwise find near the coastlines of major cities. Being that far offshore, we're in very clean, healthy water and everything that we do on the farm itself is an effort to keep it that way. We don't use chemicals, don't have copper antifoulants on the nets, nor anything that would go into the water that would be detrimental to the water itself or to the health of the fish.
A: Kauai Shrimp (Shrimp, Hawaii)
We are a breeding facility in Kauai. I'm responsible for a million pounds of shrimp a year. Our core business is breeding and selling live broodstock to hatcheries all around the world. Our hatcheries will grow the shrimp out to a certain size, and then I'll sell them to individual farmers who manage their own farms. We don't use chemicals whatsoever on our farm. In Asia, many farms use chemicals and antibiotics. We send a golden shrimp to Asia and what comes back is anybody's guess, but there's a huge movement in the retail sector that they only buy from certified facilities – certified feeds, certified farms, and certified processing. Through the demand for a higher quality product, it's gradually changing. With RAS, that's where the future is going. You can control the environment – it's with bio-security that you can keep disease out of production. With good filtered water, employing people with good wages, this is what's good for the planet. It's really exciting with the new technologies that are coming through.
A: Kvarøy Arctic (Salmon, Norway)
The conditions we have for farming in the Arctic Circle are extraordinary, and that's why we produce 50% of the farmed salmon in Norway. I agree that recirculating technology will also be a part of the future for growing seafood for the world, but I also believe it's still possible to do it sustainably on the water and increase the production in Norway. This is why we're part of a flow-through system that will take the fish on-land, taking advantage of the natural conditions that we have in our area and still using a sustainable feed. It's true that farmed salmon has had a bad reputation; it's an industry that has had its problems. There's always some challenges when you raise a wild fish and try to make it a farmed fish, but the industry has grown a lot and it's still a young industry. In our company's history, we found the right customers, we listened to the customers, and implemented the right changes. We don't use any copper treatments on nets, we have less fish in each net to make sure the fish thrive and grow better, and we don't use chemicals or antibiotics. We have also developed our own feed with Corbion algae and have also lifted the omega-3 levels so that it has as much of these fatty acids as wild salmon, if not more.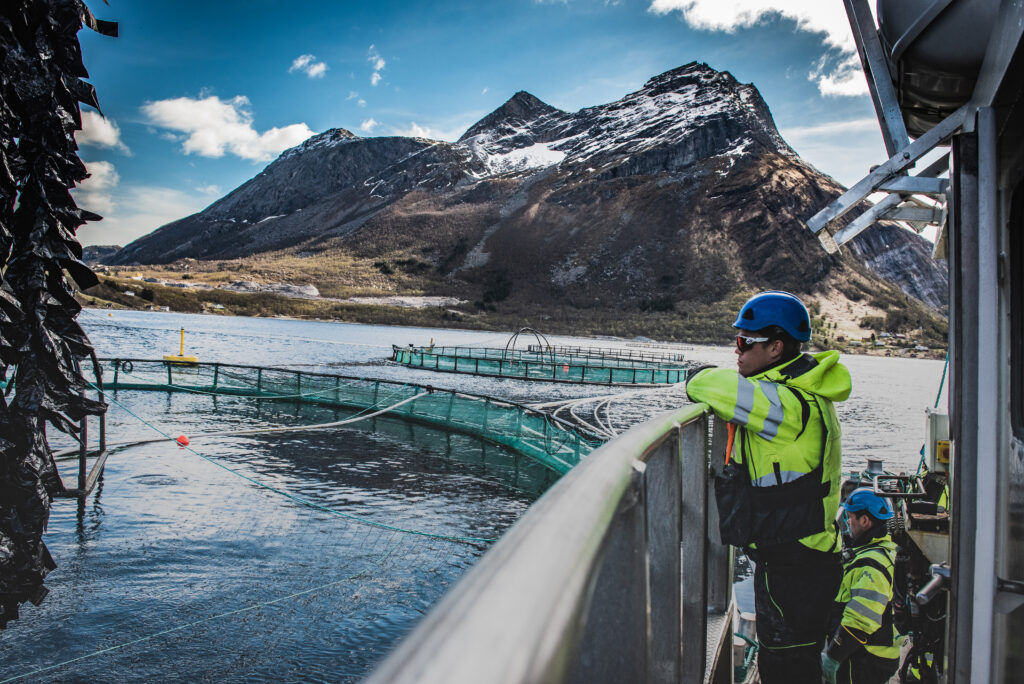 A: Open Blue (Cobia, Panama)
We've gone eight miles offshore to open ocean waters, in 270 feet of ocean currents, where we can mimic the natural environment of cobia as closely as possible, while keeping the "good" in and the "bad" out. The result is a beautiful, sustainably-raised, fish that is high in omega-3s. We're in good company on this panel – the only three fish in the world that have been granted the American Heart Association's Heart Check Certification: Open Blue, Pacifico, and Kvaroy. The really cool thing about this industry is that we're all here to grow together because we can't do it alone. It's a model that can move – it's not just for Panama, it's a model that can apply to other species all over so that we can feed the world.
Q: I just read Securing a Sustainable Future for US Seafood in the Wake of a Global Crisis, a study by Halley Froehlich and her team (Rebecca Gentry, Sarah E. Lester, Richard Cottrell, Gavin Fay, Trevor A. Branch, Jessica Gephart, Easton White, and Julia K. Baum) at the University of California, Santa Barbara. The paper essentially reviews the current state of the US seafood industry and suggests 5 guiding principles to better manage U.S. wild-caught fisheries and aquaculture. How do we make strategic reforms in the seafood industry that support wild fisheries?
A: Kvarøy Arctic (Salmon, Norway)
In Norway, wild fisheries are ultimately a historic business, but make up a very small portion of Norway's salmon numbers. Only 200 metric tons of wild are brought in compared to 1.3 million metric tons from farms. The rights of the wild fisheries are respected; it's important that the farmed salmon do not have a footprint on the wild fisheries. Since 2009, the Norweigan farmed industry has been held back since there has not been enough balance. That's why we now have a traffic light system that gives the thirteen different regions of Norway a chance to grow only if the footprint is low on the wild trout and salmon. It's essential that there is a balance.
A: Pacifico Aquaculture (True Striped Bass, Baja California)
A: Wild and aquaculture need to exist together – there has to be a balance. Water farms provide stability in the market – chefs can get the fish year-round and be assured that the availability and pricing isn't going to change, while also taking pressure off wild fish stocks.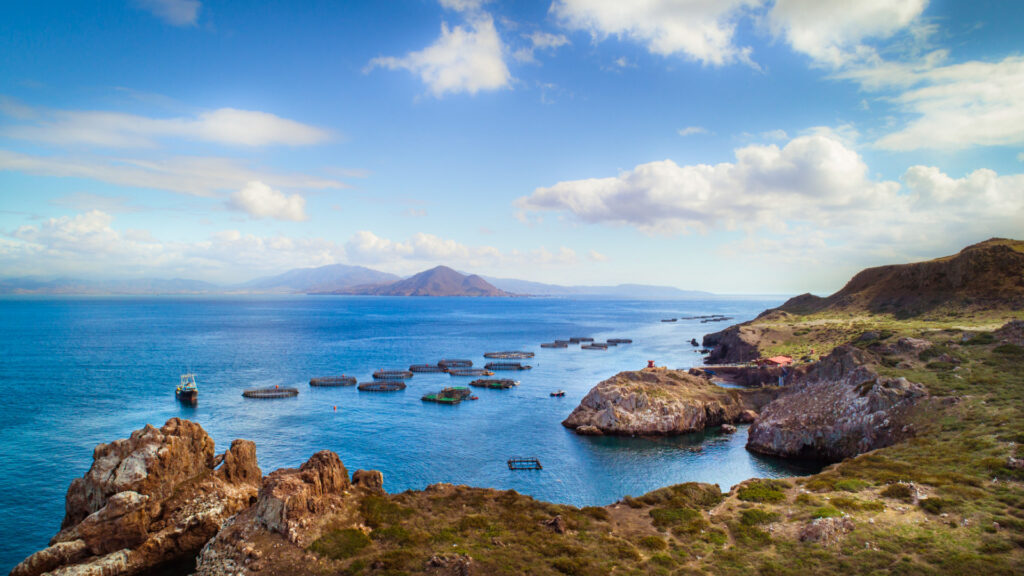 Q: The study states that there is potential for better integrated management – the two sectors of wild-capture fisheries and aquaculture are mostly managed separately, although there are intersections through feed, seed, and markets. How do we integrate wild-capture fisheries and farms through an ecosystem-based approach?
A: Open Blue (Cobia, Panama)
A: We need to find room for both operations acting synonymously. It's not even an option. We need it. The site sourcing is something we've been researching for many years. We've been sharing our research – which species are harmonious, which are not, which should we avoid? We can leverage the research we have already, capitalize on the experts' knowledge, take this info and enhance what we're doing so we can help the wild-caught fish prosper.
Q: Aquaculture suffers from a lot of mythologies, and there's much confusion in the marketplace. How do we address social resistance to aquaculture?
A: Ideal Fish (Branzino, Connecticut)
A: The state of the industry is a mess. The right hand is fighting the left hand. The wild people are fighting the farmed people. First of all, we need to get on the same page. Aquaculture used to be an "option." It's not an option anymore. It's now a necessity. It's not realistic to think we can take up more land and raise more cattle. The press have done a fabulous job at telling consumers not to eat farmed salmon, but the reality is that if someone asked, "What's my biggest challenge today? Is it raising a good quality protein that tastes really good?" the answer would be no, our biggest challenge is education. The majority of companies raising fish in North America are doing it the right way. How do we get the consumer to identify the right companies? It's education, especially on transparency and traceability. At Ideal Fish, we have a QR code that goes on each fish that will tell people everything about the fish – when it was harvested, when it was shipped. Absolutely traceability is essential to turn the tide on the misinformation that has plagued our industry.
Q: What's the biggest point you would want to tell consumers about the industry that would help address these issues?
A: Pacifico Aquaculture (True Striped Bass, Baja California)
Seafood is easy to cook. There's a huge misconception that it's not, and people are afraid to cook seafood at home. The majority of seafood is consumed outside of the home in America. Part of the education component is educating people that seafood is easy and fast to cook.
What's the big challenge on the education front when it comes to farmed Norwegian salmon?
A: Kvarøy Arctic (Salmon, Norway)
We spend too much time defending ourselves instead of telling the good stories about what we do. There are too many people trying to shoot back at the criticism instead of telling these stories and innovating.
What is the challenge around selling a fish that is relatively new to a lot of consumers?
A: Open Blue (Cobia, Panama)
People don't know what cobia is, so we did blind-consumer testing across major metropolitan areas and asked people how often do you eat fish? Do you know what cobia is? They would say, "no, we don't buy it very often." We then asked, "What if we told you that it was sustainably-raised, it's sashimi-grade, has more omega-3s, and is heart-healthy?" We resurveyed them again and they said we would buy it today, they would buy it right there. We encourage people to be curious. Go beyond the media's portrayal of seafood and develop your own opinion on what you think.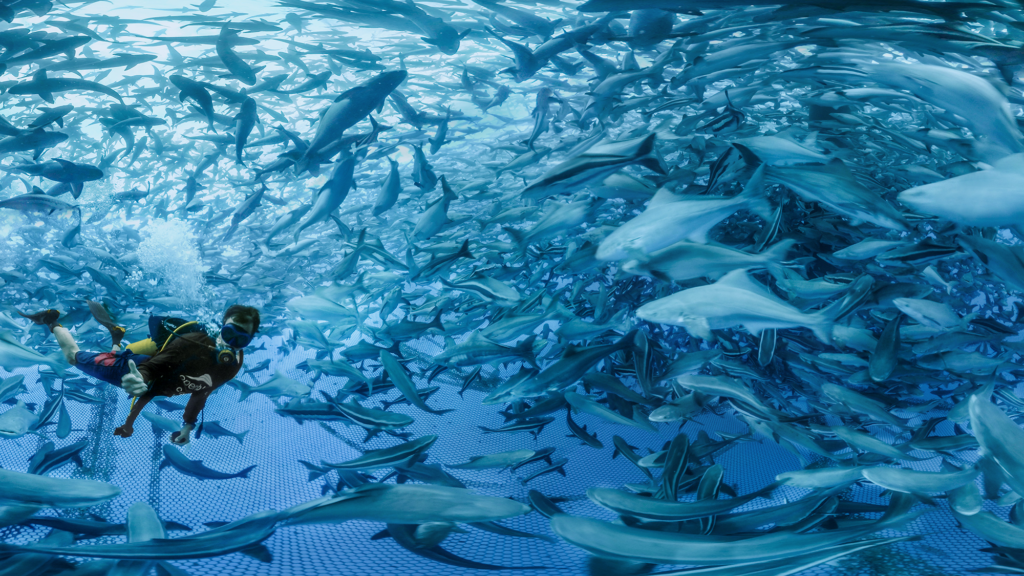 Q: Is it even worth it now to try to get seafood certified organic? Or should we push for sustainability/restorative certifications?
A: Kvarøy Arctic (Salmon, Norway)
We don't have the US organic standard in Norway, although we have the E.U. standard. In my mind, it's never been something that we have chased to be a part of. This is because they're doing good things, but in some ways, they're moving in the wrong direction – for example, they go a long time without any updates on the standards. We believe that sustainable farming is the best way of doing it.
Q: How do we get commercial fishermen on our team, so water farmers and fishermen are working together?
A: Pacifico Aquaculture (True Striped Bass, Baja California)
That's something we're super proud of at Pacifico. A lot of people that now work at our company were second and third generation fishing families who were out of jobs when the wild fish stocks were depleted. We're happy to have reemployed a lot of these people back in the industry they're so familiar with and passionate about. We want to support the wild fishermen and the ones who are doing it well. We understand that when wild striped bass are running, our sales will slow down a little bit in those areas because people want to take advantage of those fish. We're all for that. We want to be here to support that fish when the wild fish aren't available, so we want to exist together and support each other.
Q: Hawaii has had a wonderful, collaborative relationship with aquaculture. King Kamehaha farmed kampachi hundreds of years ago off the coast. How did inclusive aquaculture develop in Hawaii, and how do we encourage that in the rest of the U.S.?
A: Kauai Shrimp (Shrimp, Hawaii)
Former Senator Daniel Ken Inouye made a concerted effort to increase aquaculture and encourage the use of old ponds for finfish and start the budding shrimp industry. The problem now is land, labor, and feed costs, which are so expensive. If you can't control those three elements, it's hard. Even though you have the land and the area in a state like Alaska, you're also a long way from your market so you have to think about those issues. The government can help with permits, especially with regulations on the mainland. There's also a lot of great areas for RAS systems. There's lots of independent people who have RAS systems in old dairy farm barns, driving fresh shrimp to market four days a week. There's so many levels that need to make aquaculture successful, including the support of the government.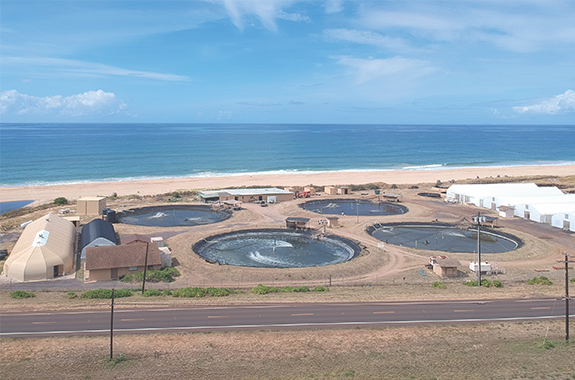 A: Open Blue (Cobia, Panama)
Our parent company, Cuna del Mar, has made it their mission to build a sustainable source for protein. We have an umbrella organization that holds various organizations beneath it, including Paciic red snapper and oyster farms. There's a variety of different companies, but what we're able to do is share the resources, piggyback off of each other, and grow faster.
Q: What are your thoughts on bringing multiple value-added products, like smoked fish, to market so there's more exposure for farms?
I'm a strong believer in value-added products, especially for small RAS companies like Ideal Fish. Our responsibility to our shareholders and to the market is to maximize every fish we harvest. When farms have harvested fish, traditionally parts of the fish go in the trash bin. By making value-added products, there's no reason to add any fish to the bin. It increases exposure to the market and expands our offering, which all feeds into education.
We then ended by talking about how frozen fish is the new fresh. Freezing technology has improved immeasurably. As Andrew pointed out, sometimes fish that you think are not frozen have in fact been frozen. Driving education on the benefits and advancements within frozen seafood is yet another important point to shine a light on.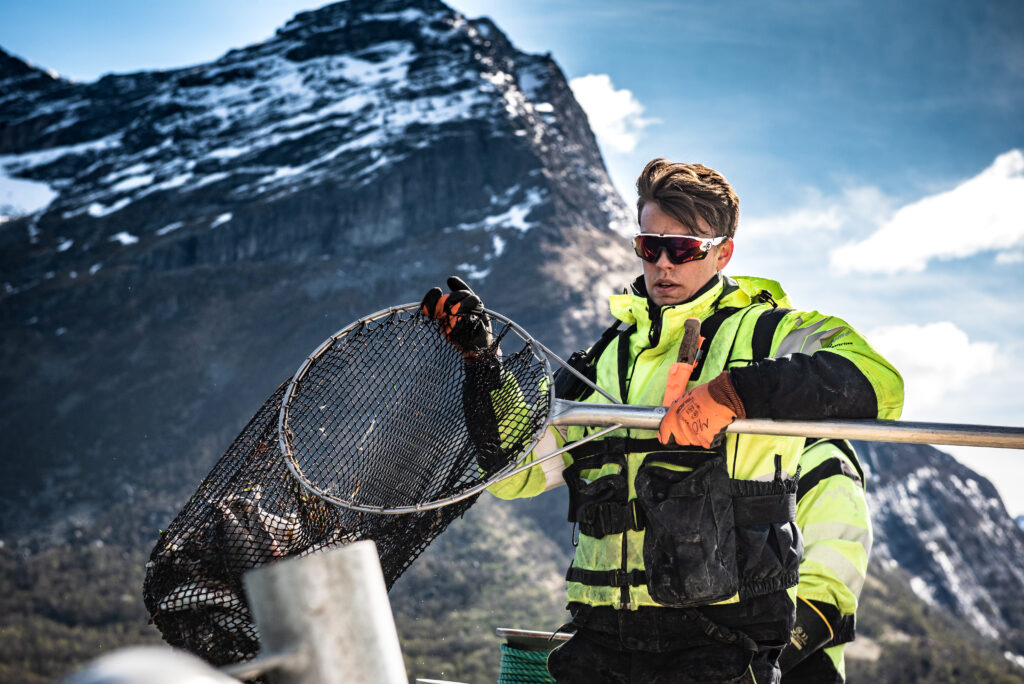 HOW CAN YOU SUPPORT WATER FARMERS & SUSTAINABLE AQUACULTURE?
Explore & dive into the world of seafood! As the panelists mentioned, be curious – ask questions, get nosy about your seafood. Also, know that there's a lot of misinformation on seafood, and news on bad actors in aquaculture often receives more press and attention than the ethical farms who are leading the way forward.
Trace your seafood and use the Seafood Watch app. Developed by the Monterey Bay Aquarium, the Seafood Watch program creates an easy-to-understand traffic light system (green means "go for it," yellow means "good alternative," and red means "avoid") to help you find sustainable wild and farmed seafood from around the world.
Look for labels from third-party NGOs that vet and rate best-in-class, sustainable farms, such as Best Aquaculture Practices, the Aquaculture Stewardship Council, and the Global Aquaculture Alliance.
Support sustainable farms like the ones who joined our panel today and keep an eye out for other industry leaders!